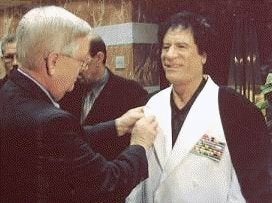 NEW YORK -- Former U.S. Congressman Curt Weldon, currently in Tripoli on a self- described "private mission" to urge Muammar Gaddafi to step down, has long tried to cultivate personal and business ties with the Libyan regime.
The ex-lawmaker, whose legislative career was marked by several criminal probes over influence peddling, visited Washington last week to discuss his forthcoming trip with members of the foreign policy establishment. Weldon led the first congressional delegation to Gaddafi's Libya in 2004 and traveled to Tripoli three more times, in 2004, 2005 and 2008.
While there, he developed a close relationship with the Gaddafi family, and during the recent unrest that has upended the country, he has remained in touch with Gaddafi's son and longtime heir apparent, Saif, sources close to Weldon tell The Huffington Post.
Weldon, in Tripoli with a "small team of American citizens," met with Gaddafi's chief of staff on Wednesday and is due to meet with the strongman himself. Spokesmen for the White House and the State Department say while the administration was aware of Weldon's trip, "he did not travel on behalf of the administration or with a message from the administration. He traveled only as a private citizen."
As part of his effort, Weldon aims to persuade Gaddafi to step down and agree to an immediate UN-monitored ceasefire, clearing the way for an interim government and future elections. Leaving the meeting with the chief of staff, Weldon told WPIX-TV reporter Larry Mendte that the proposals were well-received and the climate seems "optimistic."
In an op-ed for the New York Times on Wednesday, Weldon expressed his support for helping to shape Libya's future, writing, "There is no question that America should play a critical role in helping the Libyans build a new government. Sadly, in the years since my first trip, Washington has squandered many opportunities to achieve that goal without bloodshed. And unless we begin to engage with the country's leaders -- even those close to Colonel Gadhafi -- we may again lose our chance to help build a new Libya."
The ex-congressman's ties to the onetime pariah state extend beyond his time in office, which lasted until 2007. Soon after his most recent trip to Libya in 2008, in which he bragged that he had become the "1st non-Libyan Board Member of the Ghadaffi Foundation [sic]" and introduced several American businessmen to Libyan government officials, a defense manufacturer which counted Weldon as a key executive and adviser drafted a proposal to "refurbish the country's fleet of armored vehicles, including its T-72 tanks, BMP-1 infantry fighting vehicles, and BTR-60 armored personnel carriers," reported Wired.com in 2008. (The deal was never carried out, and Defense Solutions' CEO claimed his signature on the proposal was a forgery.)
In a report he wrote after his 2008 trip, Weldon proudly noted his two-hour meetings with Gaddafi in 2004 and 2005, a private dinner in London with Saif in December 2003 and his "1st and only speech by an American" to Libya's annual Great Jamahiriya, televised live on al-Jazeera TV. The former congressman also describes how he co-chaired the inaugural U.S.-Libyan Economic Summit with Saif in 2004, organized and co-chaired an international conference in Tripoli with Saif in July 2005 and "has maintained ongoing relations with Ghadaffi, his sons" and a long list of Libyan government officials.
Weldon includes his role on the Gaddafi Foundation's board on his website, though that section remains "under construction." On his LinkedIn profile he lists his foreign policy experience in North Korea and Libya among his specialties.
Several of the former lawmaker's family members have links to defense manufacturers and companies that have done business with Libya. AgustaWestland, a subsidiary of Italian defense giant Finmeccanica, hired his daughter Kimberly for its public relations office in 2005, and Weldon supported the same firm's effort to win a contract to build the new presidential helicopter Marine One. Both AgustaWestland and Finmeccanica have longstanding defense and security contracts with Libya; most recently, in November 2010, AgustaWestland sold five twin-engine helicopters to assist the country's border patrol and search and rescue operations.
A Republican from Pennsylvania, Weldon was at the center of an FBI probe into conflicts of interest during his time in office amid allegations that he steered contracts to Eastern European businesses linked to his daughter's lobbying firm. There was never an indictment, and the probe appeared to be winding down as of 2009. The FBI declined to comment.
Weldon's chances of success in Libya are difficult to ascertain. For one, familiar faces have reversed roles since the former congressman's last visit: Libya's then-Ambassador to the U.S. Ali Aujal, who resigned in February and now actively supports the opposition, facilitated Weldon's 2008 trip.
And as Weldon courts Gaddafi's inner circle in Tripoli, other U.S. officials remain in talks with the rebels. U.S. diplomat Christopher Stevens arrived in the rebel stronghold of Benghazi to meet with the Libyan opposition amid increasing signs of urgency. Facing an onslaught by Gaddafi's well-armed forces, the rag-tag rebel army has swiftly retreated in recent days.
Meanwhile, back in Washington, Libyan opposition groups continue to pressure the Obama administration to join France, Qatar, and Italy in recognizing the national council as the legitimate government of Libya. With the help of Washington public relations firm The Harbour Group, Aujal has recently been helping Libya's most prominent rebel organization, Transitional National Council, raise its profile, Reuters reports. He placed an op-ed in the Washington Post last week and gave a speech at the Center for American Progress Monday expressing opposition to any future role for the Gaddafi family, including Saif, in running Libya's government.
The Libya Emergency Task Force, comprised of prominent Libyan-Americans, was due to meet Samantha Power, special assistant to Obama, at the White House today. Sources close to the organization say members planned to thank her for pushing the U.S. to take part in airstrikes and to pressure her on the recognition issue. In addition, sources say that the group will request access to the billions in Libyan government assets frozen by the administration in order to speed humanitarian assistance to the country.
A White House spokesman did not provide more details.
Support HuffPost
The Stakes Have Never Been Higher
Related
Popular in the Community