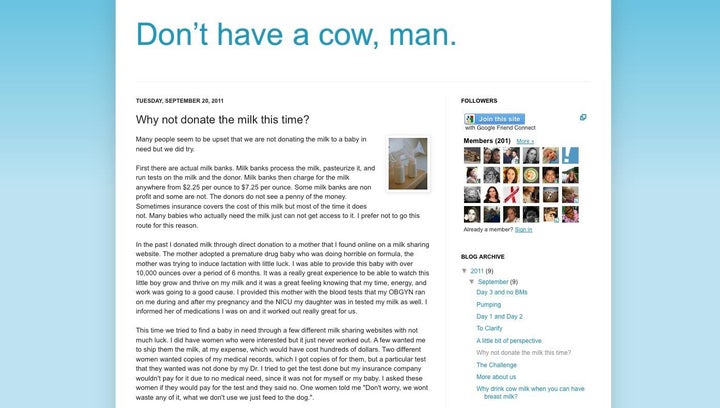 People will blog about almost anything these days. Case in point: A man is attempting to live off of his wife's breast milk and posting his daily experiences on a blog called, "Don't Have A Cow, Man."
Not so much. Curtis's wife, Katie, just has an ample supply: she pumped every two hours following three pregnancies and premature babies who were in the neonatal care unit. She has since managed to fill up a freezer -- seven cubic feet deep mind you -- that the couple purchased specifically for her excess milk.
The two claim that they had trouble donating the milk due to the costs associated with doing so, and on top of that, Curtis says it helps his digestive issues.
Feeling annoyed yet? You're not the only one.
"Please donate the milk!! Seriously. You have no idea how many women you are offending and infuriating with this crazy scheme!!" writes one respondent on the couple's blog.
The outrage could stem from a variety of factors. For starters, despite (or maybe because of) the couple denying it, this experiment is going to sound to some like a gimmick to get attention and a subsequent book deal (The couple specifically say on their website that they are not doing this for attention.)
That five-minutes-of-fame issue aside, what about breast milk being in high demand both at home and abroad -- it can sell for around $4 an ounce. In addition to all the mothers whose supplies run out or who can't breastfeed for medical reasons, there are orphaned children in Africa whose mothers have died of AIDS. Several organizations are dedicated to providing them with milk.
Curtis and Katie say they tried to find needy recipients for the milk, but that each one fell through. One woman wanted the couple to pay shipping costs, another wanted a medical test done that insurance wouldn't cover. The couple also argued that milk banks would not accept their donation. They pointed out that donating couples don't get a cut of the profits.
Now, women are practically begging them for the milk on their own site.
"I want that milk! Where are you located!?!?! (I have a four month old son who survives on donor milk)" wrote one woman on the couple's blog. Another, an adoptive mother, offered to drive to their house from Texas and pick it up herself.
So are there any medical benefits to Curtis living off the milk that might redeem the experiment? It seems unlikely.
"Biologically, just because something is good for babies does not mean it is good for adults," said Dr. Tonse Raju, a pediatrician and a neonatologist with the National Institutes of Health, who pointed out that all mammals wean from their mothers eventually. Calves eventually move on to grass, he said, and after six months, human babies need to start eating solid foods.
Raju pointed out that breast milk may be calorically sufficient if an adult drinks enough of it, but it would still be deficient in several nutrients like protein and fiber. A chronic lack of either can cause a host of health problems, including harm to the liver, kidneys and an increased risk of intestinal cancer.
"Human milk has evolved to support the baby's needs during the years of the baby's growth. When you begin to grow bigger, you have different needs," said Raju.