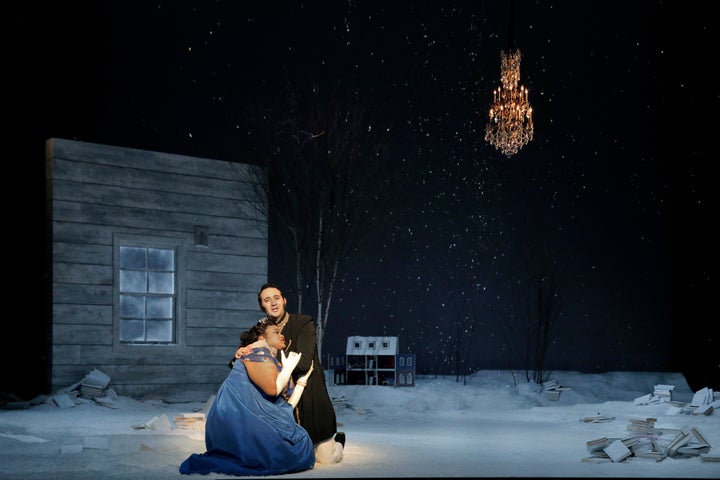 Eugene Onegin is Alexander Pushkin's classic Russian novel of unrequited lovers and their jealousy, obsession and rage. Themes that composer Peter Ilyich Tchaikovsky further dramatized in his operatic masterpiece of the same name. In fact, Tchaikovsky composed both the score and the libretto. Curtis Opera Theatre's recent production of "Eugene Onegin: Seven Lyric Scenes" is a condensed chamber opera adaptation, with the score's chorales edited out, and in certain ways even more musically dramatic. The opera ran for four performances at the Prince Theater in Center City Philadelphia.
Kentucky Opera's maestro Joseph Mechavich conducting 16 musicians from the formidable Curtis Symphony Orchestra and stage director Chas Rader-Shieber rotating two casts of singer-actors and at the Nov. 17 performance even with some erratic vocal moments, it proved a fine showcase for the Curtis Opera Theatre singers technical artistry.
The story unfolds on Madame Larina's Russian country estate as soprano Ashley Marie Robillard (Tatyana) and mezzo-sopranos Amanda Lynn Bottoms (Olga), Sophia Fuzia Hunt (Larina) and Anastasiia Sidorova (Fillipnevya) muse in a garden and the shimmering blend of these voices are hypnotic in Tchaikovsky's duet/quartet "Slikhali I vi za roschei glas nochnoi."
Olga's lover Lensky arrives from St. Petersburg, bringing along his best friend Eugene Onegin, ostensibly to meet Tatyana, but she retreats in shyness, as Olga flirts with both men. Later, Tatyana lets her true feelings out in a passionate letter confessing her love to Onegin and then on her knees in prayer to have him return and fulfill her life. By dawn she is regretting that she sent the letter, and Onegin shows up to coldly confirm that he is not in love with her and that that she let her emotions get in the way of her judgment. Dismissing her overtures to him, but telling her that he can give her brotherly friendship.
At the ball later, Onegin is bored and wants to make Lensky jealous by dancing with Olga, but Lensky flies into a jealous rage and confronts Onegin, who can't talk him out of his anger. Olga tries to intervene, but she only angers him more and things escalate to the point that he demands satisfaction of a duel with Onegin for insulting his honor. They meet on the snowy heath and Lensky pauses in the face of killing his best friend, to lowers his arm and Onegin, his head turned away shoots him dead.
Two years later Tatyana is now married to Prince Gremin and she is no longer a shy social ingenue, but a sophisticated society hostess. Onegin has just returned from two years in self-exile and is introduced to Tatyana. They don't reveal that they have previously met. Onegin can't believe that Tatyana is so assured and attractive. Her husband retires and she returns to settle it with Onegin. A scene that takes her to the brink of reigniting the passion between them.
In the big ballroom scene as Tchaikovsky blooms a waltz, but the characters just limply sway to the music, surely, these young performers can pick up a waltz swirl or two- but except for this missed opportunity, Rader-Shieber's direction is dramatic and subtle.
Soprano Ashley Marie Robillard's Tatyana, strikes as too vocally tentative at first, but ignites the full power of her voice by the famous The Letter scene. As Onegin, baritone Jorge Espino also seems very reserved but his baritone comes to a full, steely bloom in the later scenes . These are well-calibrated performances, but the players could naturalize their movements more, especially in their partnering scenes.
Tenor Aaron Crouch as Lensky is riveting vocally and as an actor during the demanding 'Lensky's Aria' solo. Amanda Lynn Bottoms' Olga, in contrast, gives an altogether captivating performance vocally and dramatically. Bass-baritone Vartan Gabrielian's single-scene soliloquy when he meets Onegin and is clueless about the drama underneath, is basso pitch perfect.
Conductor Mechavich and the nine Curtis violinists overcoming the dryness of the Prince Theater acoustics and among the standout soloists among the other players include Helen Gerhold's glittering harp cascades, the lush sonority of cellists Jean Kim and Young in Na. and the lithe penetrating lines of the reeds- Sarah Bushara (Oboe), Sara Han (Clarinet), Lydia Roth (flute) and Maggie O'Leary (bassoon).
For information about Curtis Opera Theatre and Curtis Symphony Orchestra performances go to www.curtis.edu
Related
Popular in the Community