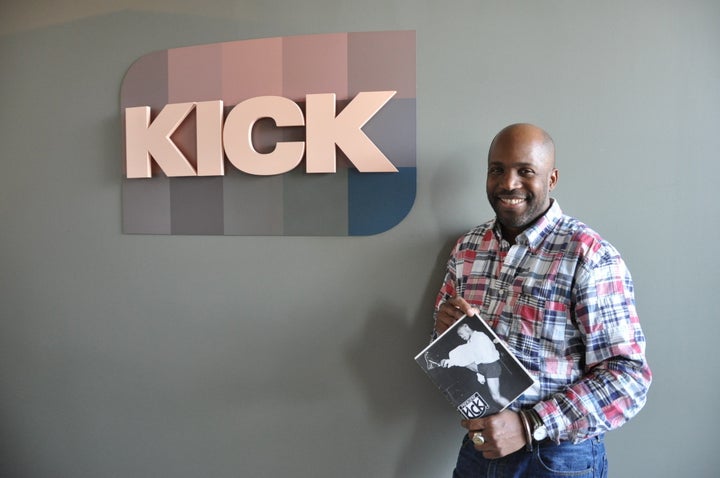 After years spent dedicating his spare time to educate and advocate for LGBT African Americans, Curtis Lipscomb is feeling rejuvenated and ready for the next step.
Kick got started in 1994 as a publishing house that put out a magazine. Lipscomb and his colleagues then went on to found Hotter Than July, an annual festival akin to Pride events (Detroit has its own Motor City Pride this weekend) before honing in on education and advocacy.
"I kind of feel as though we're starting all over again," Lipscomb said. "Though I've had 20 years experience volunteering and donating time in our movement, this step -- which I call 'Kick 3.0' -- is new."
With the new money, a small but dedicated staff and board, partnerships with other progressive organizations and a redefined mission to focus on key issues of health and wellness, education, employment and social justice, Lipscomb is ready to move Kick forward.

"We have to think about sustaining ourselves at this level, so that's a new challenge for us, but we're willing to face it head on," he said.
As Pride Month gets started, The Huffington Post sat down with Lipscomb to talk about the unique challenges for LGBT African Americans, his own work with Kick and the impact of President Obama's recent support for same-sex marriage.
There has always been black gay and lesbian culture in Detroit, but there had never been a business like ours before. In 1994, we began as a for-profit publishing company, and we were the third-oldest gay and lesbian publishing house. At the time, there wasn't widespread Internet use and the print business was a key way to inform the community of things that were important to black LGBT folks in Detroit and give a Midwest point of view to the movement. As you know, in the '80s and early '90s, particularly the '80s, it was defined as as a coastal movement -- the ghetto of the Castro [in San Francisco] or the ghetto of Christopher Street [in New York City].
What's special about Kick?
Kick is the only organization like this in America, where the leadership is identified as gay and lesbian African Americans, where the board directors are also identified as such and the population of the city is over 80 percent African American.
It caused me great joy to hear our president firmly support marriage for everyone. It's really a rallying cry President Obama gave us. To know our president supports our families gives us hope.
You have to remember when the Supreme Court decided to overturn the law preventing people from different races marrying, a large portion of the nation was opposed to it. That's in my lifetime that happened. So we do know that sometimes we have to be more aggressive in creating change; we have to be diligent.
At the same time, Michigan is one of the worst states when it comes to equal rights for LGBT folks.
Yes it is, but that's why we have to work hard. In Michigan, we want to amend our civil rights act so that everyone is protected, and if we can get that done we can move to becoming a state where everyone is treated fairly. I'm looking forward to that day. If I could see a black president in my lifetime, I surely could see this.
Detroit is one of the first cities that made sexual orientation a class that can't be discriminated against. Detroit was always a leader in that.
You've said faith was one of the unifiers in the black LGBT movement. What is your relationship with faith groups?
The church is heavily influential in black culture and black LGBT culture, and the church has strong views on homosexuality and it's not afraid to share that through Sunday worship. And that's the place where most people find their reassurance, but if a gay person is not reassured in their faith, they then can turn to a number of destructive things.
We do know most gays and lesbians in conservative black Protestant churches have not been welcome for a number of reasons, and they normally have been unceremoniously requested to leave. There are people who have been supportive of the gay and lesbian movement in the city faith institutions, but they are a super minority.
And so there's been this movement to establish faith institutions that are welcoming and that are led by gays and lesbians. I've taken the approach to affirm those institutions and those places a family can go to worship safely and lovingly, as opposed to knocking down those institutions that are not welcoming. I don't think it's proper energy.
What are some of the other issues members of the African-American LGBT community face in Detroit?
From the viewpoint of the Detroit lens, I would say we don't necessarily match the national mood. We are still living in a conservative part of the nation; we are the buckle of the rust belt.
If having a place to worship, express your love for God, is paramount, second would be employment, because if you're not employed you can't contribute to anything. Many African Americans are experiencing higher unemployment than our white counterparts.
I have been fired for being gay in Detroit. I know many people in Detroit refuse to come out, refuse to participate in the movement because they don't want to be fired. It is not unusual for me to run into somebody who is African-American, gay and not out because they're in fear of their job, particularly if it's a high position at a prominent employer.
What was it like for you, growing up gay in Detroit?
When I was a young boy I came out at 15. I had a traumatic experience: My father was murdered, and after that I became a different young person and decided to come out. And it was very uneventful. I was entering high school, so I got to high school, came out, and I found other gay friends. And I was surrounded by love and positivity, support. I had no problems with my identity. I didn't know it was a problem until I left Detroit. Detroit was a safe womb for me to develop -- there were gay people everywhere.
Mind you, this was '79, '80, '81. The HIV/AIDS crisis was identified in '81. It became a gay-identified disease by '83, the year I graduated. I saw my friends die early on and it impacted me greatly.
It wasn't until my best friend died in '92 that I decided to leave my old life and be committed to this work. Robert's death was 20 years ago this month. I do this work because of him. He died in my arms. He was my best friend. We were best friends since we were 15 years old. He died at 27 -- he had not lived yet. Many of my friends died. So I do this in memory of those people. Their stories live with me.
REAL LIFE. REAL NEWS. REAL VOICES.
Help us tell more of the stories that matter from voices that too often remain unheard.
BEFORE YOU GO