When Curtis Stone, host of Bravo's Around the World in 80 Plates and Top Chef Masters, realized he wanted to be a chef, he left Australia and headed for Europe. After traveling around a few months, he landed in London, at the doorstep of Marco Pierre White, then the youngest 3 Michelin star chef in Europe.
"I had the opportunity to go to law school, and my dad, who was an accountant, couldn't believe I wanted to walk away from that and start cooking," said Curtis in an interview at The Standard Grill. "But I'm bloody glad I didn't become a lawyer!"
In his youth, Curtis also entertained the idea of becoming a landscape architect.
I thought I'd love to be a gardener because I grew up with a vegetable garden and I love being close to the Earth and growing things. At my home in LA, I have a great garden and I grow all kinds of things. I even have a worm farm! The worms help create organic compost out of kitchen scraps. I just bought a kit with 5,000 worms in it and now I have 10,000!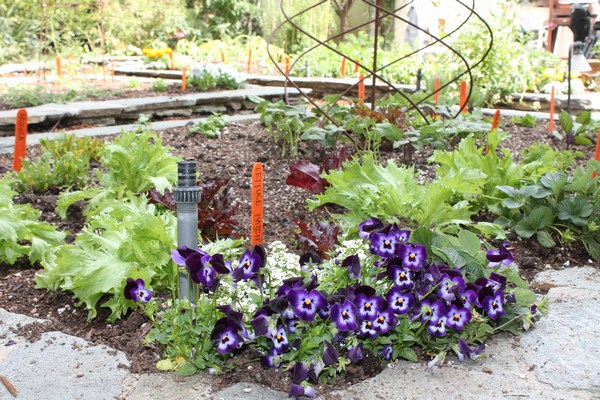 Curtis Stone's vegetable garden in his Hollywood Hills home (Photo Courtesy Curtis Stone)
But neither landscaping nor law was as big of a passion for Stone as cooking was, and so, he studied culinary arts in Melbourne at Box Hill TAFE and worked as a chef at the Savoy Hotel. Then, at age 22, Curtis went to Marco Pierre White and talked his way into working for free in his kitchen to learn from the master himself. After two months on the job, Chef Marco, whose kitchen has graduated some of the most celebrated chefs in Europe, finally gave Stone a paid position. He worked for Marco for eight years, and during that time, went from an unpaid grunt to the Chef de Cuisine, along the way, he published a cookbook and ended up on television.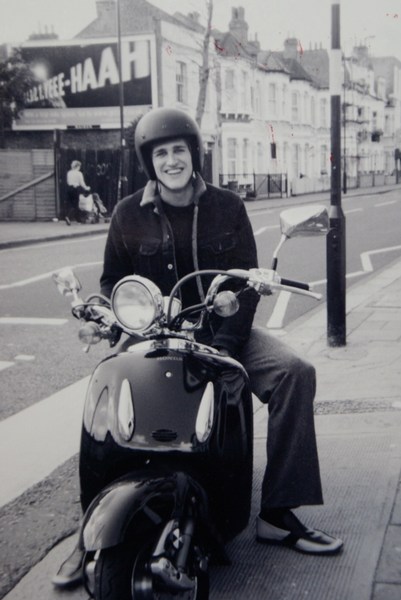 A young Curtis Stone in London (Photo Courtesy Curtis Stone)
Today Curtis Stone is well-known in America for his role as host on Top Chef Masters and Around the Word in 80 Plates, which he called "a chef's dream TV show."
For Around the World in 80 Plates we got to travel all over, having what was like a cross between a culinary competition and races. And in each country we had a chef Ambassador. We went to London, Barcelona, Bologna, Hong Kong, Thailand, Morocco... It was amazing. Food and travel are my two great passions and someone came along and gave me a show doing both, so I'm a happy man!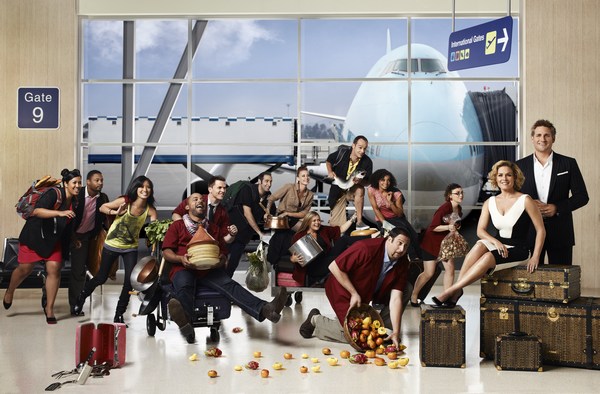 Around the World in 80 Plates (Photo Courtesy Curtis Stone)
Along with co-host Cat Cora, Curtis found some of the best moments in filming the series were off camera, with the Chef Ambassadors. In Barcelona, he and Cat Cora spent a lot of time with the larger than life José Andrés.
We ran all over the city, eating and drinking with José. Everywhere from Sangria dive bars to Michelin star restaurants, everybody knew him. It was so much fun doing Barcelona with José.
Around the World in 80 Plates kept Stone tied up for a couple of months, but his own plate is full of much more than just television.
For Curtis, one of his biggest projects today is the result of years of hard work and his own personal investment...
Curtis Stone Kitchen Solutions
, a line of kitchen products that goes way beyond the standard chef-endorsed cookware. "I developed the whole line of kitchenware myself, and I'm funding the company with my own money along with just one other partner," explained Curtis.
Each product solves a different problem you face in a home kitchen. After years of working in professional kitchens, and then spending so much time in a lot of different home kitchens, I realized that there's a huge gap in the market where you have people who develop cookware but who don't actually cook.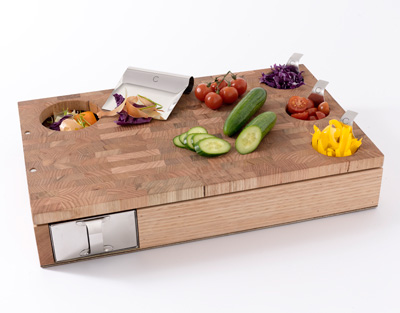 Curtis Stone Kitchen Solutions, Cutting Board-Workbench (Photo Courtesy Curtis Stone)
I've got to say, the products are super cool. As a gadget-lover who has way too much equipment, I'd happily chuck out some stuff to make room for a few of Stone's products. They're not only beautiful, they're highly functional.
"The function is of course the most important aspect," said Curtis. "But the form's still bloody important. You want your kitchen to be beautiful. You want the things you use to be out on your counter all the time so you'll actually use them! And who's going to do that if something isn't beautiful?"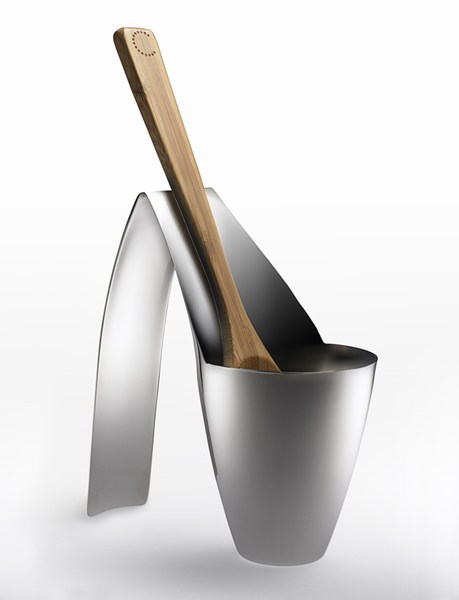 Curtis Stone Kitchen Solutions, Spoon Rest (Photo Courtesy Curtis Stone)
His products have magnets in all the tools for easy storage on a wall magnet, he's created a spoon rest that has a holder for water (think along the lines of what ice cream shops do with the scoop), an oil can that doesn't drip when you pour olive oil, a cutting board that's more of a counter-top workbench, and spring-form pans that are a combination of flexible silicon and traditional bake ware.
Another big project about which Stone is very passionate is a documentary film he and his girlfriend Lindsay Price are making about Lindsay's mother. An orphan from the Korean war, Lindsay's mom's story is now being told by Stone and Price, who are also using the film as a means to create awareness about adoption.
"There's 110 million orphans in the world," said Stone. "A big goal of the film is to bring attention to this issue, and to show what a huge difference an adoption can make in someone's life.
Lindsay's mom grew up on the streets of Korea with her 2-year-old baby brother, then she landed in an orphanage, then ended up being adopted in America. And she grew up to have this incredible daughter, Lindsay.
Besides being involved in creating awareness of adoption, Stone also devotes his time and energy to several charities, among them The African Millennium Foundation, Creative Visions Foundation -- who is also working with him on the film -- and Feeding America. One of the last things Curtis said to me as we were wrapping up our interview said a lot about the way he thinks:
In America, most of us worry about how we're going to realize our dreams, in other parts of the world, and even in parts of America, there's people who worry about how they're going to eat. For someone who loves food like I do, I just think that we all need to do something to change that.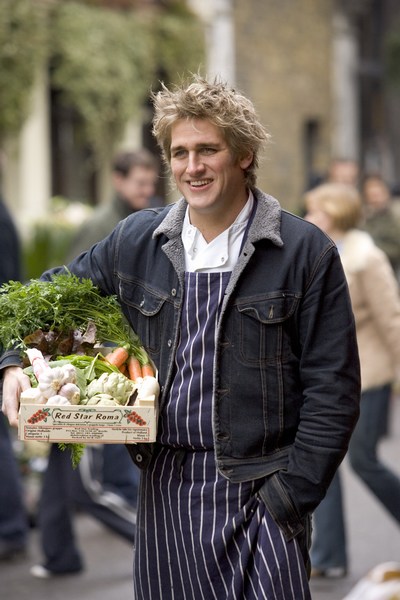 Curtis appreciating the bounty at the famous Borough Market in London (Photo Courtesy Curtis Stone)
Calling all HuffPost superfans!
Sign up for membership to become a founding member and help shape HuffPost's next chapter