I spent hours and hours in December browsing the new Valentine's Day and 2014 lingerie catalogs from most of our major lingerie suppliers and definitely saw some exciting trends for 2014. Some I am very enthused about, some not so much. But there are a few that I know will sell well at our store and online. And, more importantly, many of them will actually fit our plus-size customers. We were also fortunate to have a few of the suppliers come and give us an in-person demo of their new plus-size line for 2014. We are very excited! This is the year of the sexy curvy girl, and the new styles prove that.
The dearth of sexy and contemporary clothes for plus size women is well known. This is especially true in the lingerie world. But, to their credit, I have heard from some plus size lingerie suppliers and designers that it is very difficult to design well-fitting plus size lingerie. Their defense is that curvy bodies have curves in so many different places and they say that makes it very difficult to design styles that will fit all curvy women. While one curvy woman who wears a size 22 might have really full breasts, another curvy woman might have smaller cups. Same with the hips, butt and thighs: curvy bodies have so many variations.
But there are some lingerie brands that curvy girls should look out for: We are always thrilled with the lingerie from Shirley of Hollywood and their Intimate Attitudes Plus Size Collection because we can mostly rely on the fact that their patterns are actually designed for the curvy body. That means the seats are designed to have more material to fit around a bigger, curvier bottom. It also means that there is plenty of material in the skirts of the baby dolls and chemises so that they do not ride up on bigger hips and bigger butts. And, we can also rely on the Intimate Attitudes lingerie being made with material that is not itchy or too shiny.
I am tickled pink about a new line of Plus Size dresses from a new Plus Size lingerie supplier called Pink Lipstick Lingerie. We curvy girls are tired of hiding behind big kaftans and robes. We are ready for our time in the sunshine and we are ready to rock the Pink Lipstick "trashy on purpose" dresses that have that ripped up, torn up, club wear look in our bedrooms... and maybe even out to a club! And, what we have found at our store is that Pink Lipstick brand is very stretchy. This is boxed lingerie and super affordable. And, their packaging says their Plus Size styles will fit women up to 2x (about a size 22) we have found that their dresses fit women up to size 3x or even 4x since they are so stretchy. (That's about a size 26/28.)
2013 brought us a brand new line of lingerie from a company called Fantasy Lingerie. They debuted their new "Curve" for Fantasy and it's another box lingerie brand at a very affordable price point. Curve lingerie is cut to fit a variety of sizes and help retailers like me to not have to carry so many part numbers. They make their lingerie in sizes 1x/2x and 3x/4x and we have found that they cut pretty generously and use styles that are more forgiving that work on a variety of bodies.
There will be more "fashion" corsets and bustiers this year, too. We would love for more of the plus size lingerie designers to design more bustiers and corsets that have a longer line. We have a few from Intimate Attitudes that comes down below the belt line. We have found that many of our curvy girl lingerie customers are self-conscious about their lower tummies. Plus, no one ever looks sexy and beautiful cut in half -- which is what many of the "fashion" corsets and bustiers, do. We all want a sleeker and sexy streamlined look. A longer line tends to make the curvy body look more sophisticated and elegant. It elongates the line and makes us look less choppy and therefore more elegant. Well-fitting lingerie gives a woman confidence!
The best is when the corsets have spandex built into them, as our bestselling tapestry corset from Intimate Attitudes does. Because the bustier has the spandex in it, we can cinch all kinds of curvy bodies into it. We hope this will become more common in 2014. And, the other beautiful thing about the spandex is that it can continue to fit a person who goes up and down 20 lbs since it has the lace-up cinch in the back and the spandex.
There will be some losers, I am sure. If the plus size designers are listening... we would like to see more of the micro fiber styles like our pinstriped best seller from Dream Girls Lingerie and our black and hot pink bestseller chemise from Intimate Attitudes. We really find it a challenge to keep our store stocked with these two styles. We find that once women try them on, they buy them. The material is that amazing and forgiving. It feels great to the person wearing these baby dolls, plus it feels great to the person cuddling with them.
There is one more brand I want to mention to our plus size readers out there. We have found that all of the lingerie from a Canadian designer called Coquette cuts their plus size lingerie generously. We have even found their styles in 3/4x to fit our customers who are 5/6x. A 3/4x in the Coquette line roughly translates to a dress size 24/26. And, we have noticed that they seem to always add a layer to the bottom of their dresses which gives us curvy girls with larger hips and back sides more coverage for our booty! The 2014 Coquette collection will include the big winners from 2013 and even new sexy styles that fit well on a plus sized body with curves.
And, lastly, another exciting trend for 2014 is the new and exciting stocking styles and colors coming from Kixies Thigh Highs. Kixies are thigh highs that actually fit curvy thighs and they also never roll down or make your thighs look like they are in sausage casings. We fell in love with these Kixies Thigh Highs in 2013, but we are very excited for their new colors and styles they're introducing in 2014. They're not just for curvy women, but it's especially exciting to have thigh high options that do work for plus size women. There are very few out there and even fewer plus size garter belts to hold up the thigh highs that are not designed to stay up on their own (stay-ups is what they are called).
That is why the Kixies are so innovative. They do not require a garter belt. They stay up on their own. And they do not make your inner thighs look like sausages and they do not give you thigh muffin tops. Plus, their first six styles were all in the black family, but the brand will be bringing some lighter colors to market this spring designed to be strong enough to wear daily, not just for special occasions.
As I love to say, stop hiding, curvy girls! The designers are making bolder, sexier styles and they are meant for you to wear to make yourself feel sexy or to wear for your lover. Stop buying what the mainstream media is selling. All women are sexy and beautiful and all women deserve to have clothes that give them that confidence.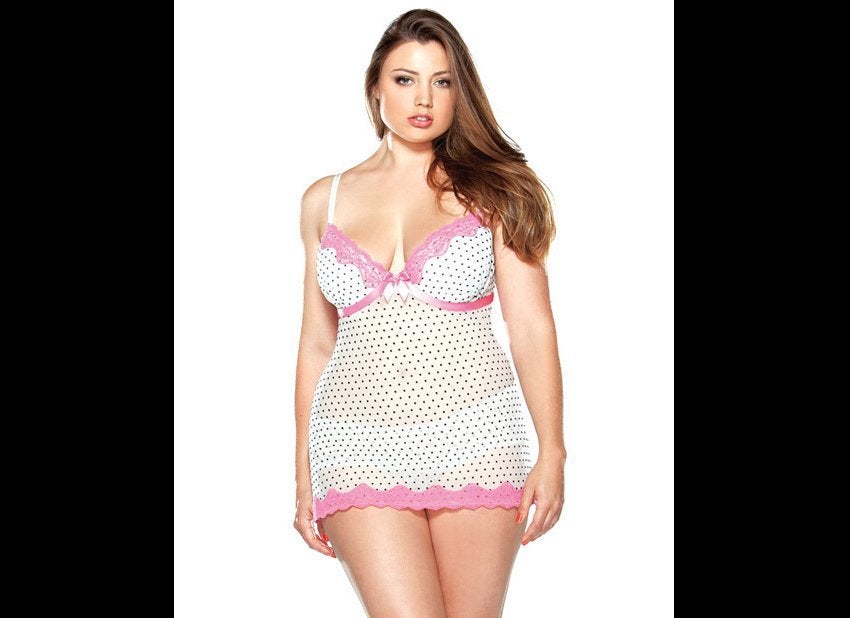 2014 Plus Size Lingerie Styles To Make Your Look Curvy & Sexy