It's the most wonderful time of the year?
Here's how to rock the holidays looking and feeling your best, especially if you're a curvy, confident #bosslady.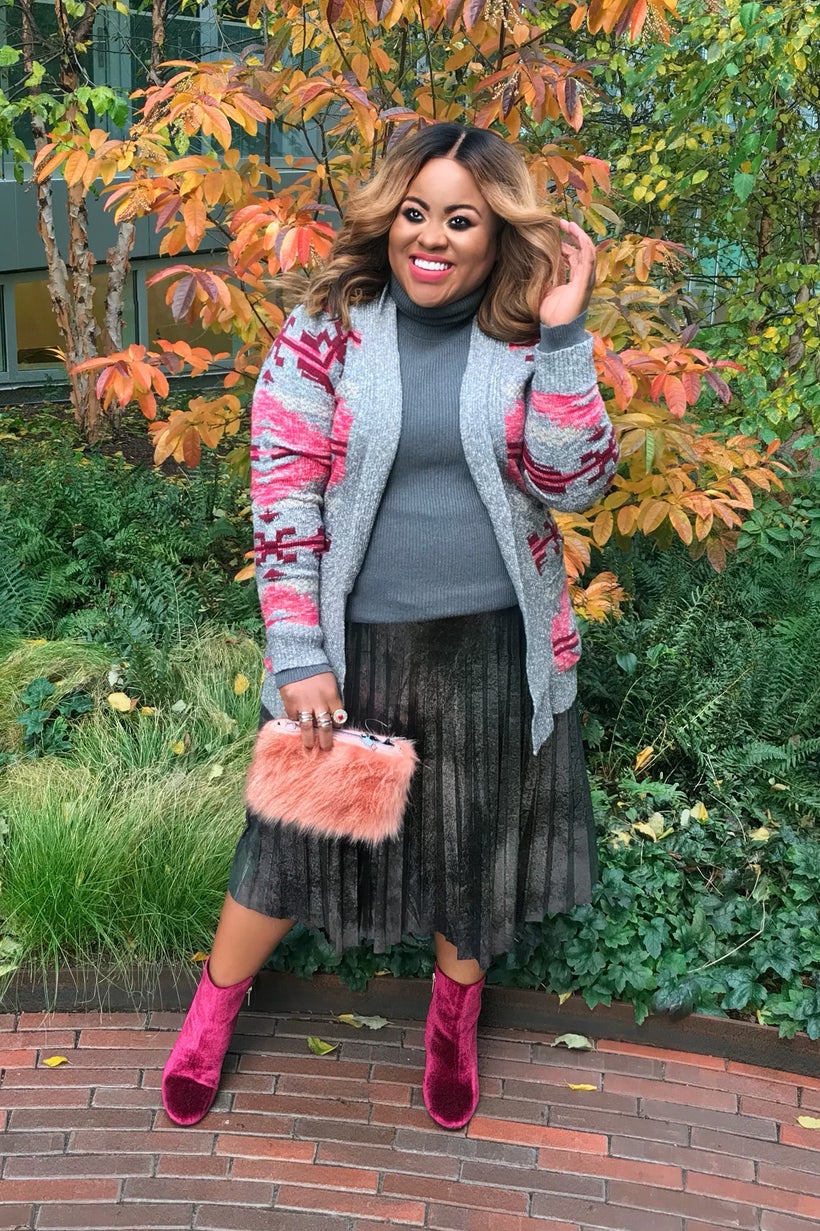 From decorating, to gifting, to baking, to getting ourselves and our loved ones to-and-from holiday events, plus meeting those end-of-year deadlines at the office, all while looking sparkly and festive, it's not always the hap-happiest season of all.
Believe it or not, you can choose to show up as your most sparkly, happy, confident self this holiday season. No matter what size you are, or whether or not you managed to keep your weight loss resolution for 2017! Celebrity fashion stylist Denise Caldwell has some tips on how to show up and shine as your curvy, confident self this December.
Denise has worked with women like Beyonce, Kendall and Kylie Jenner, Sarah Jessica Parker, and Jennifer Lopez, as well as the "everyday" women she regularly styles for morning shows and fashion outlets across the country. Denise is the authority on looking and feeling your best all throughout the year. Here are some tips!
Look and feel Confident this Holiday Season!
1. Build a Strong Foundation
"I always start with a comfortable underpinning. A great brief with a push-up bra, that kind of thing," says Denise.
This is especially important for #bosslady types, who start early in the morning and work straight through the day, possibly even hitting up networking events, holiday parties, and business dinners in the evening.
"The basis of a fantastic outfit always begins with foundations. Make sure you have a great bra, great underwear, great shape wear, so that things will be smooth and accentuate your curves, so that you can get out there and strut your stuff," says Denise.
Fit and choice of fabric are important foundational elements that keep you looking (and feeling) cool and confident throughout the day as well.
"Get in that fitting room, try it on, and just rock it," says Denise. "Find breathable fabrics that will move with you when you walk. It's about layering, so when it's breezy in the morning and warmer by midday, you can feel great."
2. Break All the Rules
Denise has managed to create an amazing career for herself in fashion as a curvy-bodied woman, and a woman of color. By projecting confidence through our appearance, we can all replicate this success in our own lives!
"You can break rules. There are fashion myths out there--that you can't wear stripes, patterns, prints, etc. But you can definitely do all those things," says Denise. "For stripes, you can wear horizontal or vertical stripes. But stick to the 2-inch rule."
Denise recommends putting your two fingers together and using this as your measure for stripe width. If the stripes are wider than your two fingers, skip them. While the 2-inch rule is one worth heeding, some rules are meant to be broken! Don't let traditional rules about workplace fashion keep you from expressing yourself.
"You can go into the boardroom with a pop of color, some great pinstripes, working with colors that compliment your skin tone," says Denise.
3. Wear a Power Color
In large amounts or small, a little color can go a long way.
"Be daring. Be groundbreaking! You can be fearless and confident and take on the world. And you can do that looking as glamorous as possible, feeling great about yourself" says Denise. "Put on that red lipstick!"
Don't be afraid to go for broke and wear a power color like red head-to-toe, either.
"Wear something bright, with color. Red was all over the runways for New York Fashion Week. It is definitely a great holiday color. Wear it with pink undertones, burgundy undertones, and colorblock it. Play with the color like that. It's youthful, it's slimming for curvy girls, and it's a great conversation starter to show up in bold color," says Denise.
REAL LIFE. REAL NEWS. REAL VOICES.
Help us tell more of the stories that matter from voices that too often remain unheard.
This post was published on the now-closed HuffPost Contributor platform. Contributors control their own work and posted freely to our site. If you need to flag this entry as abusive,
send us an email
.