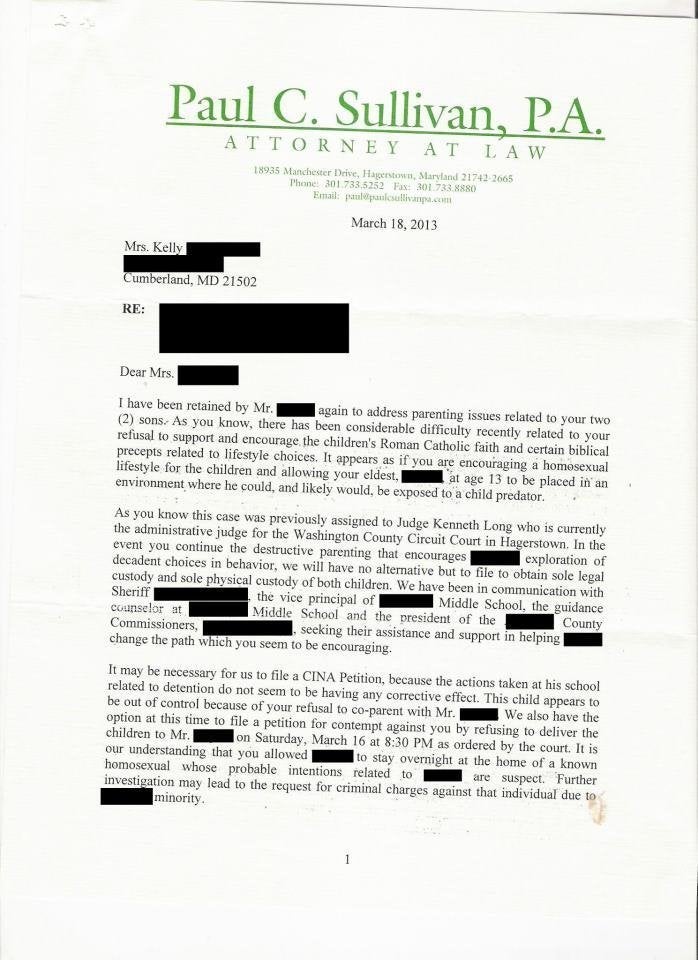 Here's one for the books. A Roman Catholic father in Maryland has asked his lawyer, Paul C. Sullivan, to pen one of the most horrific pieces of undeniable bigotry that I have seen in recent years.
Ed Taylor and Kelly Robertson were married, had two sons and then divorced (as has been known to happen). Kelly was awarded custody of the children, with visitation rights for Ed. Since then, it seems that Kelly has become friends with a gay man, Chris. Kelly has since remarried, and she sometimes asks Chris to babysit her kids (as has been known to happen).
Apparently, that's not OK with ultra-Catholic Ed. The following letter was sent to Kelly with regard to her parenting. In the letter, Paul Sullivan engages in a homophobic tirade ignorantly linking being gay with being a child predator, claiming that by having a gay person around the house, Kelly is "encouraging a homosexual lifestyle," and threatening investigations and custody trials should Kelly not reverse the child's dangerous course.
Additionally, the lawyer and father have been in communication with the sheriff, the county commissioners, the vice principal and the guidance counselor of the middle school that Kelly's son attends.
Kelly's friend Chris has no record of being a child predator, or really any criminal record whatsoever, but the lawyer's letter also threatens to pursue criminal proceedings against him merely for babysitting Kelly's son.
If this were 1950, I might understand some of the homophobic and vitriolic things being claimed here by Paul Sullivan, but it's 2013.
Here is the full text of the letter, followed by images of it:
Dear Mrs. XXXXXX

I have been retained by Mr. XXX again to address parenting issues related to your two (2) sons. As you know, there has been considerable difficulty recently related to your refusal to support and encourage the children's Roman Catholic faith and certain biblical precepts related to lifestyle choices. It appears as if you are encouraging a homosexual lifestyle for the children and allowing your eldest, XXXX at age 13 to be placed in an environment where he could, and likely would, be exposed to a child predator.

As you know this case was previously assigned to Judge Kenneth long who is currently the administrative judge for the Washington County Circuit Court in Hagerstown. In the event you continue the destructive parenting that encourages XXXX' exploration of decadent choices in behavior, we will have no alternative but to file to obtain sole legal custody and sole physical custody of both children. We have been in communication with Sheriff XXXX, the vice principal of XXXX Middle School, the guidance counselor at XXXX Middle School and the president of the XXXX County Commissioners, seeking their assistance and support in helping XXXX change the path which you seem to be encouraging.

It may be necessary for us to file a CINA petition, because the actions taken at his school related to detention do not seem to be having any corrective effect. This child appears to be out of control because of your refusal to co-parent with Mr. XXXX on Saturday, March 16th at 8:30 PM as ordered by the court. It is our understanding that you allowed XXXX to stay overnight at the home of a known homosexual whose probable intentions related to XXXX are suspect. Further investigation may lead to the request for criminal charges against that individual due to XXXX minority.

We're attempting to obtain additional assistance to help XXXX abate the current course you have encouraged him to travel. You seem not to understand the eventual adverse consequences that may occur for XXXX and which could adversely affect him for a lifetime.

If, however, you would be taking the position in court that you are not encouraging XXXX in the way it is believed you are, and are in fact unable to adequately discipline XXXX or institute and enforce parental boundaries that are needed, you certainly have the option to enter into a consent decree allowing Mr. XXXX to have sole legal and sole physical custody of the children so that he will have the authority, within the bounds of law, to take the corrective action needed to safeguard the best interests of the children.

Please do not hesitate to contact me if you have any questions concerning this matter. If you are agreeable to the entry of a consent order as suggested above, please call me at your earliest convenience and I will prepare it for your review and signature.

Thank you and kindest regards,

Very truly yours,

Paul C. Sullivan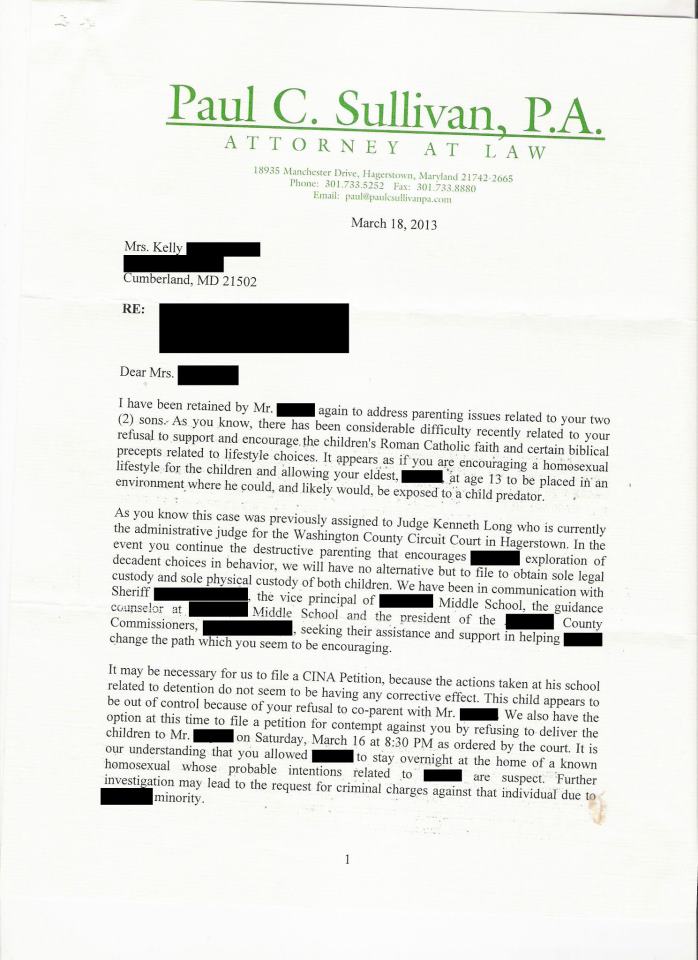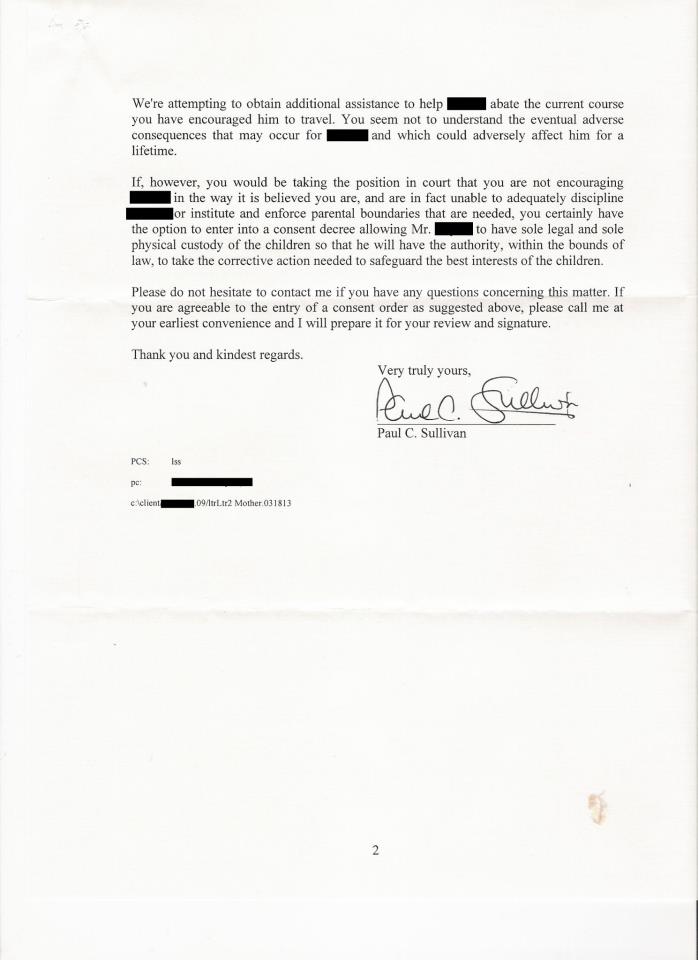 Some further research and a conversation with Kelly has brought some more information to light. It turns out that Ed has released some videos about his wife, "The Drug Slut," and it turns out that their son's "behavior problems" include getting detention for talking in class and simply not wanting to participate in the extreme dogma that his father tries to force upon him.
Calling all HuffPost superfans!
Sign up for membership to become a founding member and help shape HuffPost's next chapter