UPDATE: Feb. 29 -- Nike has reversed course and will allow the words "Muslim" and "Islam" on its customized sneakers. The company made the about-face earlier this month shortly after the media reported that a user of its NikeiD store was told the terms were against company guidelines.
"Our intention was to be culturally sensitive to placing religious Muslim references on footwear via our NikeiD customization program," Kate Meyers, Nike's senior director of global communications, told HuffPost in an emailed statement. "In an effort to do this we filtered out the words 'Muslim' and 'Islam.' We realize that decision was misplaced and they will be added back into the NikeiD options."
Unless by "it" you mean "put the word 'Islam' or 'Muslim' on a custom pair of Air Jordans." In that case, you're out of luck.
A Nike fan by the name of Nabeel Kaukab discovered the curious quirk while browsing the online NikeiD store, where customers build and buy custom footwear. Kaukab took the retail athletics giant to task in a Facebook post Thursday.
"Dear Nike," wrote the 40-year-old New Yorker, "I have a sincere question for your Nike ID team. Today, I was trying to buy a pair of Air Jordans and was checking out the customization features, one of which includes the ability to put short text (up to 6 letters) on them. As I was experimenting with different words to customize my shoes, I noticed that for Nike, neither 'Islam' nor 'Muslim' 'fit within our guidelines.'"
The Huffington Post was able to reproduce this issue Friday afternoon.
Nike's guidelines specifically exclude "profanity," "inappropriate slang," "insulting or discriminatory content," "content construed to incite violence," "material that Nike wishes not to place on products" and anything that "violates another party's trademark or intellectual property rights."
Unsure of what category the words "Islam" and "Muslim" would fall under, Kaukab pressed further:
As far as I (or any rational person) can assume, neither word is profanity, slang (appropriate or inappropriate), insulting or discriminatory (more than a billion people globally find identity in being called Muslims). Considering there is no trademark or [intellectual property] around just the word Islam or Muslim, by process of elimination that leaves your customers to assume only the following:

Either you believe the word Islam or Muslim incites violence or they are words that Nike doesn't want to place on its products?
Nike didn't respond to a request for comment from HuffPost explaining the decision, but it may have something to do with the reaction of the global Muslim community to a line of basketball shoes it manufactured in 1997, in which a stylized set of flames that read "Air" in English also (unintentionally) resembled the word "Allah" in Arabic:
The fiasco resolved itself only after Nike withdrew 38,000 pairs of shoes worldwide, issued a formal apology and paid for a playground at an Islamic elementary school in the U.S.
Presumably, blocking the words "Muslim" and "Islam" from any custom shoe is an attempt to head off further outrage. Other words not allowed on NikeiD include "Allah," "Koran," "Jihad" and "ISIS" (though "Daesh," a more insulting term for the terrorist group, is permitted, as is "Quran," an alternate spelling of "Koran"). Various spellings of "Muhammad" exceed the six-character limit and are therefore off-limits, regardless of whether or not Nike would deem them permissible.
Kaukab, who works in healthcare technology and who described himself in an email to HuffPost as "an All American kid with an unusual name," thinks this is "a very different scenario from what happened in 1997."
"Not allowing a certain class of people to express positive terms for their identity doesn't make sense and only makes Nike seem exclusive, not inclusive," he said.
Kaukab was quick to add that he's not a religious activist.
"I'm a believer in engagement," he told HuffPost. "I don't think this is an issue about Nike 'hating Muslims' or being discriminatory in its practices (at least I assume so). I think this is an issue of how many corporations (and frankly organizations in general) just don't get Muslims, both in the United States and abroad."
Nike's custom iD store also rode out a bit of controversy in 2001, when BuzzFeed founder (and HuffPost co-founder) Jonah Peretti, then a graduate student at MIT, attempted to order a pair of shoes with the word "sweatshop" on them and the company refused, notes KnowYourMeme.com.
"My order was canceled but my personal NIKE iD does not violate any of the criteria outlined in your message," Peretti wrote to Nike in an email contesting the order cancellation. "Sweatshop is not: 1) another party's trademark, 2) the name of an athlete, 3) blank, or 4) profanity. I choose the iD because I wanted to remember the toil and labor of the children that made my shoes. Could you please ship them to me immediately."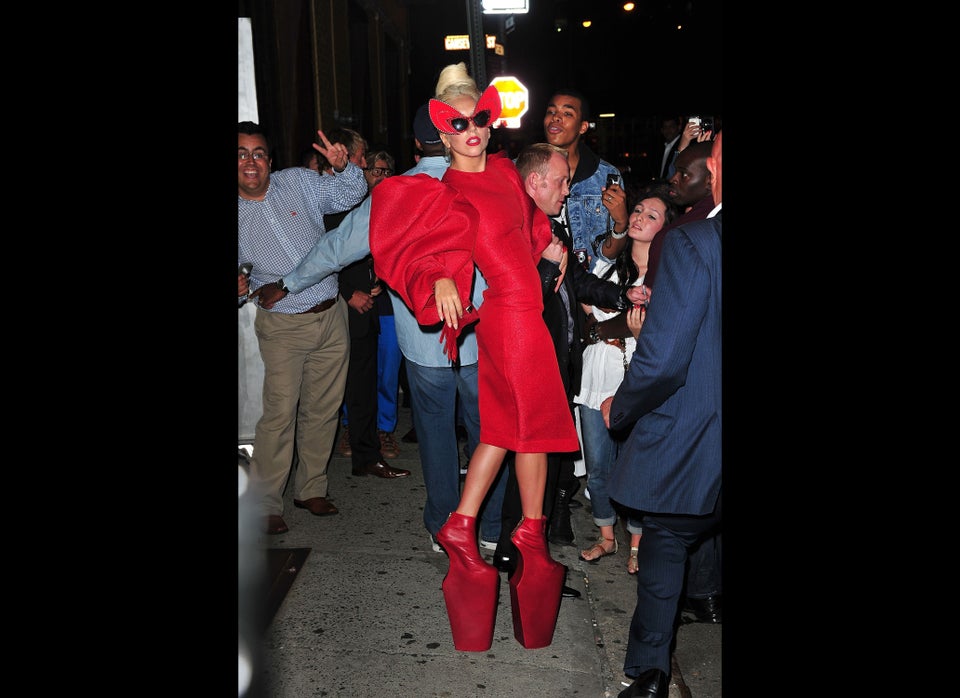 Craziest Shoes Out There
Related
Popular in the Community