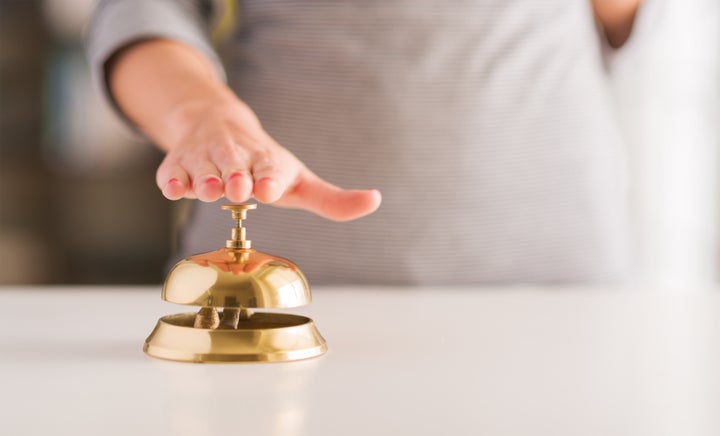 Like most start-up CEOs, I'm always concerned about how to acquire new customers. We all know that finding new customers fuels a company's growth -- but it's what you spend to find them that can ultimately define the success or failure of a company. And there's certainly no lack of dials to turn or levers to pull. Whether it's investing in online marketing channels such SEO, SEM and social media, exploring new segments, or even looking offline with a billboard on highway 101, every business owner is manically focused on how to grow their company.
With all this lever pulling and dial turning, it's no surprise that often times one of the oldest, and most basic marketing tactics gets overlooked. There is no better source of finding new customers than through Word-of-Mouth (WOM). The power of one customer telling another potential customer(s) how great a product or service is can do wonders for a company. WOM doesn't require a huge marketing investment, but it's got potential to scale big time and ultimately, it can become your most effective marketing channel.
Emotionally motivating existing customers to the point where they serve as 'free' mouthpieces doesn't happen by chance. It requires a deep commitment to your customer and an "all-in" investment in their experience with your company. In order to deliver a phenomenal experience, companies must be laser focused on knowing their customers and must be convinced that the company exists in order to serve their customers. Sound easy? Not so much. But there are some basic underlying principles that you can focus on to deliver an exceptional experience and help grow your company through WOM.
Differentiate Your Touch-points: Providing an exceptional experience requires delivering the unexpected across all the various touch-points with each and every customer. Whether it's the small details in the packaging, the heart-warming customer care, or even a personal call from the CEO to ensure satisfaction with each customer -- every touch-point is an opportunity for the company to deliver that unexpected delight that will lead to WOM. Start by identifying every possible way an average customer might interact with your company and list out all the different things you can do to 'surprise and delight' customers at each of those interactions.
Personalize the Experience: Everybody is talking about personalization, especially in the ecommerce world, but few companies are truly making an attempt to personalize the entire customer experience. By utilizing existing customer data, constantly researching how customers interact with your company and by taking the time to actually listen and engage with your customers (and yeah, this may mean actually taking time to get to know your customers), you'll naturally start to identify how you can personalize the experience. The key here is making sure that you maintain flexibility and empower employees with the ability to make decisions.
Customer Service as a Strategic Asset: Every CEO I know emphasizes the importance of customer service on the overall experience. But very few treat customer service as a strategic asset to the company. In fact, most CEOs view customer service as a cost-center rather than a function that can drive new customers and revenue. In order for customer service to truly add value and differentiate the entire experience, a company must adopt a "customer-first" approach as part of its core DNA. A passion for serving customers, not just transacting with them, has to be a priority and has to be instilled in every employee.
Hire the Right People: Yeah, I know, this is a pretty obvious principle that ends up on every 'what's critical to your success' type of question. But when I'm interviewing candidates, I ask a ton of questions that measure a candidate's aptitude to serve others and to truly want to help not only other employees, but every customer and potential customer as well. An employee who's looking out for themselves most of the time or putting themselves ahead of their employees or customers, isn't going to be a great fit. If you are truly committed to delivering a phenomenal customer experience and driving WOM, you must hire the right people who can thrive in your customer focused culture.
It's absolutely mind boggling how many marketing channels exist in this day in age. Seriously. And to try and prioritize every single marketing channel is next to impossible, and not recommended for even the most well-funded startups. If you're going to focus on absolutely crushing a single marketing tactic, I suggest focusing on delivering the best experience for your customers. By focusing on a phenomenal customer experience, you'll not only get to know, and learn from, your customers, you'll also stand proudly as your customers choose to voluntarily market, sell and promote your company to others.
Today's customer acquisition practices, particularly for ecommerce companies, have evolved -- or devolved -- back to the basics. It's no longer just about providing a customer chat interface or extending an offer for free shipping. It's the "service with a smile" and a personal touch that customers want - but don't always find when they're staring at computer screen. Breaking through that barrier and reaching through the screen to personalize the experience is not easy or impossible -- but it is becoming more and more important for those companies looking to differentiate themselves from their competitors.
John Lusk is a serial entrepreneur, the author of the best-selling book, The MouseDriver Chronicles: The True-Life Adventures of Two First-Time Entrepreneurs, and a graduate of The Wharton School. He is currently the Founder and CEO of Rivet & Sway, an ecommerce company that sells designer eyeglasses to women.
Calling all HuffPost superfans!
Sign up for membership to become a founding member and help shape HuffPost's next chapter