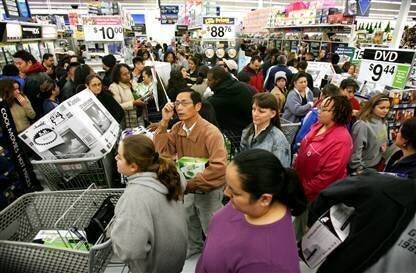 Loyalty programs are an effective way to reward your most frequent customers. In other words -- you should definitely have one.
Unfortunately, it's not as simple as issuing a few colorful punch cards and calling it a day. As fun as they are, these wallet-fatteners don't come close to allowing you to tap into the full potential of your regulars. (Not to mention their high fraud rate and the inevitable redemption headaches that come along with the all-too-common "hanging chad.")
At SCVNGR, we spend a lot of time researching loyalty, testing out the relative merits of various programs and mechanics and accruing thousands of points and rewards that we'll never have time to redeem. (On that note: Anyone out there want a complimentary magic gravity ball that we earned? First to to tweet @SCVNGR or @TheLevelUp gets it!)
Here are 5 key points culled from our research to keep in mind as you construct your own loyalty program:
Do Have it Be Transactional
Integrating your loyalty program with actual transactions at your business accomplishes two crucial goals:
First, it reduces friction for the consumer. By using the transaction as the basis for your program, you're eliminating any redemption issues that quickly arise with more complicated systems. Obviously, your employees have to understand the specifics of your program in order to deploy it successfully. If the program is tied directly to a task that they already perform, it's far more likely to succeed.
Take Starbucks, for example. Their mobile rewards app, which allows users to pay seamlessly via their mobile phones, has over 3 million users in the 6 weeks since its launch. The novelty of the mobile payment method is undoubtedly a motivating factor, but since consumers are rewarded with Starbucks "stars" for merely completing a successful purchase, participation is a no-brainer.
Another important point to keep in mind: Whenever you ask the consumer to complete an additional action beyond the transaction in order to gain credit in a loyalty program, you're placing distance between the positive emotion elicited by the reward and the action of purchasing an item or experience. Think of it in these terms: If you want to motivate a child to complete their chores, then you should reward him or her immediately after they clean their room. If you require them to land a perfect backflip before forking over the reward, they'll associate the reward with the acrobatic move, not the desired chore completion.
Takeaway Point: Less consumer backflips, more transactional rewards.
While loyalty programs are good at motivating individual customers, they're equally useful for building tight-knit communities within your customer base. By rewarding customers for spreading the word about your business, you're tapping into the power of word-of-mouth marketing and helping customers feel like an expert for recommending you to their friends.
At SCVNGR, we've experimented with this principle in LevelUp -- a pilot we're running in Boston and Philadelphia that aims to reinvent loyalty in a way that benefits both the merchant and the consumer.
LevelUp is a series of three increasingly-good deals at a place. Whenever a user purchases a LevelUp, they are funneled into our Social Recommendation Engine (SRE). The SRE turns customers into powerful advocates for businesses by incentivizing them to spread the word about the deal with their friends. If their friends purchase the recommended deal, the recommender gets their money back. We've seen up to 20 percent of purchases on Level 1 come from a direct (trackable) recommendation from a friend. Also, we've found that people who are introduced to a place by a friend go their more often and spend more at that location.
By adding a viral element to your loyalty program, you'll expose new customers to your brand in a positive light, ensuring that they'll return and upping the likelihood that they'll reach coveted "regular" status.
Takeaway Point: Reward customers for sharing their stories, and you'll reap big returns.
Do Advertise it Effectively
So, you've built the world's greatest loyalty program. But does anyone know about it? If you're content to let the program speak for itself, then you're setting yourself up for disaster. Consumers, especially those who frequent your business regularly, are creatures of habit. Most of them aren't going out of their way to find lucrative loyalty programs, so you have to effectively market your offering to them and convince them that it's different than the innumerable loyalty cards being offered to them.
Let's take a look at one business that's had strong success with their loyalty program: Amazon. For one annual payment of $79, Amazon Prime members receive free 2-day shipping on all of their orders from the site. People enrolled in Amazon Prime spend 130 percent more each year than their Non-Prime counterparts. Even more fascinating, in their first year after joining, the average Prime member goes from spending $400 per year to $900 per year. Wow!
In February of this year, Amazon expanded the Prime program by offering unlimited commercial-free streaming of TV-shows and movies to members at no additional cost. This was an exciting talking point, and allowed Amazon to build buzz around the product on their own site and elsewhere, as consumers reacted to the new streaming opportunity. Amazon also offers consumers a 1-month free trial of Prime, and once they've had a taste of the numerous perks it includes, they're virtually guaranteed to renew -- or at least spread the word of their great experience to friends and family.
So, you're thinking -- that's all well and good for Amazon, but how can a small business hope to achieve the same success with their own program?
Social media is a cheap and undervalued tool for developing strong relationships with your customers and informing them of new offerings. Also, be sure to train your staff so that they can act as ambassadors for the new program. Caveat: Be careful not to shove the new loyalty program down your customers' throats. It's opt-in, after all, and they want to feel like they have a choice in the matter. Lastly, don't neglect the influence of well-placed signage in and around your establishment. Table tents, for example, provide a subtle yet powerful call-to-action.
Takeaway Point: If a glorious loyalty program is created in the woods and no one hears about it (not even the squirrels), is it worth the effort? No.
Do Give Customers Options
Although you're the engineer of your loyalty program, it's important to give your members a sense of control. Regular customers are choosing your business over many others, so they feel that they've earned some degree of influence at your establishment. Make an effort to allow customers in your loyalty program to choose how to apply their rewards, whether it's with varying offerings or distinct experiences. Obviously this principle is better suited to locations with a broad range of offerings, but it's essential to give consumers at least some degree of choice.
With the introduction of choice comes a crucial caveat: Keep your program as simple as possible. Although consumers appreciate choice, it's important that they feel that they're following a set of logical steps toward some clearly defined goal. Remember: you want to reward your customers, not confuse them deeply. Here's a strong litmus test: If your staff has trouble understanding the program, then you'd better go back to the drawing board.
American Express has had much success with their extensive loyalty program, and they offer their members a wide range of options for redeeming the points. There's literally a catalog of redemption possibilities, ranging from travel experiences to charitable donations.
On the opposite end of the spectrum, consider the last time that you dealt with a Frequent Flier Miles program. Unfortunately, most of these "miles" programs seem more like an existential torture devices than loyalty programs. The redemption process for most is unintelligible, and makes users feel far worse than they did before they tried to figure out how to track their miles.
Takeaway Point: Give your customers meaningful choice, not migraines, in exchange for their loyalty.
While all of these tips will guide you in the right direction, you ultimately must work to make sure that your loyalty program fits with your overall brand identity. If you're a fine restaurant, for example, it probably wouldn't be a good idea to smash a gong everytime that a customer redeems a reward (unless it's a very small, antique gong.) When implemented properly, however, your loyalty program will help you deepen your invaluable relationships with your regulars, protect your bottom line and drive an excited new batch of customers in your door.
Related
Popular in the Community