This week, I've been in Tyrol, Austria, attending the Global Wellness Summit and, along with talk about health and healing, there has been a lot of discussion among the international crowd from 45 nations about the U.S. election. Last night, as a dinner of Austrian fondue (cooking chunks of steak and chicken on long steel forks in pots of boiling stock) at the wonderful Stanglwirt, a bio-friendly working farm/spa/six-star hotel in the Alps, my companions and I were greeted by Maria Hauser, the thirty-one-year-old daughter of the hotel's founder. The whole family (Maria's parents and her sister and brother) run the hotel and sing together, very much like that other Austrian family, the Von Trapps. The Hausers often perform folk music (yodeling with zithers) for their guests, wearing traditional dirndls and lederhosen.
Anyway, Maria heard a snippet of our table's conversation and she sat down to tell us this story: "When I was thirteen, Hillary came to stay at the Stanglwirt with her daughter Chelsea. Her husband was president, so, of course, when she walked into the lobby, there were all these security guys with her. It was very impressive for me to see that as a girl, but I was more impressed by how she walked in. She had such a strong presence, very positive."
"Then my family performed a musical piece for her and Chelsea," she continued. "My father played the harmonica, and we played our alpine instruments. One is called a ratschen. It's very easy to play, but you have to have a feeling for rhythm. My father handed a ratschen to Hillary, and she played with us, having a lot of fun, laughing. Chelsea was listening and having fun, too. We were around the same age and we had a nice talk in English, but she seemed a little shy. That night is a very happy memory of mine."
Maria told us that Austria is having a presidential election right now, too, a far right candidate going up against a left-wing one, with, as Maria said, "nothing in the middle. It makes it hard to pick. But the president of Austria is like a figurehead. The Chancellor is really in charge. Our election doesn't really matter. But the election in the U.S. has a big impact on the whole world."
And the whole world is watching and waiting, with optimism, for us to pick the smart, nice lady over the dirty old man.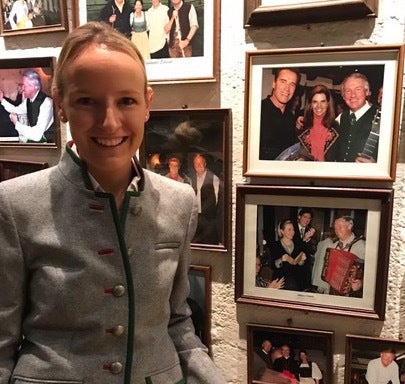 REAL LIFE. REAL NEWS. REAL VOICES.
Help us tell more of the stories that matter from voices that too often remain unheard.
This post was published on the now-closed HuffPost Contributor platform. Contributors control their own work and posted freely to our site. If you need to flag this entry as abusive,
send us an email
.