Today's cute kid note shows that a passive aggressive note from a child only gets funnier with age.
Title: A Letter To The Tooth Fairy
Recipient: The Tooth Fairy
The backstory: "I had lost a tooth, but I was suspicious about the actual validity of the Tooth Fairy's magical abilities," Jenny writes on Reddit. "So, I didn't tell anyone about the lost tooth. Lo and behold, she did not arrive. The next morning, I loudly proclaimed the Tooth Fairy bullsh*t in my 9-year-old terms, and my mom told me to write her a letter expressing my displeasure."
Runs in the family: "I have two kids myself, a son, who is seven, and a daughter who is the same age I was when I wrote the note, and I see so much of my personality in her it's scary. I'm waiting for the day she writes a similarly sassy letter. Her snark rivals my own....but that's Karma I guess, eh?," Jenny told The Huffington Post
(Not Very) Dear T.F.,

This is the second time you've done this. You forgot me. So if you're not going to come, then I'm going to keep my own teeth, You are through collecting teeth from Jennifer [redacted]. From now on I'm keeping my own teeth.

Unsincerely,
Jennifer E.

P.S. Keep collecting from Mike, though. Obviously you like him better.
P.P.S. Don't bother to write back.
Has your child drawn or written something adorable? Send a photo, along with your child's name and age, to kidnotes@huffingtonpost.com or via Facebook or Twitter -- and it may be featured as our Cute Kid Note of the Day.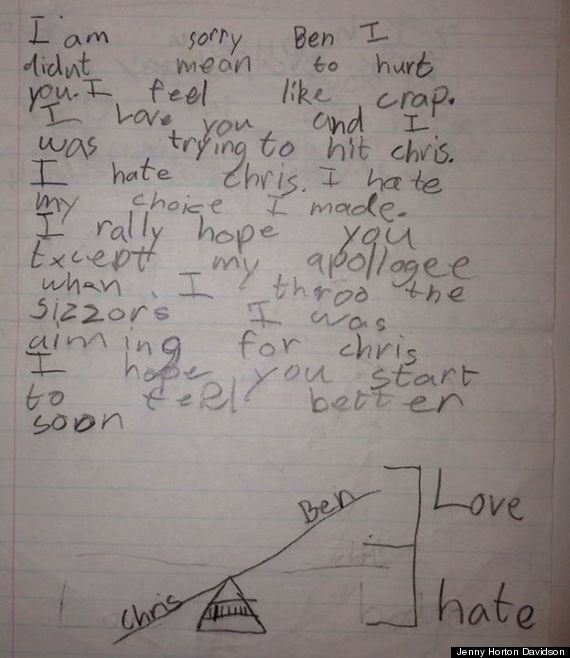 Cute Kid Notes
Like Us On Facebook |

Follow Us On Twitter |

Contact HuffPost Parents
Related