And you thought you knew how to dress to impress.
A stunning video of a cuttlefish uploaded to YouTube shows the color-changing magic of the little cephalopods. Filmed by a diver with the Japan Marine Club, the clip features a Pfeffer's flamboyant cuttlefish, which uses chromatophores -- color-changing cells in its skin -- to alter its appearance.
While many creatures use this ability to blend in to their surroundings, this shimmering variant uses its bright coloration to tell predators one thing: Don't eat me. Flamboyant cuttlefish are actually highly poisonous -- on par with the terrifying blue-ringed octopus, according to Mother Nature Network. Fortunately, they rarely encounter humans.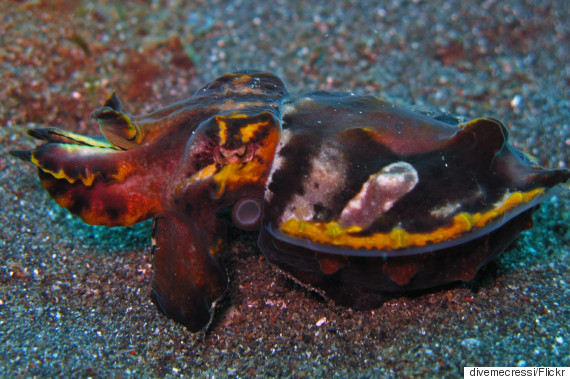 Often called the "chameleon of the sea," cuttlefish have been inspiring scientists and bioengineers for years. Cuttlefish and most other cephalopods -- the class of animals that also includes squid and octopus -- can change color to adapt to their surroundings in 300 milliseconds, or three-tenths of a second. Researchers have been attempting to mimic the process to create "artificial skin" and human camouflage.
Cuttlefish even made a short cameo in the recent blockbuster "Jurassic World." National Geographic also featured the flamboyant animals earlier this year in a video that shows a cuttlefish changing its color like a pulsating warning beacon. Pretty cool stuff.