Memorial Day is upon us, which means that road trip season has arrived. AAA estimates that some 30.7 million people will drive to American destinations this year. A lot of these road warriors will end up driving through Ohio, a near inevitability for west-bound east coasters, and the smart ones will stop at one of the Midwest's few national parks to explore a patch of uncelebrated beauty.
Cuyahoga Valley National Park, which spans 33,000 acres along 22 miles of the Cuyahoga River between Cleveland and Akron, is the only national park in Ohio, but this national park offers something else a little unusual -- there's a historic railway that runs through it. The Cuyahoga Valley Scenic Railroad offers visitors a way to take in the area's scenic views, feel a connectedness to nature and see the topography many Native Americans and settlers once roamed.
In 1880, the first steam railroad took a trip down the Valley Railway to deliver coal from Canton to Cleveland along with other goods and farm produce. The historic rails are now owned by the National Park Service and Cuyahoga Valley Scenic Railroad bills itself as one of the oldest, longest and most scenic tourist excursion railways in America. You can take the train ride through historic sites and imagine riding back to a simpler time as you see fox, deer, beavers and owls. This can be a great way to spend some of the weekend with the family at just $15 a ticket for the whole day and $10 for kids.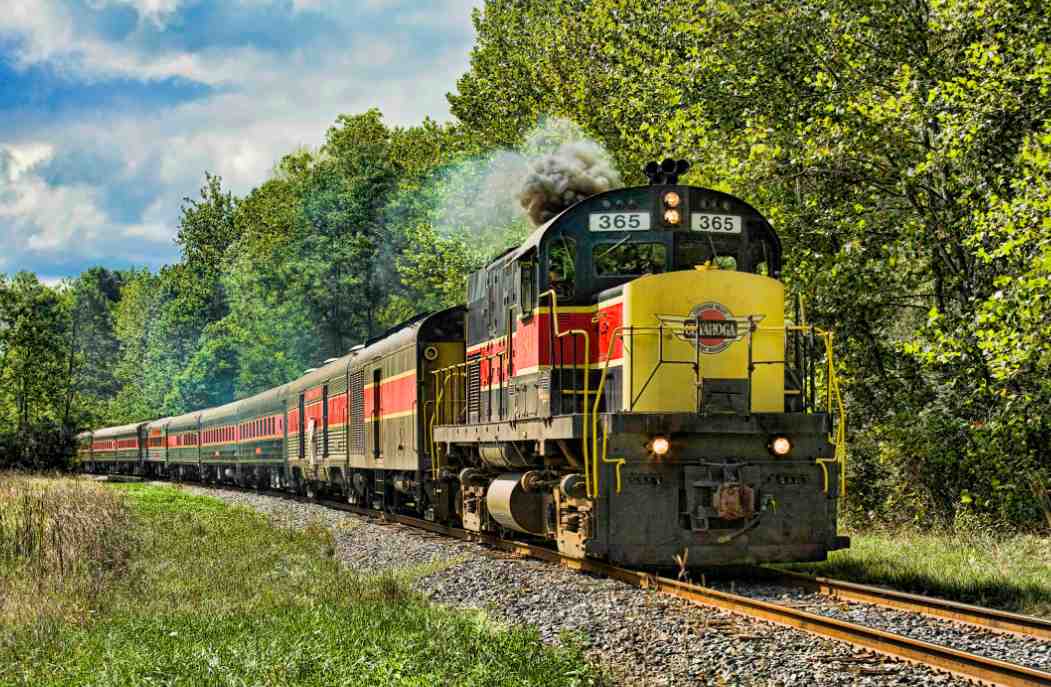 The Cuyahoga Valley Scenic Railroad also offers Bike Aboard!, a program for those who want to "Ride the Rail, Bike the Trail." Cyclists can bike through the park on the Towpath Trail and follow the route of the Ohio & Erie Canal in one direction and take the train back. The Towpath Trail is one of Ohio's longest bikeways at about 80 miles. For just $2 (this rate offered through the end of May/weekends), bicyclists can flag the train down at boarding stations.
Bike rentals and tours on the Towpath Trail
You can support the local economy here by renting a bike from some local bike shops such as Blimp City Bike and Hike, which offers complimentary helmets with a rental bike which costs $8/hour. This bike shop also offers tandem bikes for $12/hour.
Century Cycles offers bike rentals for $9/hour at its Peninsula store, located on the Ohio and Erie Canal Towpath Trail. The store also has a detailed area on its website with advice and directions for cyclists on the trail. Century Cycles also offers Night Rides on the Towpath Trail (check their website for night ride dates throughout the year).
The Great Lakes Touring Company rents bikes for $20 (up to 4 hours) and $30 (entire day) and even offers guided tours on the Towpath Trail, which would include lunch from a local caterer (which this shop likes to support) and owner Anne Smith loves being a tour guide for this beautiful trail.
Smith says this bike ride through the national park, is one of the most popular tours at her bike shop. She opened her shop because she wanted to offer more tourism options in Cleveland. "The Towpath starts up in an urban area in Cleveland and heads down south through Akron," she says.
She likens biking on this trail to a mini vacation or a nice getaway for those living 20 minutes away in Cleveland, and it's also fun to take advantage of Bike Aboard! "It is getting out of the city, getting to experience something that a lot of people don't know is there," Smith says. "The train conductor comes down and sees you. You can see more of the Towpath in a day on bike and train, doing them together. It's only $3 to throw your bike on the train and you see this amazing park system that we have."
Support HuffPost
A No-B.S. Guide To Life
Related
Popular in the Community