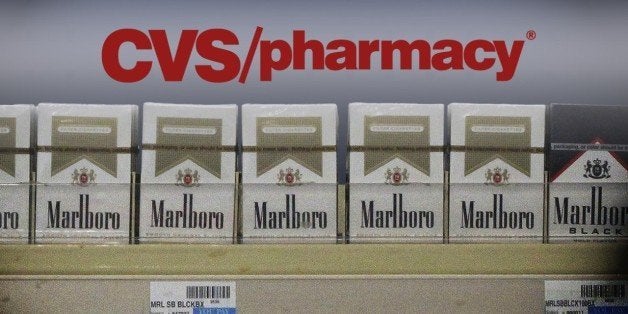 What started as a small city ban on tobacco sales has resulted in an unprecedented move by the nation's largest drugstore chain, one that could have a ripple effect across retailers.
In 2008, San Francisco issued a ban on the sale of cigarettes in pharmacies like Walgreens and CVS -- the first such ban in the country. The legislation argued that cigarettes had no place in pharmacies that were in "the health-promoting business."
"It was such an overt contradiction, selling cigarettes next to asthma medications," remembered California Lt. Gov. Gavin Newsom in a phone call with The Huffington Post. Newsom, who was serving as the city's mayor at the time, sponsored the 2008 legislation.
The ban didn't come without significant resistance from stakeholders, however.
Months after the legislation was introduced, the city was slammed with lawsuits by Philip Morris USA and Walgreen Co., whose attorneys claimed the law was unconstitutional and unfairly targeted drugstores while ignoring other retailers that contained pharmacies, like Safeway and Costco.
However, instead of dropping the ban, San Francisco responded by expanding the legislation to include big box and grocery stores.
"We didn't back down," said City Supervisor Eric Mar, who introduced the expanded legislation, in a phone call with HuffPost. "We defeated the lawsuits by expanding it further."
Newsom praised CVS for parting ways with its peers in complying with the law at its outset. "CVS deserves a tremendous amount of credit," he said. "They've done the right thing and the smart thing as a company."
That sentiment was echoed Wednesday by CVS president and CEO Larry Merlo in a statement about the company's decision.
"Ending the sale of cigarettes and tobacco products at CVS/pharmacy is simply the right thing to do for the good of our customers and our company," he said. "The sale of tobacco products is inconsistent with our purpose -- helping people on their path to better health."
Newsom told HuffPost that, though the battle was long, the result has been worth it.
"Change has to start somewhere, and this reinforces the incredible importance of disrupting the course," he said. "This is just another reminder of what can be accomplished when you start bottom up, not top down -- you've got to localize. If you sit around and wait for things to happen, you're going to be disappointed."
REAL LIFE. REAL NEWS. REAL VOICES.
Help us tell more of the stories that matter from voices that too often remain unheard.
BEFORE YOU GO
PHOTO GALLERY
12 Things The Tobacco Industry Doesn't Want You To Know