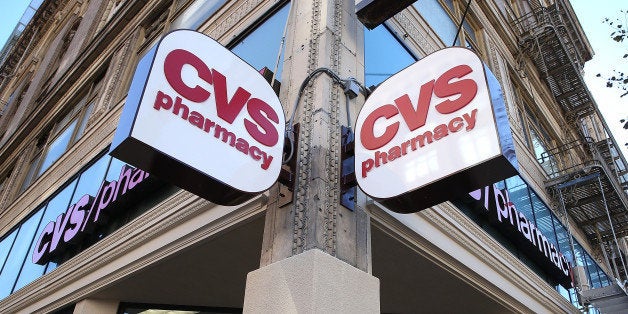 It may soon be cheaper to fill your prescriptions at CVS than at Walgreens.
That's because Caremark, a subsidiary of CVS Health that manages prescriptions for insurance companies and employers, plans to start charging some customers more to fill prescriptions at pharmacies that also sell cigarettes and other tobacco products. The added copay could cost as much as $15.
The company is developing a "tobacco-free network" that will start next year and include CVS and Target as well as other local and regional pharmacies that don't sell tobacco, CVS spokesperson Carolyn Castel told The Huffington Post.
Large employers that use Caremark as a pharmacy benefit manager will decide whether or not to opt in to the network. If they opt in, their employees will be charged extra to fill prescriptions at pharmacies that still sell tobacco. The company would provide customers with a list of tobacco-free pharmacies and copays would vary, Castel noted.
The city of Philadelphia will be the the first large employer to opt in to the network. As of January, city employees will be charged more for filling prescriptions at pharmacies that sell tobacco, Castel told HuffPost.
The news comes a little over a month after CVS rebranded itself as CVS Health -- and announced it would no longer sell tobacco products. The change will cost the company about $2 billion in revenue, it said.
Caremark's decision could help grow CVS's business, as customers seek lower prices, and pressure rivals Walgreens and Rite Aid to also ban tobacco products. Castel wouldn't comment on how many customers would be impacted by the new policy or how much more revenue CVS expects to bring in as a result of the added copays.
According to new research published by the JAMA Network Monday, some customers who suffer from illnesses associated with smoking tobacco like asthma or high blood pressure sometimes purchase cigarettes at the same pharmacies where they pick up their medication. The study, which was financed by an unrestricted grant from CVS to Brigham and Women's Hospital, found that six percent of Caremark customers taking medication for asthma or chronic obstructive pulmonary disease made at least one cigarette purchase at the same time.
Popular in the Community