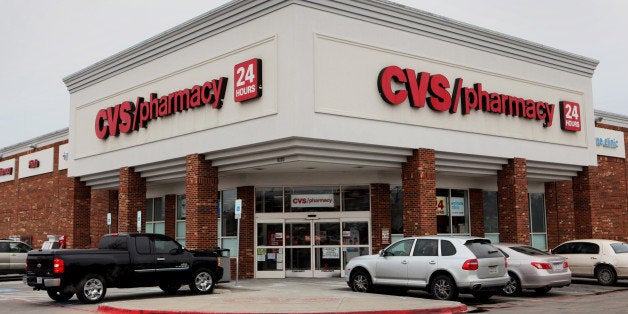 The company formerly known as CVS Caremark made a big splash Wednesday by yanking whatever tobacco products it had left on the shelves a month earlier than planned, becoming the first big pharmacy chain to do so. The company, now known as CVS Health, has estimated it will lose $2 billion a year in revenue as a result of the move.
CVS dumping tobacco sales and rebranding itself says more about the future of the American health care system and emerging areas of competition for shares of those trillions than it does about smoking cessation. (One smoking-related fact that CVS' actions do point toward is that way fewer people use tobacco now than did decades ago, making it easier for a chain store to ditch cigarettes -- although CVS's competitors like Walgreens and Rite Aid aren't doing so, despite urging by state officials.)
By ending sales of cigarettes and other tobacco products and changing its corporate name, CVS is signaling that it wishes to be known as a health care provider, not merely a convenience store with a pharmacy in the back and wide array of smokes up front. After all, you can't buy cigarettes at the doctor's office. In numerous interviews with news outlets tipped off to the company's announcement, CVS CEO Larry Merlo has made a similar point, though often worded a bit differently.
That messaging is consistent with Merlo's statement in the company's annual report issued in February, just after CVS first said it planned to end tobacco sales.
As the delivery of health care evolves with an emphasis on better health outcomes, reducing chronic disease, and controlling costs, we're playing an expanded role in providing care through our pharmacists, nurse practitioners, and physician assistants. This significant action further distinguishes us in how we are serving our patients, clients, and health care providers, and better positions us for continued growth in the evolving health care marketplace. Although this decision will have some impact on revenues and profits, we believe that it is the right thing to do given our expanding role as a health care company.
One area in which companies like CVS, Walgreens and Walmart are making bets is so-called retail clinics, where customers can get basic medical care like flu shots and treatments for minor injuries and ailments at low cost during hours more like those of a hospital than a doctor's office, and without the long waits and indignity of visiting an emergency room.
It's a growing market: In 2009, retail clinics at CVS, Walgreens and the grocery chain Kroger recorded nearly 6 million patient visits, which was almost exactly four times the amount in 2007, according to a study published in the journal Health Affairs this month. That's still a tiny number compared to the hundreds of millions of doctor and emergency department visits annually, but the growth trend is clear -- and demand for health care services is only becoming greater.
These companies are responding to other trends in the health care system, starting with the expansion of health coverage brought about by Affordable Care Act. There are as many as 10 million more people with health insurance or Medicaid benefits now than before Obamacare enrollment began.
These patients need someone to treat them, and retailers figure it might as well be them, not least because those patients are probably already customers. CVS has been transforming from a retailer into a big health care company for years already, notably since the company merged with Caremark, a provider of prescription-drug benefits for employer-provided health insurance plans.
The movement toward health insurance plans with deductibles in the thousands of dollars -- meaning policyholders have to spend that much out of pocket before their insurance kicks in -- could also drive people to clinics that will charge them an affordable fee for minor care, rather than the costlier bill associated with a doctor's office or emergency department visit.
What's more, there's a well-known national shortage of primary-care doctors -- although supply varies a lot by geography -- and retail clinics, along with urgent care facilities and other sites of care, could be key to ensuring access to timely, cost-effective treatment in some areas.
What changed Wednesday is this: Those patients will have to stop somewhere other than CVS if they want a pack of smokes for the drive home. Maybe there will be a Walmart, Walgreens or Rite Aid nearby.
Calling all HuffPost superfans!
Sign up for membership to become a founding member and help shape HuffPost's next chapter