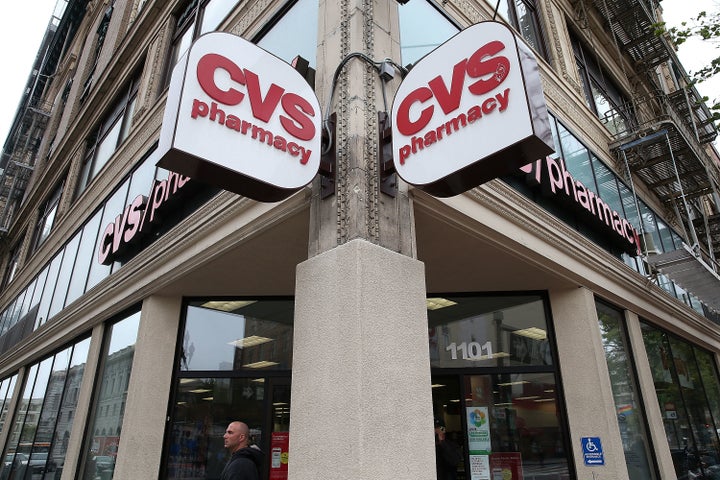 NEW YORK -- CVS Health is getting a booster shot from IBM's supercomputer, Watson.
The retailer -- which rebranded last year with a focus on health, even sacrificing $2 billion in sales by banning tobacco from its shelves -- has partnered with the tech company to roll out a series of apps that aim to improve preventive care for patients with chronic illnesses.
The partnership is in its early phases, and both IBM and CVS remained tight-lipped about details.
But the first app, set to debut sometime in 2016, may integrate data from CVS purchases, clinical visits and fitness trackers such as a FitBit or Apple Watch, and then process it through Watson's gargantuan database of information, IBM told The Huffington Post. In this way, patients with diabetes, hypertension or obesity could learn to better manage their chronic illnesses and make educated decisions about their health. The companies have not yet decided which disease the first app will focus on.
"This isn't just another app you'll put on your phone. This is an app powered by cognitive technology," Stephen Gold, vice president of IBM Watson, told HuffPost. "The system gets progressively smarter. Unlike conventional technology, where you have to reset the rules, these apps keep learning and getting better."
For CVS, the partnership shores up its rebranding as a health company. Earlier this month, the company left the U.S. Chamber of Commerce after learning that the nation's largest trade organization often lobbies against tobacco regulations in other countries at the behest of big tobacco companies.
Though quitting tobacco hurt CVS's bottom line in the short run, the company may be well-positioned to dominate a quickly growing market. The value of the health care cloud-computer market is expected to hit $9.48 billion by 2020.
"We could learn information about a patient's activity levels from a tracker like a FitBit, which (along with other health information) could help us identify their risk for declining health and better tailor an intervention before a patient experiences a major, adverse health event," Christine K. Cramer, a CVS spokeswoman, said in an email to HuffPost. "At CVS Health, we're committed to improving health and transforming healthcare delivery through the use of information and technology and this partnership is one more example of how we're helping people on their path to better health."
Related
Popular in the Community