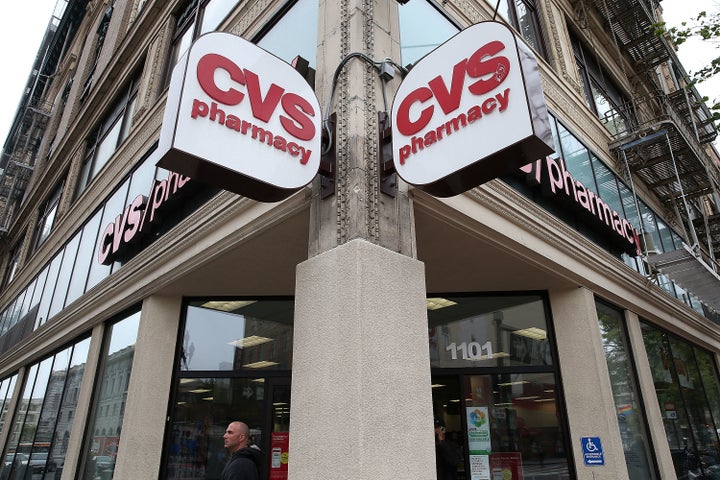 At CVS pharmacies in 12 states, friends and family members of people suffering from opiate addiction will now be able to get the overdose reversal drug naloxone without a prescription, the company announced Wednesday. CVS has already similarly expanded access to naloxone in Massachusetts and Rhode Island, meaning CVS pharmacies in 14 states now allow nonprescription purchases of naloxone.
"Over 44,000 people die from accidental drug overdoses every year in the United States and most of those deaths are from opioids, including controlled substance pain medication and illegal drugs such as heroin," Tom Davis, vice president of pharmacy professional practices at CVS, said in a statement. "Naloxone is a safe and effective antidote to opioid overdoses and by providing access to this medication in our pharmacies without a prescription in more states, we can help save lives."
Wednesday's announcement will affect CVS pharmacies in Arkansas, California, Minnesota, Mississippi, Montana, New Jersey, North Dakota, Pennsylvania, South Carolina, Tennessee, Utah and Wisconsin. Pharmacy boards in these states had previously been empowered to make decisions about offering naloxone without a prescription.
"While all 7,800 CVS/pharmacy stores nationwide can continue to order and dispense naloxone when a prescription is presented, we support expanding naloxone availability without a prescription and are reviewing opportunities to do so in other states," Davis said.
Smaller independent pharmacies and some larger chains have also moved to increase nonprescription access to naloxone in some parts of the country, but this decision by CVS marks the most significant step forward so far.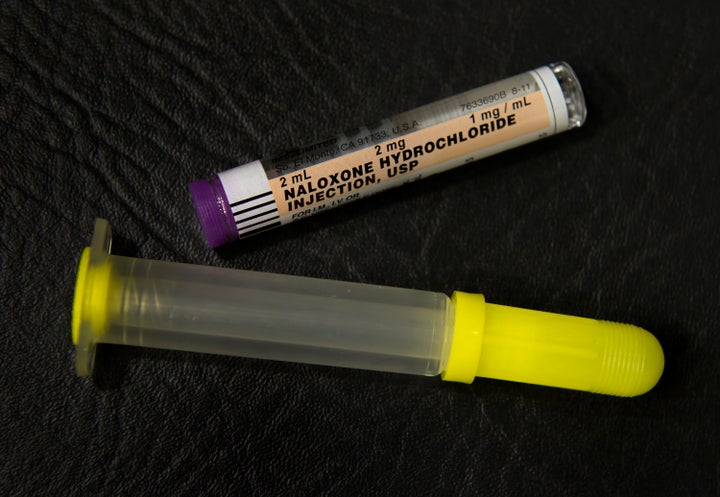 Naloxone, or Narcan, is nonaddictive, nontoxic and easy to administer through nasal, intramuscular or intravenous application. It reverses the effects of an opioid overdose by essentially blocking the opioid receptors that are targeted by heroin and many prescription painkillers.
From 1996 through June 2014 laypersons reported using naloxone in 26,463 overdose reversals, according to a June report from the Centers for Disease Control and Prevention. In 2013 alone, nearly 40,000 laypersons with 93 organizations reported 8,032 overdose reversals.
Some critics have claimed that wide access to naloxone could encourage risky drug use by giving users a way to "fix" an overdose. But while naloxone has been found to be highly effective -- capable of reducing overdose deaths in a community by as much as 50 percent when paired with proper training and distribution -- it doesn't come without a price. Administering it to an overdose victim can send them into a rapid and excruciating withdrawal, which supporters say makes it unlikely to enable abuse.
"The only thing naloxone does is reverse an opiate overdose," said Laura Thomas, California deputy director of the Drug Policy Alliance. "It's not a drug that people can get high on, it's not a drug that has any other repercussions or side effects, and increasingly people understand that we need to get naloxone into the hands of anyone who's likely to be at the scene of an overdose."
Amid surging opioid overdose deaths across the U.S., many states have taken action to expand access to naloxone. A number of states are now training and equipping first responders and other law enforcement officers. Others have passed laws protecting prescribers from criminal prosecution or civil liability. But some states have done nothing.
Still, naloxone advocates like Thomas say opposition to naloxone access has begun to evaporate over the last few years.
Even politicians not known for their progressive views on drug policy are getting on board. Earlier this year, Rep. Michael Burgess (R-Texas) told The Huffington Post he believes the federal government should make the drug available over the counter nationwide.
"Right now, it's hard to get," Burgess said. "If it were available at a 24-hour pharmacy, not saying it could save every life at risk, it could save some. The downside of having it available is what?"
Other lawmakers from both sides of the aisle have also spoken out about naloxone, urging federal action to make the drug more easily available to the public. But for the Food and Drug Administration to consider such a broad step, a manufacturer would first have to apply to sell the drug without a prescription, an FDA spokesman told HuffPost in April.
As demand for naloxone rises with acceptance, so have prices. Over the past two years, Amphastar Pharmaceuticals, the only manufacturer that produces the drug in a dosage that can be adapted for intranasal delivery, has in some cases reportedly doubled the prices it charges. In Baltimore this year, for example, the cost of a single dose went from $20 to $40 in just five months, according to an NPR report. Some have blamed Amphastar for these increases, but the company has cited increased manufacturing and material costs.
Clarification: Language has been amended to reflect that Amphastar does not explicitly market naloxone in intranasal form, but that its product can be adapted for such use.
Popular in the Community