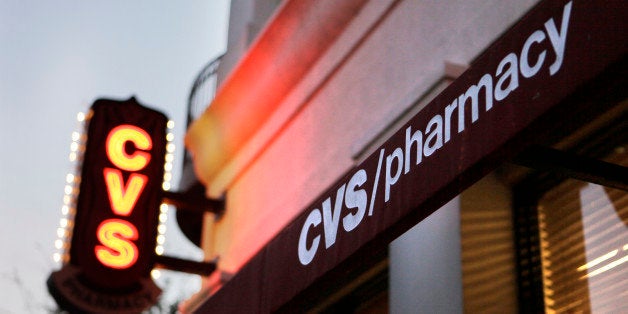 NEW YORK -- When CVS made the decision to stop selling cigarettes and other tobacco products in February, it was a pretty radical move. But the company almost went further. CVS also considered scrapping soda and candy, chief executive Larry Merlo revealed on Thursday.
Appearing at a corporate responsibility conference in Manhattan, Merlo was asked how he "could rationalize" selling sugary food products that come with serious health risks like obesity and diabetes.
"That's a great question, and that was part of the healthy debate that we had with our management team in terms of well, what about these other products?" Merlo said, adding that CVS executives actually discussed with health experts the medical risks inherent in consuming large amounts of sugar.

Eventually, Merlo said, the company decided that because consuming moderate amounts of junk food isn't considered dangerous by medical experts, those products could stay on CVS shelves. "The feedback that we got quite comfortable with was, if you talk to a nutritionist, a dietician or your physician, you know, they will tell you that occasional use, taken in moderation, has not been proved to cause medical harm," Merlo said. "But the same can't be said about tobacco."
"We decided to remove tobacco because unlike those other products, there is no amount of tobacco use that is safe," CVS said in a statement.
There's little debate that cigarettes are more dangerous than sugar. Cigarette smoke is a poisonous mix of more than 7,000 chemicals, and harms nearly every organ in the body. Every year, 480,000 Americans die from smoking-related reasons -- that's about one of every five U.S. deaths, according to the Centers for Disease Control and Prevention.
Though not as deadly as cigarettes, sugar still poses several serious health risks and is considered more dangerous than previously thought. Diets high in sugar can lead to obesity, diabetes and heart disease. Heart disease is the No. 1 killer of Americans, and sugary drinks are the biggest source of added sugar in Americans' diets.
If CVS had gone ahead and blocked sales of sugary food and drinks in its 7,600 U.S. stores, the backlash would probably have been severe. When Michael Bloomberg, then the mayor of New York City, introduced a plan in 2012 to ban sodas larger than 16 ounces, he faced staunch opposition from powerful trade associations, unions and minority groups, who slammed him for creating "a nanny state." The law was later struck down by a state Supreme Court judge, who called it "arbitrary and capricious."
So what is a "moderate" amount of soda to drink? The American Heart Association says that you shouldn't consume more than 450 calories of sugar-sweetened beverages a week -- which is the equivalent of about three 12-ounce cans of the stuff. Unfortunately, many Americans consume much more than that.
Earlier this year, CVS said that it decided to stop selling cigarettes and other tobacco products because doing so contradicted its goal of providing health care services for millions of Americans. Last month, it changed its name from CVS Caremark to CVS Health, citing its "broader health care commitment."
Though refusing to sell tobacco will cost CVS about $2 billion in lost sales annually, that's not all that much for a company that generated $126.7 billion in sales last fiscal year.
In any case, CVS may make up the lost revenue in other ways. It hopes to translate the positive publicity into valuable new partnerships with insurers, hospitals and physician practices, who will see CVS as a leader in its field.
"This removes a barrier to forging new partnerships, which will create new growth for company," Merlo said Thursday. "They'll emerge over the next 12, 18, 24 months or so. We will look back at this and say, 'This opened up new avenues for us to grow as a company.'"
Plus, health care spending is projected to grow 5.6 percent this year compared to 2013, and to increase by 6 percent from 2015-2023, according to projections by federal auditors. CVS is poised to earn a greater share of that money as it ramps up its health care offerings. The company now has 900 "Minute Clinics" nationwide, where people can come to have simple medical services performed, like getting a flu vaccine or their blood pressure checked.
As for the calls for CVS to get rid of its overly sweetened drinks and jumbo-size bags of candy, those will have to wait. In the meantime, the company plans to encourage customers to eat healthier snacks. "In coming months, you'll see more information at the point of purchase, in terms of working to provide more education for consumers, and pointing out healthier alternatives," Merlo said.
REAL LIFE. REAL NEWS. REAL VOICES.
Help us tell more of the stories that matter from voices that too often remain unheard.