Feb 5 (Reuters) - CVS Caremark Corp said on Wednesday that it would stop selling tobacco products at its 7,600 stores by October, becoming the first U.S. drugstore chain to take cigarettes off the shelf.
Public health experts called the decision by the No. 2 U.S. drugstore chain a precedent-setting step that could pressure other stores to follow suit.
CVS, whose Caremark unit is a major pharmacy benefits manager for corporations and the government Medicare program, believes the decision will strengthen its position as a healthcare provider.
"I think it will put pressure on other retailers who want to be in healthcare," said CVS Caremark Chief Medical Officer Dr. Troyen Brennan.
Although some U.S. cities, including Boston and San Francisco, already ban the sale of tobacco products in pharmacies, advocates hope CVS' voluntary decision will have a ripple effect among other pharmacy chains.
Some retailers stopped selling cigarettes years ago: Target Corp decided to drop them in 1996, while East Coast supermarket chain Wegmans Food Markets did so in 2008.
Matthew Myers, president of the Campaign for Tobacco-Free Kids, which advocates for tobacco control, said that CVS's announcement could drive momentum for declining tobacco use.
Dr. Risa Lavizzo-Mourey, chief executive officer of the Robert Wood Johnson Foundation, which focuses on public health, called CVS' decision "a bold, precedent-setting move because it acknowledges that pharmacies have become healthcare settings."
While headline grabbing, CVS said the move will not make a big dent in its profits.
CVS said it will lose about $2 billion in annual sales and between 6 and 9 cents of profit per share this year. Analysts expect the company to report 2014 revenue of $132.9 billion and a profit of $4.47 per share, according to Thomson Reuters.
U.S. cigarette sales have fallen 31.3 percent between 2003 and 2013, according to Euromonitor International.
The falling smoking rates, along with new competition in the last two years from the low-cost Family Dollar Stores Inc and Dollar General Corp chains, suggest shrinking prospects for tobacco product sales at CVS. Dollar stores have far more locations and offer goods at lower prices.
Although adult smoking rates have fallen from 43 percent of Americans in 1965 to the current 18 percent, smoking remains the leading cause of preventable death in the United States, killing more than 480,000 people each year.
Last month, the American Lung Association and other advocacy organizations called on political leaders to commit to cutting smoking rates to less than 10 percent of the population in a decade and to protect all Americans from secondhand smoke within five years.
The CVS decision comes on the heels of several recent deals bolstering CVS Caremark's position in the healthcare market.
CVS in December said it expected its pharmacy benefit manager revenues to rise between 7.25 percent and 8.5 percent in 2014, easily outpacing growth of 2 percent to 3.25 percent in its retail business.
In December, CVS and pharmaceutical distributor Cardinal Health Inc announced a 10-year agreement to form the largest generic drug sourcing operation in the United States. A month earlier it said it was buying Coram LLC, Apria Healthcare Group Inc's specialty infusion services business unit.
CVS executives said the company will replace some of lost cigarette sales through smoking cessation programs at its pharmacies and will offer more programs to Caremark members. CVS said the programs will be also be a key selling point as it tries to land more corporate contracts this year.
Related
Before You Go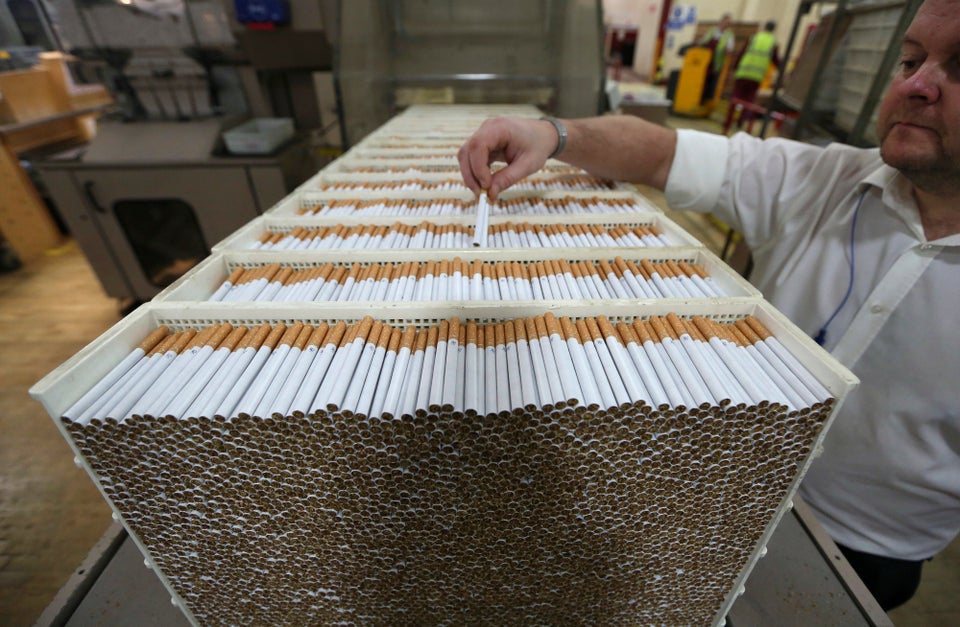 12 Things The Tobacco Industry Doesn't Want You To Know
Popular in the Community