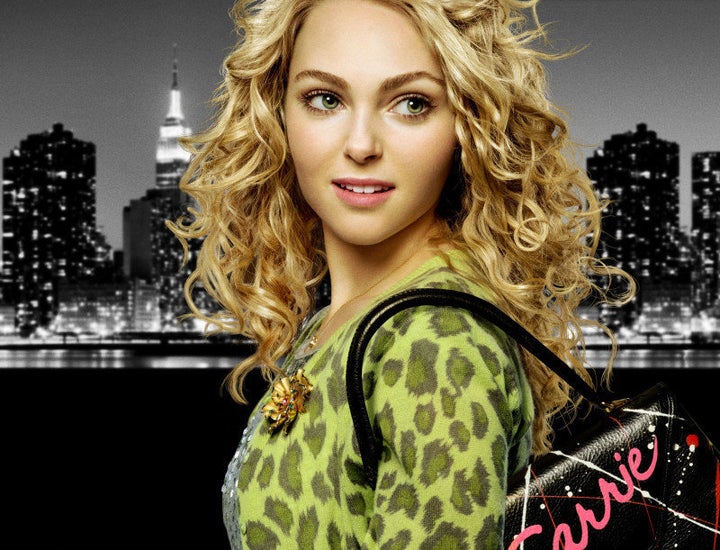 We've seen The CW's new fall and midseason pilots, and while they're not for review (things often change drastically before the shows are set to premiere), we do want to share our first reactions with you.
This quick guide is designed to get you excited for some new shows ... and to warn you to curb your enthusiasm for others. Just keep in mind that we'll have full reviews of the final pilots closer to airdate. For now, here are our snap judgments of all of The CW's new shows for the 2012-2013 TV season.
There are five new scripted shows coming to The CW that were ready to preview -- the good (really digging "Arrow"), the questionable ("Beauty and the Beast"? Really?) and the worst new drama of the season ("Cult," we're looking at you) -- and HuffPost TV staff Maureen Ryan, Maggie Furlong, Jaimie Etkin, Chris Harnick, Alex Moaba and Laura Prudom had plenty of varying opinions.
Here's how we broke them down:
Watch It - awesome show, can't wait for more
Skip It - it's either horrible or just totally not their thing
DVR It - there's potential, will give it a second chance
FALL 2012

"ARROW" Read more about "Arrow" and watch the trailer here Ryan: Watch It They had me at Stephen Amell, who's a strong anchor for the show, but the fact that the fabulous Katie Cassidy is also in this superhero show sealed the deal. Also, I've been waiting a long time to watch Paul Blackthorne in a show that was at least moderately good, and I'm hoping this could be it.
Furlong: Watch It I'm not a Green Arrow superfan, but you definitely don't have to be -- the twists and turns here help keep the action going.
Etkin: DVR It Not my personal taste, but it's a well done pilot with plenty of action, some captivating effects and the gripping Stephen Amell in the lead. This could be The CW's answer to growing up.
Harnick: DVR It As a comic book fan, I initially balked at Dinah Laurel Lance (Black Canary) being a DA, but I'm willing to give this show another chance. For how long is the real question.
Moaba: DVR It Surprisingly decent. "Smallville" meets "Gossip Girl."
Prudom: Watch It One of my favorite pilots of the season -- the action scenes are exhilarating, the mysteries are intriguing, and it's packed with sly references and visual easter eggs for die-hard comics fans. The only thing I'd jettison in future episodes is the cheesy voiceover, but it's obviously a trend The CW is going for this season, since all of their pilots (except "Cult") feature one.
"BEAUTY AND THE BEAST" Read more about "Beauty and the Beast" and watch the trailer here Ryan: Skip It I don't really have room in my life for a mildly offbeat procedural, which is basically what this remake is, and I love Kristin Kreuk but I'm not seeing her as an NYC cop.
Furlong: Skip It Kristin Kreuk is cute, but I just can't.
Etkin: DVR It The procedural element of this show needs work, but it's great to see Kristin Kruek back on TV. With the romance being more captivating than the crime stories, time will tell if they're able to balance it out.
Harnick: Skip It It's great to see The CW's budget for pilot special effects seems to have increased since "Ringer" and that terrible boat scene ... yup.
Moaba: Skip It Genetically altered mutant soldier who faked his own death teams up with a sexy cop who's been targeted by mysterious attackers to make audiences long for singing candlesticks.
Prudom: Skip It It's obvious that The CW is trying to expand into more profitable procedural territory, but as a fan of the network's serialized dramas, it's a step in the wrong direction for me. This is cheesy and heavy-handed, with overwrought dialogue and a few laughable special effects. I feel like it'll probably find its niche after a couple of episodes, but as I have no interest in cop dramas (even the supernatural variety) I won't be tuning in to find out.
"EMILY OWENS, M.D." Read more about "Emily Owens, M.D." and watch the trailer here Ryan: Skip It Mamie Gummer is a swell actress with a wonderfully charming presence. Let's hope she finds a show better than this nonsensical vehicle.
Furlong: Skip It How did Mamie Gummer end up here? This wasn't a horrible excuse for a medical show (although it's very CW-ized), but I don't feel compelled to watch any more episodes.
Etkin: Skip It Mamie Gummer seems too capable to play someone as incredibly neurotic as Emily Owens. And she's not exactly an inspiring female character -- she eats her feelings and is dealing with unrequited love like a 12-year-old. The writing isn't great -- we get it, hospitals are like high school -- and it's a little "Ally McBeal" meets "Grey's Anatomy," which doesn't yield the best result.
Harnick: Skip It Mamie Gummer is so charming, but this pilot felt like it was three hours long. I really wanted to like it, however it needs work and I'd much rather see Mamie on "The Good Wife."
Moaba: Skip It There's nothing really unique about this boilerplate doctor show pilot, but have you heard Mamie Gummer is Meryl Streep's daughter?
Prudom: DVR It It's undeniably Diet "Grey's Anatomy," and medical shows aren't my thing, so I doubt it'll ever be appointment viewing for me. But once you get past the generic name, it's a charming and solidly-made dramedy with an engaging cast, and if you're a fan of "Grey's," there's a lot for you to love here.
MIDSEASON 2013

"THE CARRIE DIARIES" Read more about "The Carrie Diaries" here Ryan: DVR It It's cute enough, but pretty insubstantial. Also, I was a teenager in the '80s. Not everyone wore that much neon. Just sayin'.
Furlong: Watch It I was wary of the idea of a "Sex and the City" prequel, but AnnaSophia Robb is adorable as young Carrie, and the mix of high school life and exploring the big city is a fun balance.
Etkin: Watch It I wasn't expecting to enjoy "The Carrie Diaries," but I really did. The '80s setting is fun, AnnaSophia Robb is wonderful in the role of baby Bradshaw and the homages to the HBO series -- like Carrie's pre-writing scrunchie -- are very satisfying. But I can't help but wonder: How does this well-adjusted 15-year-old become such a freaking basketcase on "Sex and the City"?
Harnick: DVR It Probably The CW's hottest project, the "Sex and the City" prequel wasn't terrible, but it wasn't great. I'd like to see more, but I'm not dying to.
Moaba: Skip It Not for me, but it's watchable enough that I'd recommend it to my sister on the condition that the line about Carrie losing her virginity to a man named Manhattan gets edited out of the pilot.
Prudom: Watch It As a die-hard "Sex and the City" fan, I was honestly expecting to loathe this show, but I'm happy to admit that the pilot completely changed my mind. I'm refusing to view it as a "SatC" prequel, but taken as a standalone teen drama that just happens to feature a curly-haired fashionista called Carrie, it's thoroughly charming, heartfelt and funny, with smart writing and a compelling group of characters. I'm just sad that we have to wait until midseason to see more.
"CULT" Read more about "Cult" here Ryan: DVR It This kind of thing -- a mythology-based drama about the making of a cult TV show -- is usually right up my alley, but I found the pilot a little muddled and the characters a little colorless. But I'll give it a shot, given that it theoretically could hit me in some of my nerdtastic happy places.
Furlong: Skip It This has to be said in all caps: THIS IS THE WORST NEW SHOW OF THE SEASON. Period. It's laughable. I honestly don't know how it made it to air.
Etkin: Skip It The concept seems perfect for The CW's supernatural fanatics and generally obsessive audience, but it fails to deliver -- it almost seems like it was haphazardly put together. Hopefully they'll work on it, or else fans of "The Vampire Diaries" will be even more devastated, knowing they lost Alaric to this.
Harnick: Skip It I'm not going to watch "Cult" because Fox's "The Following" did midseason creepy cult drama a whole lot better.
Moaba: Skip It This creepy thriller about a TV show that inspires a copycat murderous cult just inspired me to join the cult of people who won't be watching this show.
Prudom: DVR It On the strength of the pilot, I would tell you to Skip It, because Everything! Is! So! Dramatic! that none of the characters talk like actual human beings. The show is so unabashedly meta that it's a little too self-aware, and although I'm intrigued by the concept and love Matt Davis as a lead, it really needs to calm down and decide whether it wants to be a campy B-movie romp or a legitimate thriller before I invest any time in its enigmas.
Tell us: Which of these new CW shows are you excited to see for yourself?
Check out our snap judgments of other pilots here, by network:
Check out more on The CW's new 2012-2013 shows here:
Calling all HuffPost superfans!
Sign up for membership to become a founding member and help shape HuffPost's next chapter
BEFORE YOU GO