The issue of bullying has been thrust into the national spotlight once again thanks to a rash of new teen bullying stories making the news. This despite the abundance of celebrity public service announcements, documentaries on the subject, and the so-called "zero-tolerance" policies adopted by many school boards.
The sad reality is that all our efforts are being thwarted by the growing popularity of social media, the proliferation of social networks, and the access teens have to more Internet-connected devices. The most recent story making the rounds on cable news and the Internet is Rebecca Sedwick, of Lakeland, Fla., who jumped from a cement factory tower on September 9th, 2013.
While only two girls were arrested for bullying, which allegedly caused Sedwick to commit suicide, authorities claim that Rebecca was "terrorized" relentlessly for months by as many as 15 girls, both physically and online. One message posted to Rebecca's profile on social networks said that she should "drink bleach and die.'' Rebecca's mother closed her Facebook account and moved Rebecca to another school but thanks to social media, the cyber-bulling continued.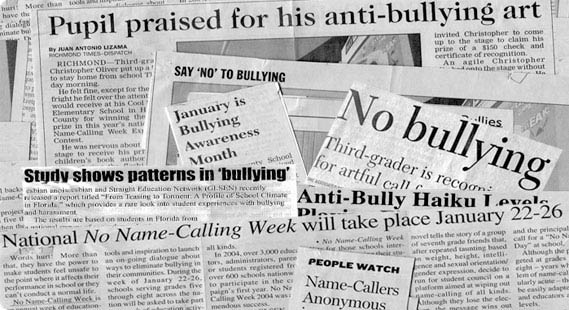 In an unrelated case, a girl with special needs in Texas is being bullied mercilessly by her classmates via text messages. Shea Shawhan, 18, a junior at Plano West Senior High School, suffers from seizures due to a brain injury she suffered birth. Despite her seizures, Shea participates in sports and is a member of the school's cheerleading squad. Instead of being inspired by -- and celebrating the achievements of -- Shea, her school mates are bullying her instead.
"Shea should just have one of her fucking seizures and die because people at west don't want her. That's the reason she has seizures, because that's karma for giving birth to a freaky slut."
Keri Riddell, Shea's mother, noticed the texts and reported the situation to the police. In addition, she accompanies her daughter during free periods at school to prevent any physical abuse from occurring. Riddell changed her daughter's cell number but the texts are still coming in to her new number.
Social Networks and Technology Exacerbating the Issue
For every step forward we take in raising awareness of the negative effects of bullying in our schools, bullies seem to find more channels by which to terrorize their peers and more hatred to motivate them. Can they be stopped?
In the two cases listed above, the parents of the teens being bullied took extraordinary steps such as closing a Facebook account, changing phone numbers, physically accompanying their children during school hours, and changing schools. Yet, in both cases, as with so many other similar stories across America, the bullying continued.
Adding to the problem is the fact that many social networks allow users to create anonymous profiles. How can parents intervene or adequately report bullying while this practice continues? We can close our children's Facebook account but often they've already moved on to newer social platforms such as Ask.fm or Kik Messenger. We must be ever vigilant in protecting our children from bullies but what responsibility do the parents of those doing the bullying have?
In most cases of cyber-bullying, parents reject the accusations that their children could perpetrate such heinous acts. The father of one of the girls accused of bullying Rebecca Sedwick claimed that "none of it is true... my daughter's a good girl and I'm 100 percent sure that whatever they're saying about my daughter is not true," despite the proof the Sheriff claims to possess. While I'm happy to see that Lakeland's sheriff has charged the girls who allegedly bullied Sedwick, what consequences, if any, will their parents face?
What role have the parents of bullies played in these cases? Why are parents giving young children smart phones with 24/7 access to social networks? More importantly, why are they not diligently monitoring their kids' online activity? Pre-teens typically don't have the funds or ability to purchase Internet-enabled devices or authorize Internet and mobile contracts for access to social networks. If parents are going to provide such access to their children, they must be held accountable for their online activities, including cyber-bullying.
"Eraser Bill" -- Get Out of Jail Free Card
There doesn't seem to be enough emphasis on the social responsibility of owning Internet-connected devices or the actions taken through them. In fact, California teenagers now have the legal right to erase their online indiscretions under newly approved legislation. The so-called "eraser bill," which became law on October 14th, 2013, will require all social media websites to allow California children under age 18 to remove their own postings as of January 2015.
The intent of the law is to provide an opportunity for minors to delete any "digital skeletons in their closet" that could harm their reputations, their chances of getting into college or future employment opportunities. The law would also apply to posts that bully and harass other teens, in essence telling them, "Do what you want; you can erase it later and claim no responsibility."
How Do We Stop Cyber-Bullying?
We live in a politically correct world where protecting the names and privacy of students is sacred but what about the protection of kids that are being bullied? Should there not be an exception to this rule for social networks and school boards?
Force parents to take responsibility for the actions of their children on social networks, especially when they enable that access.
Criminalize cyber-bullying and enforce steeper penalties for teens who bully others.
Mandate that social networks post anti-bullying public service announcements and bullying hotline phone numbers.
Require social networks and text-messaging services to install contextual monitoring to discover and report/block bullying comments as they happen.
Repeal laws that allow teens to "erase their mistakes."
If we're going to have a zero-tolerance policy on this issue, then let's really have one. We can't be half-assed about it. Teens are committing suicide and we're too often left scratching our heads wondering what could have been done to prevent it.
It's time to get serious about this issue. What are your thoughts? How do we prevent cyber-bullying?
Image Credit: Wikipedia, licensed via Creative Commons
Related