With the arrival of Kindle, Nook and other technology in today's world, libraries are sometimes forgotten as a first resource for information and services. But libraries have moved into the virtual realm, too. They can be utilized to provide Internet safety measures as well as cyberbullying protection.
Anyone with access to a computer can visit the Internet Public Library to obtain a vast amount of information online. However, an online visit won't give you that sense of community local libraries can offer. And it won't put you in touch with the library's most valuable resource: librarians.
According to a recent Pew Research Center study, 94 percent of Americans who have used a public library call it a "welcoming, friendly place." Ninety-one percent have never had a negative experience at a public library. People also recognize that their community would miss out if the local library were to close. Ninety-four percent of Americans ages 16 and up said the public library improves quality of life in their local community.
Librarians are the personal link between libraries and the communities they serve. They have a professional perspective on creating healthy communities. While maintaining local libraries as a place for positive interactions, librarians can act as cyber-arms to help protect our kids against cyberbullying.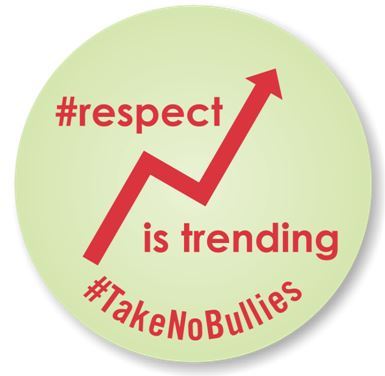 Of all the lessons librarians teach, respect is at the top of the list (#TakeNoBullies sticker via MySecuritySign).
In classrooms, we have seen how teachers can be cyber-shields for their students, and how parents can be cyber-shields outside of school time and at home. However, providing that cyber-arm, that extra set of ears and words of encouragement, genuinely makes a difference in students. It can change their outlook on themselves and their future.
We know that librarians are there to offer our kids -- as well as adults -- guidance, resources and information for just about any topic they are researching. In their jobs, librarians have the opportunity to support youth being teased or harassed when other adults aren't around. They know when kids, especially those that are hurting emotionally, use the library as a place of solace, a safety outlet when they want to be alone.
As cyber-arms for these children, librarians can reach out and provide assistance. They can create relationships that offer comfort. They can give kids the strength to stand up against harassment and bullying. They're in a professional position to suggest books, videos and counseling that will help.
What a school librarian has to say
Kara Watson, Librarian at Carrboro High School in North Carolina, shared her insight into the passion that she and her counterparts have for aiding students in their digital lives. She remarked that the district's approach is to weave a "Digital Citizenship" curriculum through as many parts of the school as possible. "I work with the Healthful Living (9th grade) and System Level (students with special needs) teachers to teach safe and respectful online behavior. I do special events like the Parent Forum on Digital Safety to reach parts of the community that I'm unable to through classes," Kara says.
Additionally, Carrboro High School's Digital Citizenship Fair, which focuses on "doing good online," gets groups like the Queer Straight Alliance (QSA) to run the anti-bullying booth. Kara says, "This demonstrates my personal philosophy that the library is a safe place for all students to come and not worry about being judged or graded. This is truly the heart of what I feel my job is -- creating a safe space. We can store all the resources in the world, but if students don't feel safe coming to you for help, it minimizes the effectiveness of the resources."
Librarians have many tools at their disposal to help kids handle cyberbullying. They can also take advantage of one that's as simple as a sticker -- literally!
Mike Miles, Social Media Manager at SmartSign, created the #TakeNoBullies movement, a visual toolkit to create awareness of cyberbullying and promote respect on social media. The campaign supports libraries and schools with donations of the stickers, which include designs and messages specific to social networks.
Just like when teachers hand out gold stars to award children for good grades, SmartSign believes that students need to be reminded that kindness counts -- always. A positive, supportive message, just like an outreach of a cyber-arm, has a long-lasting impact. That sticker can be a reminder that someone does care.
Victims of cyberbullying need this kind of reassurance and encouragement. And an influx of positive messages and support throughout a community could even prevent cyberbullying situations altogether. When it comes to protecting our kids online, we should use every resource available. Whether coming from librarians, stickers, teachers or parents, outreach and support can only have a positive impact.
•Make regular trips to your local library with your kids. They offer so much to communities.
•Find out if your local library offers cyber-civic classes for you and your family.
•Meet your child's school librarian. Inquire about clubs or other activities they may offer.
•Dear Bully: Seventy Authors Tell Their Stories edited by Megan Kelley Hall & Carrie Jones, and Everybody Sees the Ants by A.S. King are two resources that Kara Watson recommends.
•Encourage your school to start its own anti-cyberbullying program, and utilize #TakeNoBullies resources.
Related