Negative news travels fast and furious, and seems to love taking the headlines. When Miami Dolphin player Richie Incognito was accused of harassing his teammate, Jonathan Martin, the media coverage stretched well outside of Florida -- beyond the sport of football for that matter -- and still lingers in the news today.
When it comes to topics that are of great concern for our children, such as bullying and cyberbullying, we want to start directing our attention to the ordinary people that are making a difference in our everyday lives.
Recently, I wrote about how librarians are positively impacting children, not only through programs they offer, but also by creating that extra cyber-arm of support for their community.
Many children and teens are involved in extra-curricular activities such as sports and martial arts. In these activities, coaches are their guide, and often serve as role models.
In a recent TIME Heartland article, Randye Hoder explains how one coach inspires his athletes, and the immense amount of respect their parents have for him. However, this isn't the case across the youth sports landscape; coaches can just as easily use their authority to have the opposite effect on children.
Coaches, like librarians, can become someone we rely on to offer our kids an education on cyberbullying prevention and awareness. Bullying isn't always physical in nature -- much harassment happens online when it's easier to slip into anonymity.
With 95 percent of teens having access to the Internet, supplying a broad range of cyber-arms in the lives of teens is incredibly beneficial.
I've noticed coaches making an impact on social media, especially Twitter and Facebook. In particular, Ben Jass (aka @CoachJass), a football and track coach from Plainfield, New Jersey at Nashua-Plainfield High School has caught my interest with his inspiring tweets not only to students, but to fellow coaches as well. Also, @CoachJass retweets others that share encouraging messages.
On Facebook, I came across Janis Meredith, a sports coach for character building in youth - literally. Her organization, JBM Thinks focuses on sports parenting -- parents and their role in their child's activities. What I found inspiring was her consistent message of empowerment and positivity.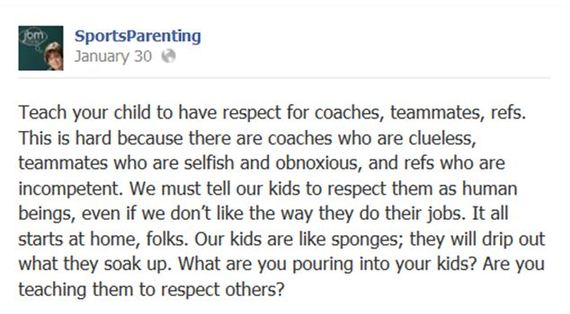 Randy Nathan, author of Bullying in Sports: The Injuries We Don't See says that a significant challenge is that teens don't always tend to approach adults, which can stem from a lack of trust. Despite this, adult intervention is an effective solution for stopping bullying. He mentions that there's "a huge opportunity for coaches to remind their players of the importance of approaching grownups because of their standing relationship with student-athletes. For this to happen, coaches need to take a more proactive role in their players' lives. We can really change the way bullying intervention takes place."
Another example of coaches being a cyber-arm is in the Muay Thai ring. Marco Silva partners with MySecuritySign's #TakeNoBullies campaign to organize a children and teens' Muay Thai program at Howard Beach CrossFit in New York. He runs the program twice a week, and sits with his students at the end of the second session to talk about what's going on during their days at school.
"Our first discussion was about the dangers of bullying, and if any of the class had been involved before as a bullying victim, offender, or bystander. My number one rule at the gym is that the skills we learn are to be used as a last resort - no fighting under any circumstances unless they're protecting themselves when adults aren't around. Parents and teachers are the people we should speak to if something doesn't seem right - both in person and on the internet. If they see bullying happen, they should tell an adult immediately. If an adult isn't nearby, step up and make it known to everyone in the vicinity that it's happening - broadcasting this message as an upstander throws off bullies. I always tell my students that no matter what age, we must have respect for one another, online and offline. When we talk about what goes on in school, the kids become aware of the importance of teamwork and solving issues by knowing who to reach out to."
People like Janis, and Coach Jass, and Marco can be that extra cyber-arm of cyber security in the lives of children today that puts parents and caregivers at ease.
Takeaway tips:

•Get to know your child's coach.
•If you are a coach, take time to find ways to inspire and encourage your students through social media. They are watching.
•Encourage your sports team to start their own anti-bullying group.
•Be a cyberwise parent -- where no grown-up is left behind regardless of the sport your child is involved in!
Related