There is nothing in the world that my husband loved more than bike riding. Well, perhaps sitting in the stands and cheering my four sons on during their soccer games. All the things that scared me about bike riding filled him with pleasure -- the speed as he raced down a road or came zooming down a mountain, the wind whipping his face as he pedaled furiously, and the focused exertion needed to climb or descend the mountain and navigate the rocky terrain. For a man who loved to sleep it was these feelings and the exhilaration of the ride that motivated him to get up in the wee hours each Saturday and Sunday. Dan was a world champion sleeper (a trait my four sons inherited from him). He once slept for 18 hours straight after working several days nonstop when he was an Israeli army officer. So getting up at 5 a.m. on a weekend was really something.
Saturdays he would join the Beverly Hills Social Climbers, a group of men and women riders in our neighborhood who did road rides of 60 or more miles. On Sundays he would join an all male group of friends that rode up the Santa Monica Mountains. He even completed several "century" rides -- rides of 100 miles. A much-loved part of each of these journeys was the coffee stop that took place either in the middle of the ride or at the end. It was at these "rest stops" that he would socialize with the other riders, exchange stories and celebrate triumphs.
It was just one week after he completed the August 2010 Tour de Napa, a century bike ride in Napa Valley, that he experienced a devastating stroke. In the emergency room at Cedars Sinai Hospital staff kept pulling me aside to ask if I understood how "grave" his condition was. Of course I understood, but it was unreal we had just been in Napa celebrating his completion of a grueling 100-mile mountainous course. Dan remained unconscious for several days and when he woke up he could hardly speak because he couldn't find the words, he couldn't swallow or eat, he couldn't remember common things in our lives and he couldn't move. He was attached to monitors that checked his breathing, heart rate, and other vital functions. He was also attached to tubes and bags that delivered medicine and nourishment. The first few days after the stroke were critical and we weren't sure of the outcome. When he was able to be moved to a "step down" unit, he was still monitored to machines but I could decorate the walls and I taped his biking jerseys over all the walls, hoping to inspire him with positive visuals.
After two months at Cedars Sinai Hospital, Dan was discharged and came home. We never gave bike riding a moment's thought -- we were totally focused on teaching him to walk, talk and think again. His double vision and limb weakness left him with poor eyesight and coordination, unable to drive a car or ride a bike.
But then there was a spark when I heard about an organization in NY that pairs experienced rider/captains with sight-impaired riders/stokers on tandem bikes. They buddy up and ride around Central Park. Not only are they riding buddies, but they develop relationships and support one another. Self esteem increases, physical abilities are strengthened and friendships develop.
LA does not have such an organization, but San Diego does. The Blind Stokers Club is an active, vibrant organization that has training sessions, rides and events and pairs experienced riders with sight impaired individuals for tandem rides. Dan's information was entered into their database and he was paired with the only available experienced captain in LA. We contacted him and arranged to meet at Griffith Park last Saturday. Dan's bike sat empty on a trainer in our patio for years. It was difficult to get Dan on the bike for even two minutes. With that meeting a few weeks away, Dan was motivated to go on his stationary bike (almost) nightly and increased his time from five minutes to 25, building stamina and strengthening his legs.
On Saturday we went through a checklist of items he had to bring -- helmet, padded shorts, biking shirt, gloves, phone, water and the rider ID he wears on his wrist with all his emergency contact info. Damian, his captain was bringing the tandem bike.
And it clicked!! Dan met Damian and after 50 feet of a practice ride they took off and rode for over an hour in the park. He had forgotten how great it felt to ride -- to experience the speed of the ride, feel the wind in his face, and to move on shared power. Dan didn't have the words to describe how wonderful it was, but on his return, his smile said it all.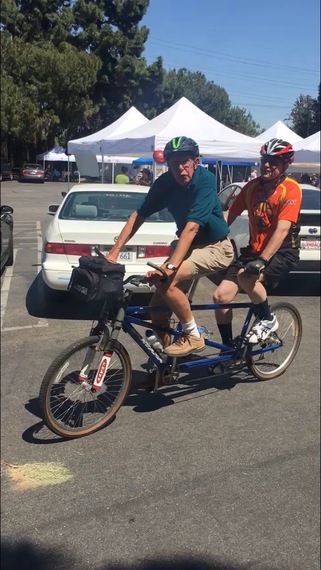 On The Road Again
PHOTO GALLERY
Jim Morris, 77-Year-Old Bodybuilder
Calling all HuffPost superfans!
Sign up for membership to become a founding member and help shape HuffPost's next chapter