Maryland police arrested a 60-year-old man on Friday after he was captured on video assaulting a group of people, including a girl, who were reportedly putting up signs protesting the police killing of George Floyd.
The man, Anthony Brennan III, was charged with three counts of second-degree assault, according to the Maryland National Capital Park Police.
In a press release Friday, police said that Brennan was arguing with a group including two females and one male as they were "posting flyers" that included "a call for community action."
Brennan "forcibly grabbed the flyers from one of the victims," then pushed his bicycle toward the male in the group, causing the victim to fall, according to police.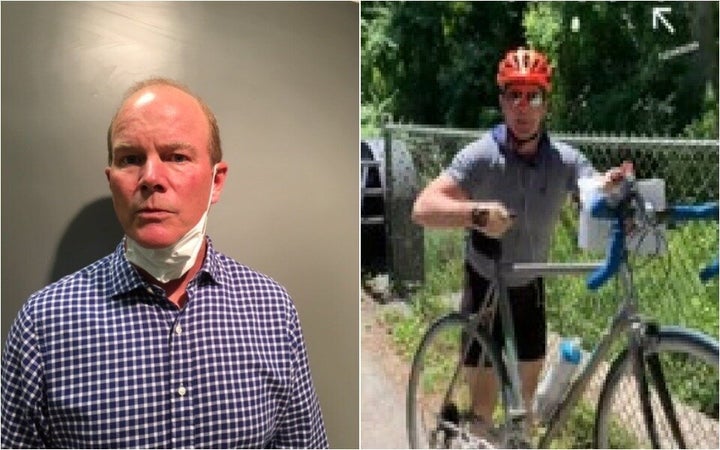 Brennan had his bicycle when he began harassing the group, as seen in the video of the attack, which went viral this week. Footage shows Brennan moving aggressively toward a girl and grabbing at her arm before moving toward the person filming the scene.
Police asked for the public's assistance in identifying the bicyclist in the video on Tuesday. Earlier Friday, Detective Crystal Lopez of the Maryland-National Capital Park Police told HuffPost that they were investigating a "good lead."
The video, filmed on Monday on the Capital Crescent Trail linking Washington and Bethesda, Maryland, shows the helmeted man off his bicycle approaching a female.
"Get away from me!" she yells.
He then rushes toward what appears to be a young girl as the woman and the man taking the video yell at the cyclist not to touch her and to leave.
The cyclist seems to forcefully grab the girl's arm, wrests something from her hand and mutters an expletive.
He then rushes at the man, who tumbles to the ground, dropping the camera.
"He runs it into me and pins me to the ground," the man, who asked that his name not be used, said, per NBC in Washington.
"You want it? I'll give it to you," the alleged victim can be heard saying to the cyclist.
Online speculation about the cyclist's identity followed.
In a tweet Thursday night, the Maryland-National Capital Park Police encouraged people to "keep the tips coming."
"Please remember that all people are innocent until proven otherwise," the tweet added.
Related
Popular in the Community