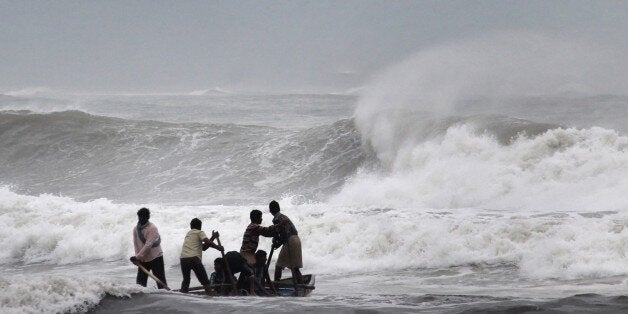 * Winds lash Andhra Pradesh, uproot trees, knocking out power
* Cyclone at peak strength, packing gusts of 195 km/h
* Could be Category 4 storm with 'catastrophic' damage - agency
* More than 1500,000 evacuated on Saturday
VISAKHAPATNAM, India, Oct 12 (Reuters) - Cyclone Hudhud, packing gusts of up to 195 kilometers an hour (over 120 mph), reached peak strength and caused extensive damage to India's eastern seaboard on Sunday morning.
It was expected to hit the coast with full force around noon local time.
India's disaster relief agency organized the evacuation of more than 150,000 people on Saturday to minimize the toll from Hudhud - which is similar in size and power to cyclone Phailin that devastated the area a year ago to the day.
In and around the city of Visakhapatnam - known to locals as Vizag and home to a major naval base - strengthening winds were already causing extensive damage and knocking out power supplies.
"Hundreds of trees have been uprooted and power lines knocked down," K. Hymavathi, the special commissioner for disaster management for Andhra Pradesh state, told Reuters by telephone.
Streets in Vizag that had been bustling on Saturday were deserted as shrill, roaring winds lashed the city, smashing windows and damaging buildings. With power out, many people had to resort to back-up generators.
Vizag port suspended operations on Saturday night, with the head of the port saying that 17 ships which had been in the harbor were moving offshore where they would be less at risk from high seas.
The India Meteorological Department (IMD) rated Hudhud as a very severe cyclonic storm that could pack gusts of 195 km/h and dump more than 24.5 cm (10 inches) of rain in some places when it makes landfall.
As of 6:30 a.m. (0200 GMT) the cyclone was located 100 km (63 miles) southeast of Vizag.
"We are constantly monitoring. We are calling it a severe cyclonic storm. We are expecting the landfall around noon today," B.P. Yadav, head of the National Weather Forecasting Center at the IMD, told Reuters.
The Global Disaster Alert and Coordination System (GDACS), run by the United Nations and the European Commission, forecast even higher peak wind speeds of 212 km/h. That would make Hudhud a Category 4 storm capable of inflicting "catastrophic" damage.
Around 150,000 people were evacuated on Saturday in Andhra Pradesh to high-rise buildings, shelters and relief centers, authorities said. On Sunday, some in districts less at risk were allowed to return home.

'HIGH HUMANITARIAN IMPACT'
Thousands more were moved to safety further north in the state of Odisha.
Cyclones in the Bay of Bengal are common at this time of year. These often cause deaths, mass evacuations of coastal villages, disruption of power and phone services as well as damage to crops and property in eastern India and Bangladesh.
The cyclone was strong enough to have a "high humanitarian impact" on nearly 11 million people, the GDACS said in an updated bulletin.
The IMD forecast a storm surge of 1-2 meters above high tide that could result in flooding of low-lying coastal areas around Visakhapatnam, Vijayanagaram and Srikakulam.
The evacuation effort was comparable in scale to the one that preceded Cyclone Phailin exactly a year ago, and which was credited with minimizing fatalities to 53. When a huge storm hit the same area 15 years ago, 10,000 people died. (Additional reporting by Malini Menon; Writing by Douglas Busvine; Editing by Richard Borsuk)

Before You Go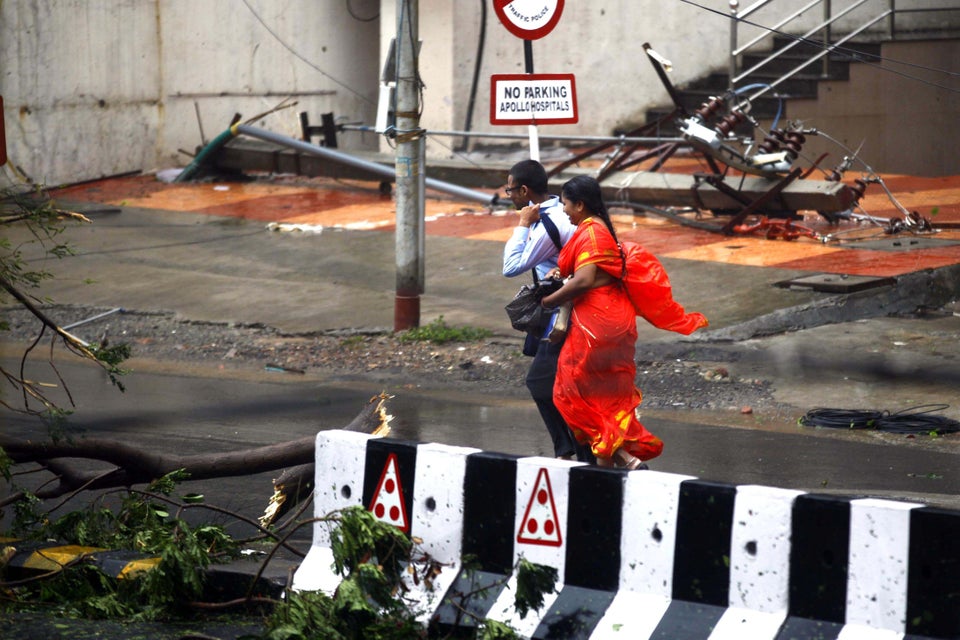 Cyclone Hudhud
Popular in the Community