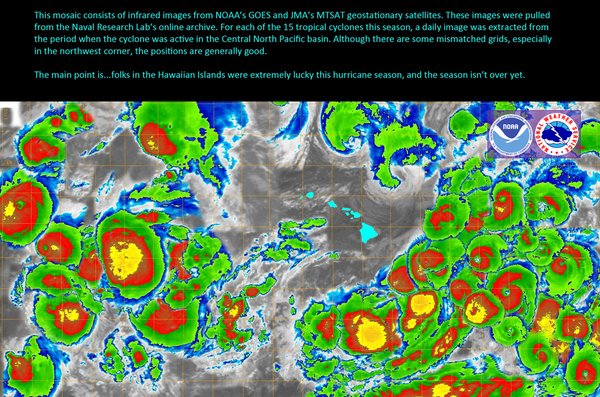 See Hawaii all safe and cozy there in the middle? Apparently, the state can thank good old-fashioned luck for that. 
"Any island can be hit," the U.S. National Weather Service Honolulu and Central Pacific Hurricane Center posted on Facebook, "we have just been very lucky this year. In the words of our Science and Operations Officer, Robert Ballard, it's not 'if', it's 'when.'"
A stronger-than-usual El Niño is reportedly responsible for the record-breaking cyclone season. El Niño -- a weather phenomenon that happens when sea surface temperatures in the equatorial Pacific Ocean are warmer than usual -- can wreak havoc on seasonal weather patterns across the globe, including floods in the Americas, droughts in Asia and Australia, disrupted fishing, and disease outbreaks.
California, for example, is preparing for a big snow season thanks to the weather pattern, while Indonesia has already seen massive forest fires from the drought conditions. 
According to the Los Angeles Times, El Niño's effects are so far-reaching that "some researchers argue it doubles the risk of war in much of the Third World."
And this year's El Niño hasn't peaked yet. The phenomenom "will strengthen slightly before the end of the year," according to the World Meteorological Organization, and may persist until spring.
Which means that while some impacts -- like Hawaii's many, many near-misses -- are already evident, we've yet to see the full effects of this El Niño.
Brace yourselves.
Also on HuffPost:
PHOTO GALLERY
5 Of The Deadliest Weather Disasters Of 2015
Calling all HuffPost superfans!
Sign up for membership to become a founding member and help shape HuffPost's next chapter