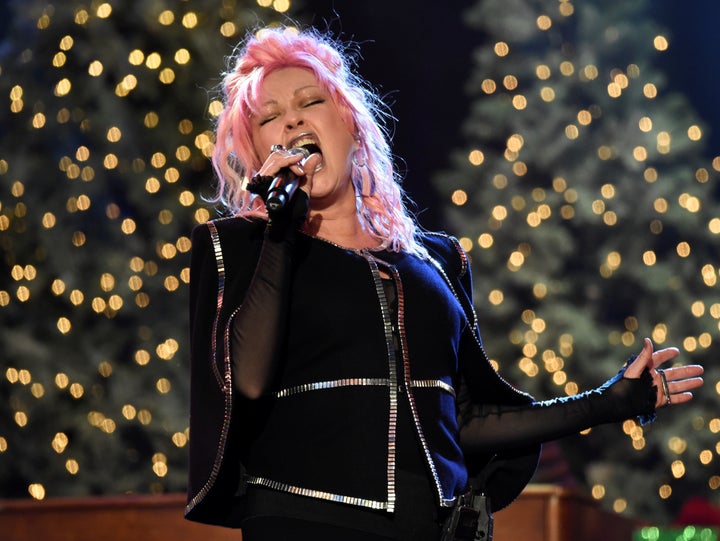 Cyndi Lauper, the famed '80s pop star who appeared on "The Apprentice" with Donald Trump, has some thoughts about the GOP presidential nominee.
"He's a bum and he's taking us down," she told The Huffington Post.
The singer, woken up … in the middle of the ... early hours of the morning Monday by phone, had a close view of Trump when she competed on his reality television show. It was there that she first got a taste of what she described as boorish behavior.
Lauper, who confirmed that Trump had disparaged a country music singer's physical appearance during an unaired portion of the show, recalled that when Trump began flirting with politics, he positioned himself as opposed to marriage equality. It was a stance that made sense for a prospective candidate in a Republican primary. But there were also a number of openly gay employees on set.
"When he came out and said that, he had a bad comment about the LGBT community, and I just said you shouldn't say that because these were people working for him and make a lot of money for him. A good boss doesn't do that," said Lauper, who has become a prominent and forceful LGBT rights advocate. "He represents himself as a good boss but a good boss never does that."
Lauper's Trump angst has carried over to this election. She expressed disgust with his various comments toward women, including a hot-mic moment in which Trump talked about grabbing "pussy" in 2005. And on Sunday night, after watching the debate, she said she went to bed in an agitated state.
"It's like thug politics," Lauper said. "There is a woman standing there and that's who she has to be with? I can't even tell you how disappointed and saddened I am. This is our country. This was supposed to be a presidential debate. It was like a third world. ... When I saw what I saw last night, I just felt like he's a bum. He's a bum and he's taking us down."
"What the hell happened to the Republican Party? Who are the people responsible? How did they let this happen?" she asked. "We've gone amok. We've gone amok."
(We apologize to Cyndi Lauper for calling so early. We did not know she was on the West Coast.) 
HUFFPOST READERS: What's happening in your state or district? The Huffington Post wants to know about all the campaign ads, mailers, robocalls, candidate appearances and other interesting campaign news happening by you. Email any tips, videos, audio files or photos to scoops@huffingtonpost.com.
Calling all HuffPost superfans!
Sign up for membership to become a founding member and help shape HuffPost's next chapter