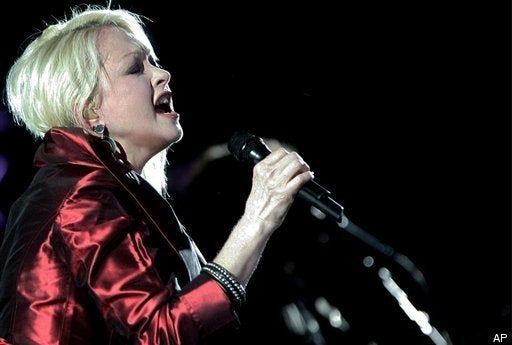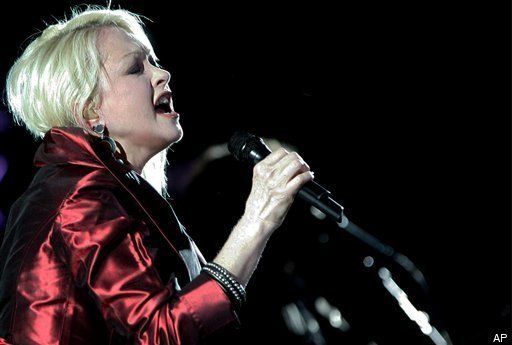 Cyndi Lauper's sold out show at New York City's Town Hall in Times Square Wednesday night was a bittersweet performance. Playing her hometown, the Queens native, on tour supporting her new album, Memphis Blues, looked and sounded radiant. Her set list, however, was anything but. The singer-songwriter ran through ten blues covers before finally launching into recognizable material.
That ten-song blues set, coupled by the extreme heat in the theater, made the first portion of the show hard to sit through at times. Lauper wore a black top hat with a feather, giant platinum curls, and a black body-hugging pants suit, skin tight and shear. At 57 she's never looked better or more fit.
She's also never sounded better, and she showed it off to dazzling effect last night. Lauper has always had that voice: multi-octave, completely unique, full of raw emotion. One time in the middle of show she recalled the words of Janis Joplin who stressed feeling the music over perfecting the lyrics. She called what she does an "imperfect art."
Imperfect summed up the show. More honky-tonk than blues, Lauper's new material worked often and missed almost as much. Her voice was lost on the opener "Just Your Fool," though her stage presence was commanding. She recovered nicely on "Shattered Dreams," where pianist Allen Toussaint joined her on stage. That song showcased her vocal range perfectly. From there she hit some real highs. Her version of B.B. King's "How Blue Can You Get?" was humorous and emotive. She breathed life into the song, life missing on the album version that features Johnny Lang. Without Lang onstage, Lauper took control of the stomper and brought the house down. It was one of the only times in the blues portion of the performance to elicit a big response.
The decision to play her new album in near entirety was a noble task. Lauper's undeniable love for the blues, early rock, and the blues musicians on her album, like Ann Peebles and Charlie Musselwhite, who was on stage with Ms. Lauper Wednesday night, is obvious. Often times throughout the evening the loopy singer would lose concentration and babble on about nothing really. It was cute and a needed break from the heavy material. But almost every time she talked nonsense, which anyone who caught her on this year's Celebrity Apprentice has witnessed, she always ended her thoughts urging the audience to take to the Internet and discover these musicians.
Yet Lauper is far more than a blues musician. She is a pop star and many fans were let down by parts of Wednesday night's show. Whether she likes it or not, Lauper is an 80's icon. Her fans, her diehard fans, on display in droves at Town Hall, have stuck by her many incarnations: singer-songwriter, disco diva, and gay rights activist. This new blues persona is just another journey on her musical path.
And had she worked in blues interpretations of more of her back catalog the show would have been better received. It was not until the 11th song in her 14 song set that the audience came alive.
With her trusted dulcimer Lauper performed "Who Let in the Rain," a single, and a flop, from her under-appreciated Hat Full Of Stars album. The song, not a 80's relic, and unknown by most but her diehard fans, managed to bring the house down.
Why? The answer seemed simple. That song, co-written by Lauper, was pure Lauper material. The singer truly connected with the song--even in a new blues arrangement it still captivated the audience. Towards the end she belted "Who let in the, who let in the, who let in the ..." and the crowd would have been fine if it never stopped. It was triumphant, raw, and classic Cyndi.
From there she launched into a few hits. "Change of Heart," with Musselwhite's harmonica, was a revelation and "Girls Just Want to Have Fun" -- also turned into a blues stomper -- went on for nearly ten minutes. Both songs worked in the blues format, a perfect marriage of the Cyndi Lauper of past and now.
It's too bad more of her compositions did not get the same treatment. She left out "Time After Time," her brilliant ballad, covered by many artists since its debut. That song is an American classic and should never go unheard at a Lauper show.
But Lauper finished on her feet. Strumming the dulcimer, eyes looking up towards the heavens, she sang "True Colors" finally. Her voice, stronger with each year, rang clear. She's an acquired taste. She's not everyone's cup of tea. But, damn, can she sing. I just wish she'd sung more of her own material and less material of those she respects and admires.
It is her voice and her compositions which her fans respect and admire most.
1. Just Your Fool
2. Shattered Dreams
3. Early in the Mornin'
4. Romance in the Dark
5. How Blue Can You Get?
6. Down Don't Bother Me
7. Down So Low
8. Crossroads
9. Rollin' and Tumblin'
10. Don't Cry No More
11. Who Let In The Rain
12. Change of Heart
13. Girls Just Want to Have Fun
14. Mother Earth
15. True Colors
Calling all HuffPost superfans!
Sign up for membership to become a founding member and help shape HuffPost's next chapter