Bubbles are filled with air, so it is only fitting that in our new tech bubble we buy companies that are mostly made of air.
One of the hottest stocks in the universe right now is a social-networking company called Cynk Technology, ticker symbol CYNK. As of Thursday morning, the stock had soared more than 30,000 percent in less than one month, shooting from 6 cents on June 16 to $18.21 Thursday morning, taking Cynk's market value from about $17 million to more than $5 billion. That makes it worth more than HuffPost parent company AOL or JetBlue, both valued at about $3 billion.
Here's how the stock looked as of Wednesday afternoon, when it was up a mere 24,000 percent: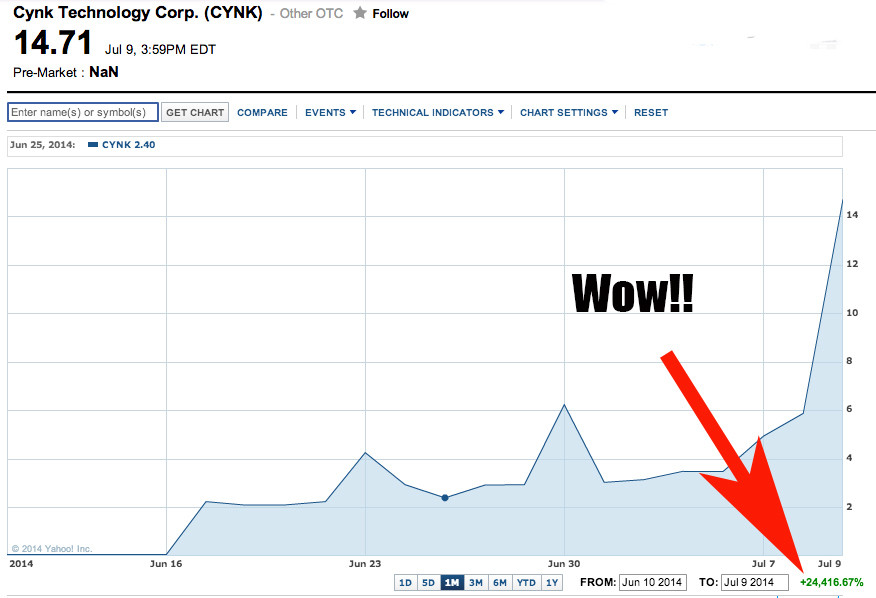 Minor technical note: It is not entirely clear that Cynk actually, how do you say, exists.
Some parts of it do exist on the Internet, at least: Cynk Technology, formerly known as Introbuzz, is a social-networking company that runs a bare-bones website called IntroBiz. IntroBiz is apparently "a marketplace [where] you may both buy and sell the ability to socially connect to individuals such as celebrities, business owners, and talented IT professionals." It has pictures of Leonardo DiCaprio, Angelina Jolie and other celebs, suggesting that your dream of becoming besties with Leo and/or Brangelina will finally come true, thanks to IntroBiz.
So far, so legit. Now's when things get weird!
Cynk is headquartered in Belize, but was incorporated in Nevada in 2008. Its main contact number is in a Miami area code.
As Business Insider points out, the company warned the Securities and Exchange Commission in March that it wouldn't be able to file its annual report on time this year.
Signing that document was one Marlon Luis Sanchez, who happens to be the company's President, Chief Executive Officer, Chief Financial Officer, Chief Accounting Officer, Secretary and Treasurer.
A 1-800 number listed for Sanchez in the SEC filing is "unassigned," according to a phone-company recording. The company's Miami number reached a voicemail message for Cynk Technology. The company didn't immediately return a request for comment.
According to Cynk's most recent quarterly financials, the company has no revenue. What it does have is $39 in assets and nearly $52,000 in liabilities. It loses money every year.
So who the devil is buying up all of this company's stock? Hard to tell. It could be an instrument for one heck of a pump-and-dump scheme. Or it could just be that we live in a world where a Kickstarter for potato salad raises $44,000 (and counting) and car-service Uber is worth $17 billion. Who are we to judge who buys what in such a world?
Business Insider, Zero Hedge, TheStreet's Herb Greenberg and many others gave Cynk stock the stink-eye Wednesday, but that didn't seem to slow it down at all: At the time of publishing this story, about two hours after the market open Thursday morning, the stock was up 24 percent on the day.
Praise the Lord and pass the potato salad. On late Thursday morning Cynk was still going: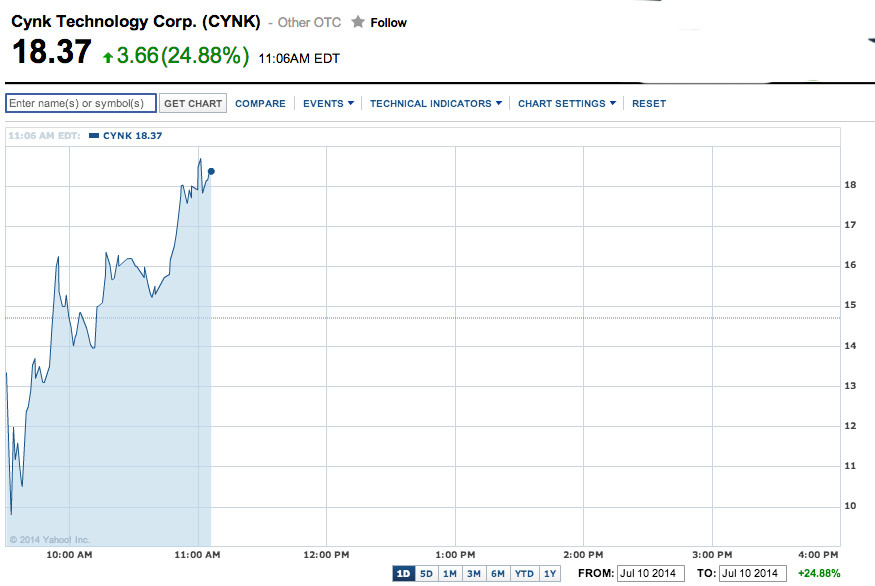 Update: The Wall Street Journal managed to track down some of the people involved in the company, but its reporting does not make this situation any less shady. Apparently Sanchez no longer works for the company, which is now on its fourth CEO since 2008. The current CEO, named Javier Romero, seems unreachable, listed at an address in Belize that may not exist, according to the WSJ. Sanchez sold 210 million shares in the company, now worth nearly $3 billion, to this lucky new CEO back in February, according to the WSJ.
And now, inevitably, this may be happening:
The stock ended its busy trading day Thursday down 5.5 percent at $13.90 -- leaving it with a market value of $4 billion.
Update 2: Sure enough, the SEC halted trading in Cynk stock on Friday morning, Business Insider reported. The SEC cited "concerns regarding the accuracy and adequacy of information in the marketplace and potentially manipulative transactions in CYNK's common stock."
So if you've dumped your life savings into Cynk, this might be a good time to reconsider your life choices.

Related