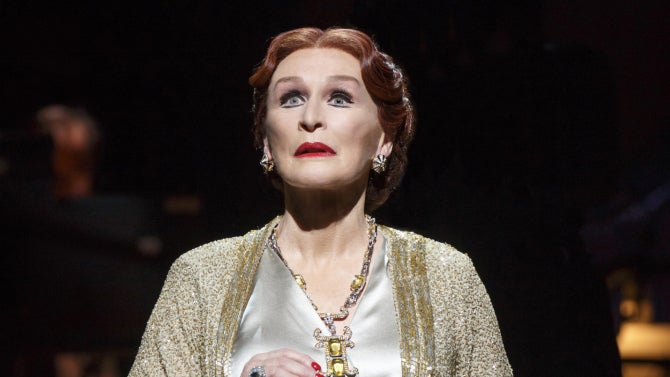 Glenn Close missed Sunset Boulevard on Mother's Day. She posted a message on Facebook apologizing to all the people who came to the theater wanting to see her in the show. Close recognized that, especially on a holiday, people have invested a lot of time and money to get to the Palace. People had varying reactions to this apology, and that should be no surprise as people have varying opinions about basically everything. Except one of those people speaking out against the apology was another Best Actress in a Musical Tony winner, Cynthia Erivo. In response to BroadwayWorld's story about the apology, Erivo commented: "It is unnecessary for her to apologize for being ill. The fact that people have decided that not apologizing for being ill is not classy, annoys the heck out of me!! When you are ill the only thing you should be required to do is get well. Which other profession requires a statement to apologize for being incapacitated??? None!!!" BroadwayWorld then ran a story about Erivo's reaction, so it garnered more response than a comment by a non-Tony winner would have. And I don't get it. In fact, Erivo's comment confuses me on many levels. First, I don't think anyone said it was necessary for Close to apologize. Instead it was nice, classy, respectful, etc.. Close wanted to tell those audience members that she takes her responsibility seriously. We all know there are people that don't take it as seriously, but Close is old school star. She pushes when she can to give the audience what they want, her. As a musical theater geek, I would have loved to see Close's understudy, Nancy Anderson. I'm a longtime fan. However I also know that 99.5% of that audience did not feel the same. Yes, you should come to see the show, not necessarily the star. But, let's face it, this revival is here because Glenn Close is in it. She won a Tony for the role. She's it for most of the audience. So when she is out, there are bound to be people disappointed. What Close was doing was essentially saying: "Sorry you were disappointed. I want you to know I tried for you. And for those of you who stayed, I hope you enjoyed my talented understudy." That is a lovely statement.
Second, I read most of the comments and I'm not sure where anyone said it was not classy to not apologize. In other words, I don't think anyone was saying: "She HAD TO do this. It would have been tacky if she didn't." I didn't get that from any comment. I'm not sure why Erivo did. No one posted in response to this particular story: "Ugh, I missed Erivo in The Color Purple and she didn't issue this kind of apology. Classless! Sad!" Maybe some people thought that and Erivo was feeling that from the comments, I don't know. It's Tony season, so I too read a lot into everything. It's possible a little thread of that, imperceptible to us mere mortals existed. I'll allow for that possibility begrudgingly, though I think it's a stretch. Third, and this is where I really lost the comment, almost all professions "require" (to the extent it was required here, which I don't think it was) an apology when you are sick. I missed a meeting a few weeks ago because I was sick, I sent an email apologizing to the folks in the meeting. A lawyer is sick and has to send someone else from his office to defend a client, he emails the client to apologize. Yes, as one of the readers pointed out, women do apologize for such things more than men. However apologizing for being sick is in no way specific to Broadway. The only reason it is public in this case is because an audience of people she cannot contact directly is involved. That is why an email that might go out to the people in my meeting goes on Facebook. In no way do I think Close was, or should be, required to issue an apology for being sick. It happens. But I'm also not sure I understand Erivo's response. She doesn't want to issue apologies when she is out in the future, I suppose. Okay then. I don't think Glenn Close thought she was going to start a worldwide trend when she apologized for missing a Mother's Day performance. I don't think there is going to be a new Equity rule. This won't be what actors strike on if conversations with the Broadway League breakdown during the next negotiation. It was a one off post, geared towards the star, her audience and the special day. End of story.
Calling all HuffPost superfans!
Sign up for membership to become a founding member and help shape HuffPost's next chapter
This post was published on the now-closed HuffPost Contributor platform. Contributors control their own work and posted freely to our site. If you need to flag this entry as abusive,
send us an email
.