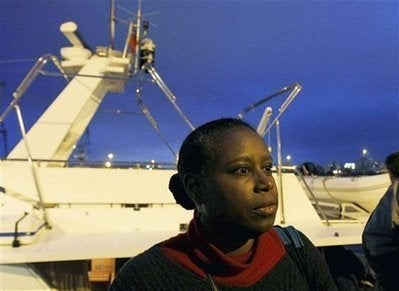 Ha'aretz reports that a boat carrying aid to Gaza clashed with Israel's navy. The activists on board the boat say they were shot at; an Israeli spokesman denies this account.
An Israel Navy ship clashed on Tuesday with a small boat carrying international activists with aid destined for Gaza, an Israeli Foreign Ministry spokesman said.

There were no reported casualties from the incident involving the small cabin cruiser "Dignity" that sailed from Cyprus late on Monday.
One of the boat's passengers was former congresswoman and Green Party presidential candidate Cynthia McKinney.
The 66-foot yacht Dignity, flying the flag of Gibraltar, left Larnaca Monday with almost 4 tons of Cypriot-donated supplies and 16 passengers, including former US Representative Cynthia McKinney, Cypriot lawmaker Eleni Theocharous and activists from Britain, Australia, Ireland and Tunisia, organizers said.
"Our boat was rammed three times, twice in the front and one on the side," McKinney told CNN Tuesday morning. "Our mission was a peaceful mission. Our mission was thwarted by the aggressiveness of the Israeli military."
Popular in the Community