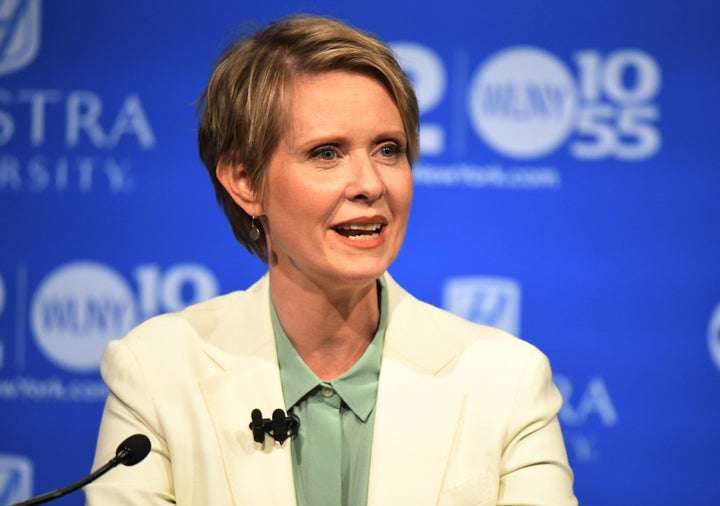 The New York Democratic Party has sent out a campaign mailer arguing that Jewish voters "can't take a chance" on Cynthia Nixon, a progressive candidate challenging incumbent Andrew Cuomo in Thursday's Democratic gubernatorial primary, because she can't be trusted to stand up to anti-Semitism.
"With anti-Semitism and bigotry on the rise," Jews shouldn't back "inexperienced Cynthia Nixon, who won't stand strong for our Jewish communities," the mailer says.
The New York State Democratic Committee, as the state party is known, supports Cuomo's bid for a third term. But the committee's executive director disavowed the mailer following a backlash against it, including by some Jewish leaders.
The party mailer lists alleged stances Nixon has taken against the interests of the Jewish community. Nixon, the state party alleges, is "against funding yeshivas;" supportive of BDS ― the Boycott, Divestment and Sanctions movement against Israel; and "silent on the rise of anti-Semitism."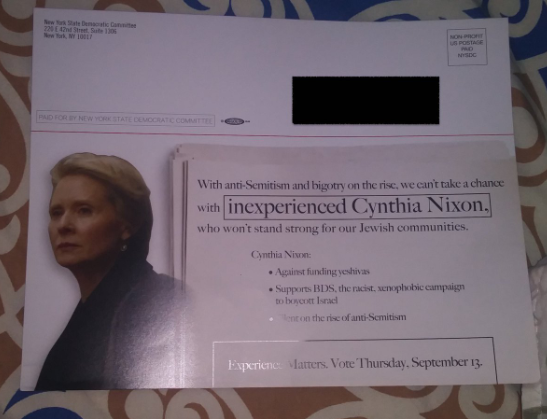 The other side of the mailer touts Cuomo for "standing up for the Jewish community" by providing $200 million for yeshivas, "protecting our yeshivas from attacks" and issuing an executive order requiring the state to boycott any entities that boycott Israel.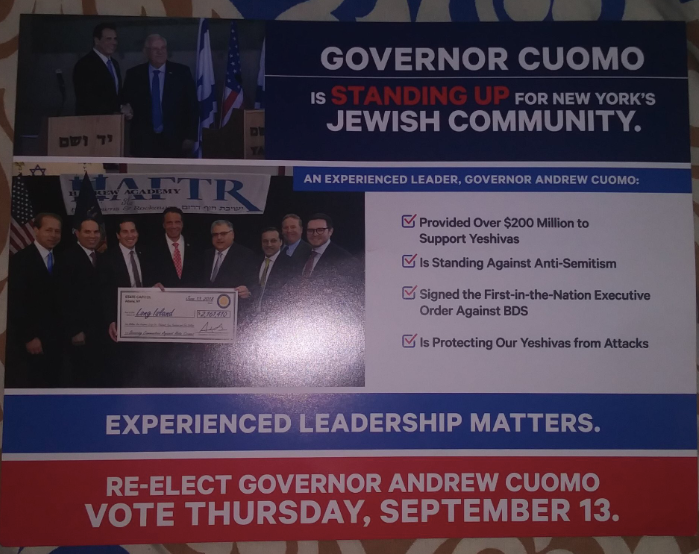 Nixon, an actress whose ex-husband is Jewish, is raising her two children from that marriage as Jews.
Like many other New York Democrats, Nixon supports greater oversight of the curricula in Orthodox Jewish schools known as yeshivas. Critics, including some within the Jewish community, maintain that the secular education provided at yeshivas is often inadequate.
Cuomo reportedly promised Hasidic leaders in a meeting in Brooklyn earlier this month that he would not increase regulation of yeshivas.
Nixon told HuffPost on Sunday that she does not support the BDS movement and never has.
"Anti-Semitism is on the rise, not just across the country but across the globe. My children are Jewish. I fear for them," Nixon said in an interview after delivering a speech at a Harlem church. "And to have me accused in such a blatant way of something that is so completely untrue is deeply, deeply offensive to me."
Progressive Jewish leaders condemned the literature after it surfaced on Saturday. 
"How dare you, [New York State Democratic Committee]?!," tweeted New York City Councilman Brad Lander, a Nixon supporter. "Smearing [Cynthia Nixon] (whose kids are being raised Jewish, BTW) as soft on anti-Semitism & lying about her position on Israel in order to fearmonger and shill for votes is a shameful dead-end for our party."
Rabbi Sharon Kleinbaum ― who leads Beit Simchat Torah, where Nixon is a member ― and Kleinbaum's wife, Randi Weingarten, president of the American Federation of Teachers, whose state affiliate endorsed Cuomo, wrote a joint Facebook post blasting the mailer.
"Cynthia is no anti Semite. It's a baseless lie," Kleinbaum and Weingarten wrote. "Further, speaking as lifelong democrats, this is not who our party is — using divisive and baseless smears to divide people and promote fear."
Responding to the negative reaction to the mailer, Geoff Berman, executive director of the New York Democratic Committee, called it a "mistake" and "inappropriate."
The mailer is "not the tone the Democratic Party should set — it will not happen again," he said on Twitter.
Berman told a reporter in a follow-up tweet that the staff members responsible for it will be "held accountable." 
Cuomo campaign spokeswoman Lis Smith wrote on Twitter that Cuomo did not know about the mailer.
"He disagrees with the language in it, believes it is inappropriate, and urges voters to focus on the real issues in this race," she said.
Nixon said she considers the apologies insufficient, arguing that the damage to her candidacy done by the mailers cannot be so easily reversed.
"They need to send out fliers immediately and correct this misinformation," Nixon said.
She also questioned the Cuomo campaign's claim that he played no role in the mailer and was unaware that party officials fashioned it. "The idea that he doesn't even know that this is happening ― I find it really strains credulity, to say the least," she said.
New York City Mayor Bill de Blasio, a Democrat who's a close friend of Nixon's and bitter foe of Cuomo's who nonetheless has stayed neutral in their race, called on the state party to reimburse Nixon in some form for the "downright Trumpian" mailer.
"A tweeted 'apology' calling it a 'mistake" is laughable. The state party must compensate the Nixon campaign immediately," he tweeted. 
In a subsequent tweet not explicitly about the incident, he declared that state parties should stay out of primaries. 
Shortly after Nixon spoke to HuffPost, Berman tweeted that the party would "work with the Nixon campaign to send out a mailing of their choosing to the same universe of people."
Cuomo also claimed he knew nothing about the mailer in a Sunday press conference.
"It's not the tone I approve of," he said.
The furor over the mailer emerged not only in the final days before Thursday's primary but shortly before the Jewish holiday of Rosh Hashanah, which begins Sunday night.
Cuomo is heavily favored to defeat Nixon and then face Republican gubernatorial nominee Marcus Molinaro, the Dutchess County executive, in November's general election. The most recent public poll on the primary race, conducted in July, showed Cuomo leading Nixon by 31 percentage points.
Nixon maintains that as in other unforeseen primary wins by progressives against Democratic establishment candidates this year, the polling does not reflect the depth of her public support.
This story has been updated to include responses from Berman and Cuomo.
REAL LIFE. REAL NEWS. REAL VOICES.
Help us tell more of the stories that matter from voices that too often remain unheard.
BEFORE YOU GO
PHOTO GALLERY
U.S. State Capitol Buildings