 UPDATE: Extra! talked to Nixon at Sunday's event about her engagement:
We're hoping to do it in New York. We're not going to wait forever, but we're hoping it's just around the corner...Sometime I think before the end of next summer, but we don't have a date."


Nixon showed "Extra" her gorgeous ring but reveals Marinoni is going bling-less. "She did not get a ring. She will have a wedding ring but she does not want an engagement ring."
PREVIOUSLY:
Sunday Cynthia Nixon announced her engagement to longtime partner Christine Marinoni during an Action=Marriage Equality rally in midtown New York to fight for same-sex marriages.
Nixon was joined at the rally not by her fiancee, to whom she became engaged last month, but by her "Sex and the City" costar Kristin Davis, David Hyde Pierce and New York Governor David Paterson.
Below is a photo of Nixon as she shows of her new engagement ring during the rally, and below that Nixon's hand Friday night.
The pair have been dating since 2003. Nixon has a son and a daughter from a previous relationship.
PHOTOS:
Showing off her ring at Sunday's rally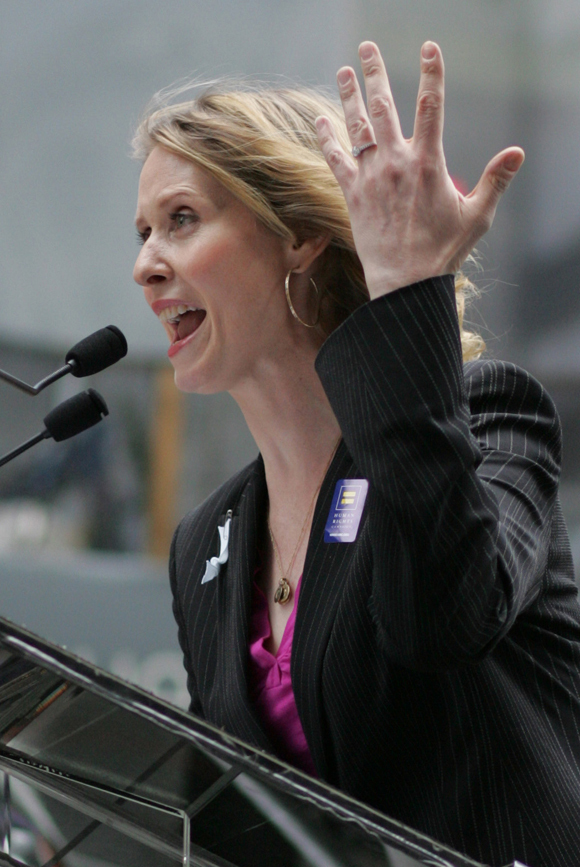 At a Drama League event Friday night, ring on
Popular in the Community