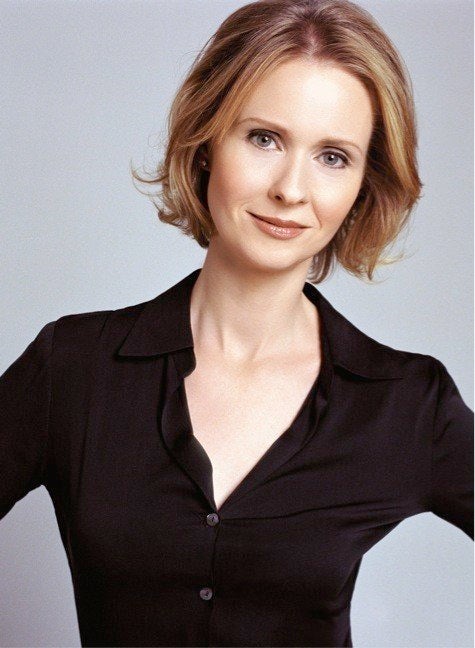 Recently I sat down with Emmy and Tony Award winner Cynthia Nixon, who is a longtime supporter of Gay Men's Health Crisis and the host of our fifth annual fundraiser, Savor, which takes place Thursday, March 21.
Marjorie Hill: When did you first learn about the HIV/AIDS epidemic?
Cynthia Nixon: I was a junior or senior in high school when I first heard about AIDS, in 1983 or so. I grew up in NYC, so it was all around. I kept hearing about the epidemic. Rock Hudson's death was a big deal as well.
Hill: What were your initial thoughts or feelings about the epidemic?
Nixon: It seemed like the apocalypse had arrived, there was no end in sight, and the epidemic would decimate the gay community. I would have never predicted that this would galvanize the gay community into activism to the extent that it did.
Hill: When did you start to get involved?
Nixon: I feel like I started in the '90s, when my friends and I were in plays and musicals. We worked with Broadway Cares/Equity Fights AIDS to ask the audiences for donations during our shows and participated in the Easter Bonnet fundraising competition. On opening nights I remember that instead of giving gifts to each other, our casts decided to make contributions to GMHC. It is amazing how long ago it feels.
Hill: Is there a particular story related to HIV and AIDS that has moved you?
Nixon: I was very close friends with a gay couple named Piper and Florian, who both died of AIDS. They came from such different families: One was from upstate New York, and the other from a farm in the Midwest. They didn't tell me or my boyfriend for a long time that they were sick. I was shocked when we finally learned that they were. We were all so close; how could they not tell us? We all loved the musical Falsettoland, which is about a gay couple, and one dies of AIDS. I remember sitting with them at an AIDS fundraiser, and someone was singing "Who Would I Be If I Had Not Loved You," which is a big song from that show. We were getting all teary. I thought we were all on the same page, that AIDS was horrible, and so many men around us were dying, and that was the end of the story, but it turns out it was more than that.
When Piper was increasingly ill and in and out of the hospital, I finally had to ask him outright if he had AIDS. He responded by saying, "It doesn't matter if I do or don't. The pneumonia will get me in the end." And then I realized it was true: He did have it. And Florian did too.
Piper died before the birth of my daughter. Florian, though, got to meet Samantha and took great pride and delight in her. I remember near the end she and I would be over at his apartment, and she would crawl around exploring everything. She would always wind up with a bottle of pills in each fist, from his seemingly endless array of bottles (with the child safety tops on securely, of course). She would entertain herself by shaking them like they were rattles. That's the irony about having kids around. They seem to normalize just about anything, no matter how sad or painful it is. One time I asked him, "How are you doing?" He said, "I know Piper is dead, and I'm very sick and don't have much time left. But they have me on antidepressants, and so none of it seems that important." I think that particular medication was the only way he or pretty much anyone in that situation could have gotten through the day.
Piper and Florian had separate physicians in separate hospitals. They died so differently. Piper waited until no one was around and just snuck away quietly after so many months of struggling. Florian waited until we were all around him in a circle at the hospital, so we could witness his death. That says so much about their personalities. They were each so unique. Piper grew up in the Midwest on a farm. Near the end his mother, father and brother made the trek to see him one last time. I had never met them before. They only came for a day or two, but they knew he would be dying soon. They needed to see him one more time and say goodbye. His father was actually wearing overalls. They looked very out of place in New York, as you can imagine. They were completely overwhelmed by everything that was happening.
It took Piper a long time to finally let go. We all thought that part of the problem was that he was waiting to see Florian to say goodbye, but Florian was very sick himself and couldn't leave Mount Sinai Hospital. This was the mid-'90s, and the technology of a videophone was relatively new. However, we managed to have one hooked up so he could see Florian's face through the phone and Florian could tell him it was "OK to go." Florian spoke for so long, and Piper didn't seem to react at all. Then suddenly he lurched up in bed and growled out Florian's name, and this torrent of blood came shooting out of his mouth. He died very soon after.
Both men were so worried about their ashes not being scattered or buried together. They wanted such different things done with them, and finally they decided that it was more important to listen to that. I remember Florian saying that their spirits would be together, so it didn't matter what happened to their actual ashes. Piper's ashes were buried or scattered on his family's farm because that felt like coming home to him. Florian's ashes were thrown over the Niagara Falls. They were opposites in so many ways, yet they were so close and loved each other so much.
Hill: What drew you to work with GMHC?
Nixon: It is an amazing organization, always in the forefront. I think it's really important to work with groups that were formed in the crucible of the early days of the epidemic. We saw how bad it was in NYC then, and now we see how bad it is across the world, and it's not unfamiliar.
Hill: Why is it important to you to be a supporter of GMHC?
Nixon: It is an organization I can trust. GMHC really continues to have the right priorities as they provide services, raise awareness and raise money.
Hill: What examples have you seen of the television, film and/or theater industries fighting AIDS?
Nixon: I was in Angels in America on Broadway when I was 28. I took over the role of Harper Pitt after Marcia Gay Harden left the show. Harper is just a great character, a straight woman who is trying to get her right-wing, religious, closeted husband, Joe Pitt, to speak the truth about what and who he is.
During Gay Pride Week, there was one particular evening when the theater was completely full of gay people from all over the world. It felt like we were in the USO, performing for the troops -- or at a pep rally. The gay men in the audience really related to Harper. But Joe, her husband, was like the villain. The audience booed or hissed when Joe would say certain things on stage they didn't agree with. It was hard for the actor who was playing Joe (who was gay himself) to handle. He was amazed that the audience had so little sympathy for a gay character who had a deep ambivalence about being gay. He kept saying, "That's a part of the gay experience too." But they were there to celebrate being gay and mourn the scourge of AIDS. They didn't have time for a character hanging back on the sidelines, not coming out.
Hill: What do you see as the reasons that the television, film and/or theater industries are involved in the fight against HIV/AIDS?
Nixon: There are a lot of reasons. First, there are so many gay people in these industries, historically. Show business is a world of people who feel like they're different, in whatever way. Individuality is encouraged. Being gay is accepted. And gay-positive people who identify with being different feel a lot of simpatico for LGBT people. I also feel like in terms of theater and the arts community in general, there is such a strong river of gayness running through it. We would not have these rich literary and artistic cultures without gay people like Gertrude Stein and Oscar Wilde, and straight people acknowledge that and pay tribute to it. Plus, the work in the artistic community often focuses on speaking the truth, and the truth is there are gay people, there have always been gay people, and they have generally been treated pretty badly. Many people in the arts community think that truth should be told, rather than papering over it to maintain the status quo.
Hill: If you could send out a message to the general public about HIV and AIDS, what would that message be?
Nixon: Use a condom. Becoming HIV-positive can happen to anyone, no matter who you are and where you live. Don't think it is over.
Hill: If you had one wish about the epidemic, what would it be?
Nixon: That it would stop. We really must do everything we can to keep fighting and not allow prudishness, prejudice and ignorance parading as piety to get in the way of saving people's live.
To learn more about Savor, please visit gmhc.org.
Popular in the Community