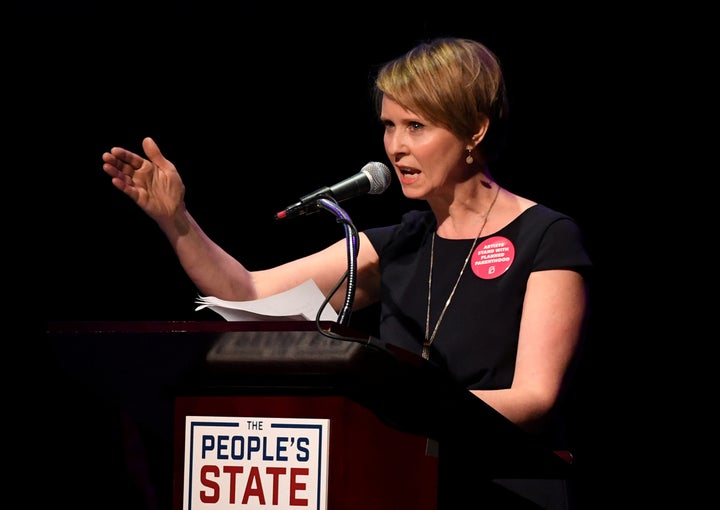 WASHINGTON ― New York gubernatorial challenger Cynthia Nixon said Friday she embraces the disdain of the so-called "Democratic establishment," and called on her fellow political newcomers to take over the party.
"We may have come here today from different states, from different backgrounds and for different reasons. But everyone here today has something in common: The Democratic establishment didn't want us to run," Nixon said to an audience of hundreds participating in the Progressive Change Campaign Committee's candidate training. "Well that's too bad, because here we are."
"We've tried it their way. We've seen the results. If 2016 taught us anything, it's that Democrats can't just give voters something to vote against," she continued. "We have to give them something to vote for."
Nixon, a Democrat and education activist best known for her starring role in HBO's hit series "Sex and the City," faces an uphill climb in her left-wing challenge of New York Gov. Andrew Cuomo (D). However, the loud ovations she received in a ballroom at the Omni Shoreham Hotel suggest she is already a favorite with the party's progressive base.
For rank-and-file liberals still reeling from the 2016 election loss, Nixon's bid has a natural appeal. In Cuomo, Nixon is taking on one of the most powerful Democrats in the country.
The governor has considerable progressive accomplishments, including same-sex marriage, gun regulations and more recently a $15 minimum wage and paid family leave, which requires employers to provide paid time off to care for family members.
But Cuomo's fiscally conservative budgetary policy and reputation for heavy-handed governance have earned him a national reputation as a transactional moderate leader.
A particular sore point is Cuomo's alleged tolerance of a breakaway faction of Democrats that have enabled Republicans to control the state Senate chamber despite consistent Democratic numerical majorities since 2012. Until last week, a group of eight Democratic state senators was part of a GOP-aligned Independent Democratic Conference, and a ninth Democrat, Simcha Felder, caucuses with Republicans.
The Democratic Assembly has passed progressive bills to create a state-level single-payer system and combat climate change, but thanks to the IDC and Felder, the GOP-controlled Senate has prevented the sweeping legislation for coming up for a vote.
Nixon made Cuomo's coziness with the IDC a major campaign theme.
But last week, Cuomo brokered a deal for the IDC to return to the mainline Democratic Senate caucus. Felder is still caucusing with the GOP, however. And for many progressive activists, the timing of the rapprochement ― coming as it did, after Cuomo had already hammered out a more moderate budget with the IDC's help ― meant the move was too little too late.
Nixon too remains dissatisfied, likening Cuomo last week to someone who set his "own house on fire and watched it burn for eight years."
"Finally turning on a hose doesn't make you a hero," she said.
Cuomo gave Nixon some ammunition for her argument on Thursday evening when activists captured him on camera arriving at a fundraiser held by former members of the Independent Democratic Conference. Although the fundraiser was mainly for two Democratic Senate candidates running in April 24 special elections, some former IDC members were in attendance and had the opportunity to benefit from the money raised.
"The governor is 100 percent focused on maintaining a unified Democratic Party to fight Trump in Washington, take back the House and the State Senate," said Cuomo campaign spokeswoman Abbey Fashouer.
Nixon nonetheless seized on the appearance as evidence that Cuomo was still siding with the IDC, in contravention of his previous promises.
On Friday, Nixon made clear that the main fight in New York is still between progressive Democrats and the more cautious establishment that Cuomo embodies.
"Andrew Cuomo and the Trump Democrats of the IDC brokered a backroom deal to hand power to the Republicans to ensure many of our progressive priorities die in the Senate," Nixon said.
"Well, we've got news for them: The time is up for corporate Democrats ― for politicians who campaign as Democrats but govern as Republicans," she continued. The crowd gave her the loudest applause of her entire speech.
And there are certainly parallels between Nixon and Sanders, who are both long-shot progressive challengers running against better-known and better-funded Democrats.
But Nixon appears determined to avoid being pegged as a candidate who ignores racial injustice. Critics accused Sanders of failing to offer solutions for black voters specifically, saying he merely addressed their concerns through universal, class-based solutions alone.
Last week, Nixon came out strongly in favor of legalizing marijuana in New York ― and has made the disproportionate racial impact of the status quo a key part of her pitch.
"Legal weed is first and foremost a matter of racial justice. We have to stop putting people in jail for something white people do with impunity," she said Friday.
Nixon also said she would vacate past convictions for marijuana-related offenses. She added she would fight to ensure that communities of color shared in the economic gains of legalization, arguing that "huge corporations and rich white men like John Boehner" shouldn't reap all the rewards.
"It is a grave injustice to only let them profit from a product that for decades sent millions of people of color to jail," she said.
She also articulated the need to end the racist policies that amount to a "school-to-prison pipeline" for the state's young students of color.
Members of the audience applauded loudly when she discussed the racial implications of marijuana legalization. Several said they appreciated her willingness to discuss the way that race intersects with broader social problems.
Nixon "showed why economic justice supports racial justice," said James Thompson, who ran a surprisingly competitive bid for Kansas' 4th Congressional District in an April 2017 special election and is running for the seat once again.
Dinah Mason, a 50-year-old Army veteran and small business consultant from Jacksonville, Florida, also liked Nixon's remarks.
The new marijuana decriminalization laws are set up "to not allow African-Americans to be able to cash in on or even own certain parts of the new-coming of marijuana," said Mason, who is planning a 2020 congressional run against Rep. Ted Yoho (R) in Florida's 3rd Congressional District.
"In everything we do in this country, there is always a stigma connected to it that eliminates certain races from progressing in those areas," she said.
Before You Go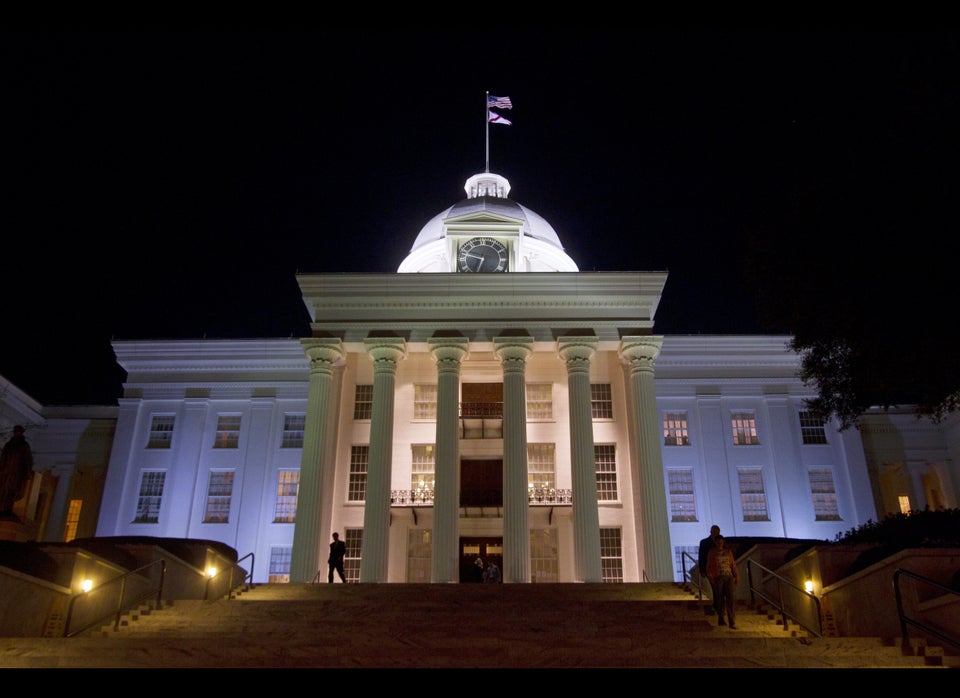 U.S. State Capitol Buildings
Popular in the Community