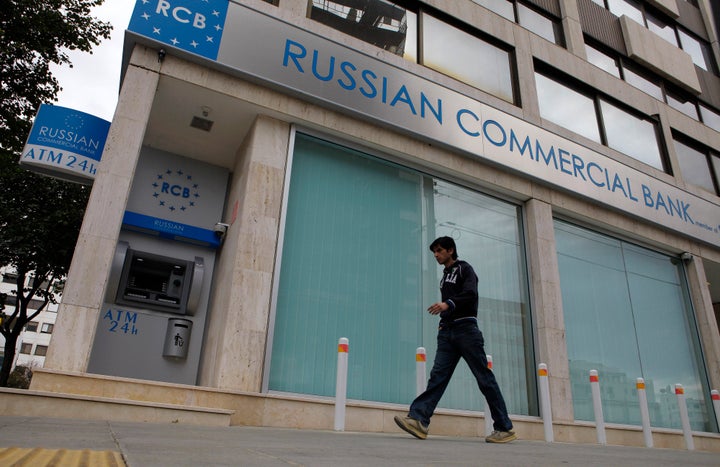 NICOSIA/MOSCOW (Reuters) - Cyprus extended a bank lockdown to next week and considered nationalizing pension funds on Wednesday, scrambling to avert a financial meltdown after rejecting the terms of a bailout from the European Union and turning to Russia for a lifeline.
With crisis talks dragging into the night, the ruling party, Democratic Rally, warned time was running out:
"We don't have days or weeks, we have only hours to save our country," deputy leader Averos Neophytou told reporters.
Banks, shut since the weekend, are to stay closed for the rest of the week and so not reopen till Tuesday after a holiday weekend, a government official told Reuters, extending the misery of Cypriot businesses already feeling the pinch.
With Finance Minister Michael Sarris in Moscow, Russia's finance ministry said Cyprus had sought a further 5 billion euros, on top of a five-year extension and lower interest on an existing 2.5-billion euro loan from Moscow. Russia has a special interest, since many of its citizens keep savings in Cyprus.
In a vote on Tuesday, the island's tiny legislature threw out a proposed tax on bank deposits in exchange for a 10-billion euro bailout from the EU, a stunning rejection of the kind of strict austerity accepted over the past three years by crisis-hit Greece, Portugal, Ireland, Spain and Italy.
The EU demand has exposed tensions with Moscow over how to keep Cyprus afloat. Russian Prime Minister Dmitry Medvedev said the bloc had behaved "like a bull in a china shop" and compared its proposals, which would force Russian customers to contribute to the rescue of Cypriot banks, to Soviet-era confiscations.
But the European Central Bank kept the pressure on, warning that it would have to pull the plug on Cyprus unless the country took a bailout quickly.
"We can provide emergency liquidity only to solvent banks and ... the solvency of Cypriot banks cannot be assumed if an aid program is not agreed on soon, which would allow for a quick recapitalization of the banking sector," Joerg Asmussen, the bank's chief negotiator on Cyprus, told German weekly Die Zeit in an interview late on Tuesday.
Despite the looming threat of default and a banking collapse, Cypriots on Tuesday balked at EU demands for a levy on bank deposits to raise 5.8 billion euros, an unprecedented measure that opponents said would have violated the principle behind an EU-wide guarantee on deposits of up to 100,000 euros.
The government said a "Plan B" was in the works, with conservative President Nicos Anastasiades - elected last month on a mandate to secure a bailout - locked in meetings with party leaders, ministers and officials from the troika of EU, ECB and International Monetary Fund lenders.
Lawmaker Marios Mavrides told Reuters one option under discussion was to nationalize pension funds of semi-government corporations, which hold between 2 billion and 3 billion euros.
An opposition politician present at the talks said: "The idea is we can get the pension funds of organizations like the Cyprus Telecoms Organisation and the Electricity Authority, maybe some others as well, and raise two to three billion euros.
"If we raise half of the money then maybe we could top up to the 5.8 billion euro amount by passing the Cypriot banks into Russian hands."
Also on the table was a proposal to issue a bond on the basis of state assets, including future gas revenues. Some officials spoke of combining such measures with a levy on bank deposits, though at a lower level than originally planned.
Cyprus Energy Minister George Lakkotrypis was also in Moscow, officially for a tourism exhibition, but fuelling talk that access to untapped offshore gas reserves could be on the table as part of a deal for Russian aid.
"We've underscored how difficult the situation is," Sarris said after talks with his Russian counterpart Anton Siluanov. "We'll now continue our discussion to find the solution by which we hope we will be getting some support," he said.
"There were no offers, nothing concrete."
Cyprus is a haven for billions of euros squirreled abroad by Russian businesses and individuals - a factor, too, in the reluctance of Germany and other northern euro zone states to bail out Cypriots without a contribution from bank depositors.
The Cypriot government denied a Greek media report that Cyprus had reached a deal for Russian investors to buy the island's second largest bank, Cyprus Popular, which was taken over by the state last year.
The island's banking sector has been crippled by its exposure to bigger neighbor Greece. Athens said Greek branches of Cypriot banks would also stay shut till the weekend.
The proposed levy on deposits would have taken nearly 10 percent from accounts over 100,000 euros. Smaller accounts would also have been hit, although the government proposed softening the blow to spare savers with less than 20,000 euros.
Chancellor Angela Merkel, facing an election this year in Europe's main paymaster Germany, said it was up to the Cypriot government to come up with an alternative but it was fair to expect those with savings over 100,000 euros - the normal limit for state deposit insurance - to contribute to a bailout.
The EU has a track record of pressing smaller countries to vote again until they achieve the desired outcome.
There was evidence the bank closure was slowing trade. Several petrol stations were refusing credit cards, insisting on payment in cash.
While taxing even small savers was politically explosive, the Cypriot government had balked at sparing them by imposing a higher tax on big depositors - fearing for an offshore banking business that accounts for a big share of its economy.
The crisis is unprecedented in the history of the divided east Mediterranean island of 1.1 million people, which suffered a war with Turkey and ethnic split in 1974 in which a quarter of its population was displaced. The Turkish-populated north considers itself a separate country, recognized only by Turkey.
With Sarris and Lakkotrypis in Moscow, there was mounting speculation that Russian oil and gas giant Gazprom had mooted its own assistance plan in exchange for exploration rights to Cyprus's offshore gas deposits. A Gazprom spokesman denied any such offer had been made.
European officials were growing increasingly exasperated.
"There is no obligation to accept help," said Polish Foreign Minister Radoslaw Sikorski, whose country does not use the euro. "Cyprus has the possibility of living with its own mistakes."
But the idea of bankruptcy for a member of the euro zone, however small, raises fears for confidence in the currency.
A senior source in the "troika" said dealing with Cyprus was even more frustrating than protracted wrangling with Greece.
"The Greeks wanted to cheat on you all the time, but they knew what they wanted," the source told Reuters.
"The Cypriots are leaving us really confused."
(Additional reporting by Karolina Tagaris and Matt Robinson in Nicosia, Maya Dyakina in Moscow, Annnika Breidthardt in Berlin, Sakari Suoinen and Eva Kuehnen in Frankfurt, Georgina Prodhan in Vienna and Karolina Slowikowska in Warsaw; Writing by Matt Robinson and Paul Taylor; Editing by Peter Graff and Alastair Macdonald)
Calling all HuffPost superfans!
Sign up for membership to become a founding member and help shape HuffPost's next chapter
BEFORE YOU GO
PHOTO GALLERY
Cyprus Bailout