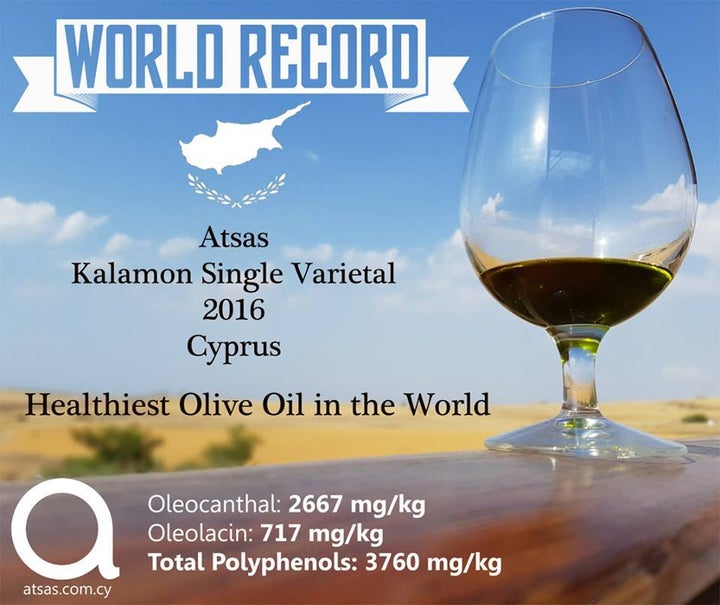 In the worst conditions, this olive grove offers the best olive oil.
When I signed up for the webinar High Value Dry Climate Farming I thought it would be interesting to see Cyprus, the place where the world's healthiest olive oil was produced, but I did not expect to be riveted for two hours. I was. Underlying one man's vision, supported by believers, was a world of nature so sublimely intricate that a stack of stones changed the eco system. Nicolas Netien and his wife Maria are invigorating the arid UN protected no man's land between Turkish occupied territory and Cyprus.
You'd know it was a labour of love when Nicolas and eight-month pregnant Maria planted four thousand trees by drilling holes into volcanic rocky soil and where for thirteen straight months there was no rainfall. But as Nicolas shared in this fascinating webinar, solving one problem often offered the solution to something else - like making the world's healthiest oil from a common table olive variety affected by drought.
Mostly, it seems they observe Nature and follow her lead. And for that trust in Nature and their dedication they have been rewarded with this precious oil. This is heroic in my estimation and their reward is a medicinal quality organic extra virgin olive oil that is a boon to the world.
So when, my partner, Athan Gadanidis offered to share his interview with Nicolas I jumped at the chance to recount it here.
Athan interviewed Nicolas Netien to find out how he managed to produce an olive oil with the highest concentrations of oleocanthal and the highest total phenolic compounds ever recored.This extraordinary high phenolic, oleocanthal-rich, organic extra virgin olive oil at 2,667mg/kg of oleocanthal and 717mg/kg of oleacein for a combined measurement of 3,760mg/kg total polyphenols is more than fifteen times the criteria of 250mg/kg of polyphenols to make a health claim as per the European Union labelling regulation. With this kind of concentration a little goes a long way.
Nicolas is an environmental engineer, specializing in permaculture dry farming methods with olives as the main crop. He manages the Atsas Organic farm located in Cyprus in the middle of the UN buffer zone between southern Cyprus and the northern Turkish occupied territory. It is more than a labor of love; this is an organically certified farm with the vision to transition into an agro ecology integrated system and a demonstration site.
"We are in the process of turning an arid, rocky landscape with no top soil into a beautifully productive agro -ecosystem, with very limited resources of water." Nicolas Netien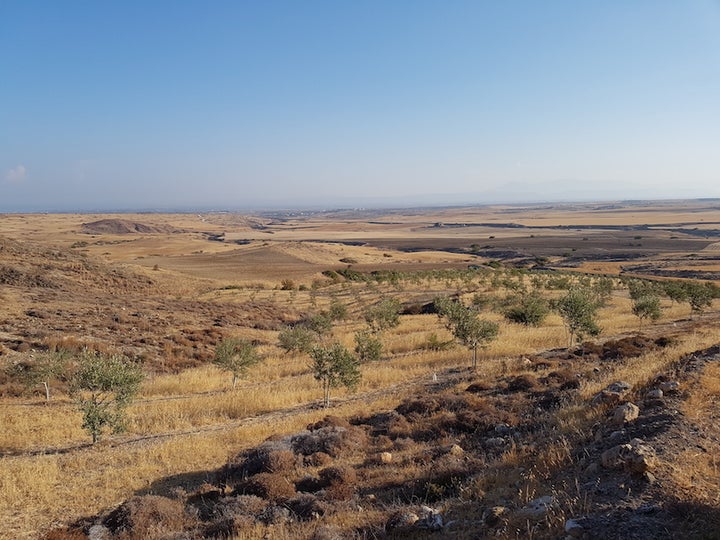 Q. Where are you from originally?
A. My family is from the south east of France, north of the Provence. I grew up in Marrakesh and then Lyon, France.
Q. How did you end up living in Cyprus and working with olive trees and olive oil production?
A. I met my wife six years ago in Jordan during a permaculture seminar, she is half Greek half Cypriot, I moved to Greece with her where we started a consulting service. We came here to Cyprus about 4 and half years ago to, what was at the time, a 2 Hectare olive grove belonging to my wife Maria's uncle. We taught about specific composts and planting aromatics to contour and diversify the grove in order to slowly spread and sink any rain falling on the land. The grove is overlooking the Turkish occupied village of Petra where my wife's family is from. It was the vision of Maria's uncle George to invigorate the area across from his village, Petra, and he gave us this amazing opportunity to realize this dream that immediately became our own. The trees were planted 3 years before we arrived in bare rock with a pneumatic drill, irrigated with very saline water, constantly blown by the winds from the sea next door. About a year after we returned to Cyprus we were hired to plant and develop an extra 36 Hectares of dry land in the UN buffer zone, a kilometer away from the original site, meters from the border.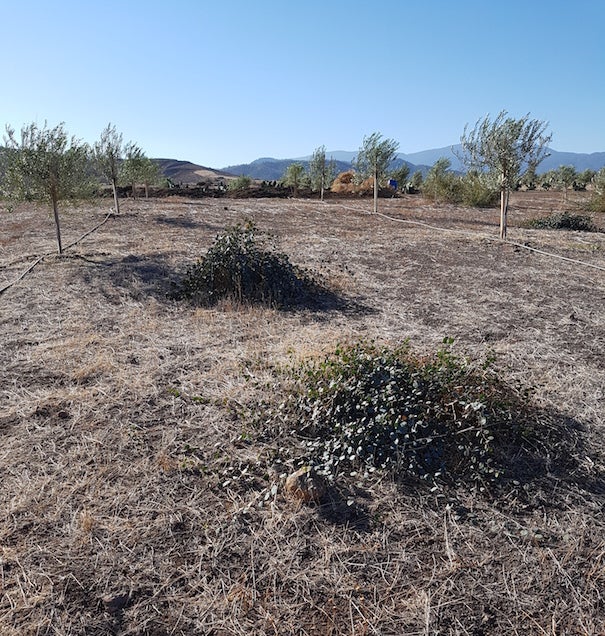 Q. What is your educational background or how did you learn to manage an olive grove, specifically, or farming in general?
A. I am an environmental engineer, I came across agro-ecology a bit more than 10 years ago while travelling in Australia. I started studying agro-ecosystems and soil biology with an emphasis on dry lands and then working on different projects. I had very little experience with olive cultivation prior to this but I new about agro-ecology design in difficult conditions. Our approach from the beginning was to design a system diverse and resilient. The specifics of milling were learnt from research and lots of trials with our fantastic little mill. We sent lots of samples to Dr Prokopios Magiatis, at the University of Athens to measure the phenolic content using NMR (Nuclear Magnetic Resonance). We experimented with different milling settings until we found the right way. We are still researching other parameters like irrigation, types of composts etcetera.
The philosophy of Atsas Farm is to use the discipline of agro-ecology design to create agricultural systems which have the diversity, stability and resilience of a natural ecosystem.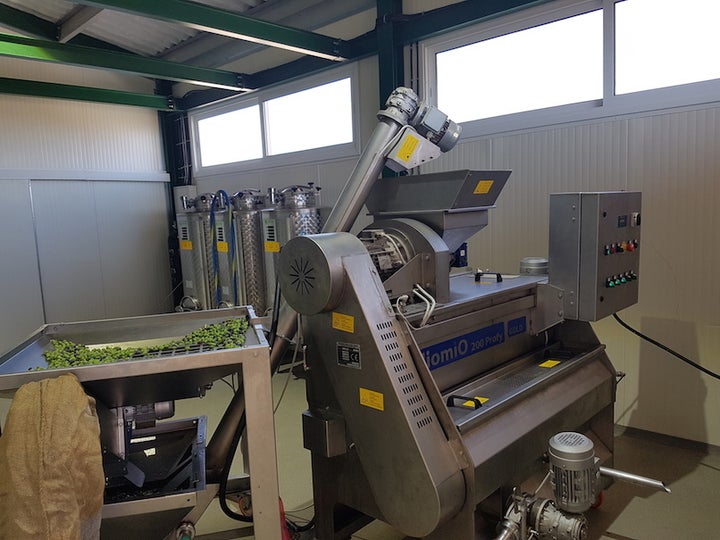 Q. How did you achieve such a high concentration with the Kalamon variety which is best known for its table olives?
A. Well the trees are 2 years old, we irrigate to the minimum, we do not till, the trees are fertilized with home made compost and all inoculated with mycorrhizae fungi we had no olive fly issues as the Kalamon matures really early and we harvested the 1st of September, the temps were above 35C too hot for the fly. Our terroir is incredible, the geology unique in the world (Troodos mountains). We are next to the sea and it's very, very hot in summer. We harvest by hand, very gently, to avoid any bruising that might lead to oxidation. From the tree to the mill the olives spend less than half hour in shallow baskets. We mill without adding water, with constant attention during malaxation. The oil is directly pumped into nitrogen filled tanks. We do not filter it but rather rake it after sedimentation. I think there is still room for improvement and I am thinking about a custom made mill that will allow more parameters and modifications.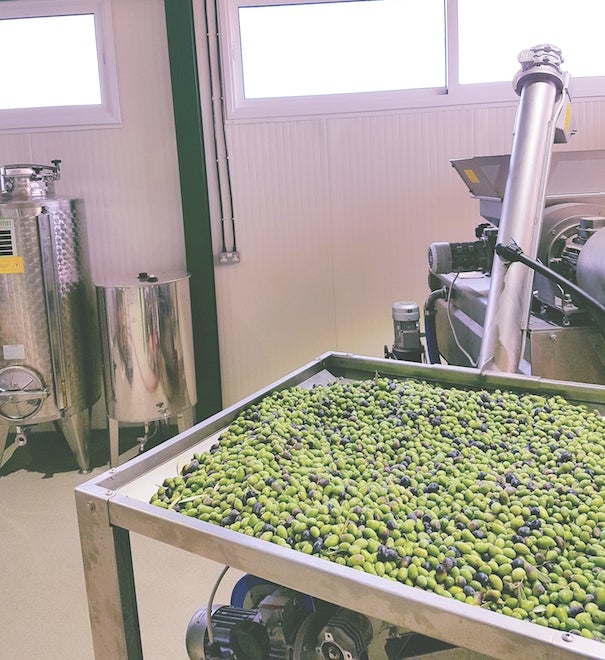 Q. What other activities are you involved in with the community in order to share your knowledge?
A. The Atsas Training Center promotes sustainable living and rural development, it is registered with the government. The aim is to provide training for locals from production ( organic farming etc.) to transformation (health and safety, labeling, ISO etc.) and anything related to sustainable living (natural buildings, renewable energies etc.). We are basically trying to provide tools to a sustainable rural development. The center has a director, Mme Phrosso Hadjilucas who, prior to opening the center, conducted an extensive consultancy within the local community to identify its needs.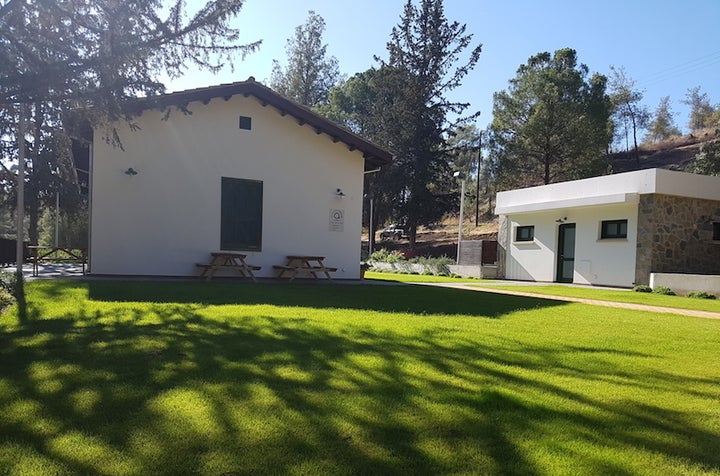 Q. How do you see the future in 5-10 years?
A. Here, walking around a flourishing, diverse orchard grown from bare rock; an oasis of life teaming with birds, bugs and wildlife, a diverse rich and self-sustaining agro-ecosystem sinking carbon into its soil. A full expression of this amazing terroir.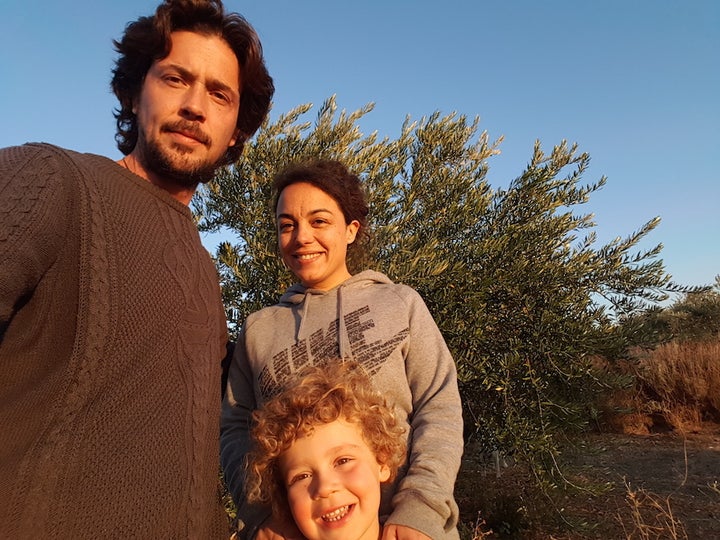 Nicolas, through the Atsas Training Center, is a beacon in the world of agriculture where Nature dictates and throwing money at her rarely draws out her treasures. Nicolas shares how government supported tilling that strips the land results in a drain on funds, excess equipment, overuse of fertilizers, pesticides and insecticides with the result of inferior produce. Agro-ecology is really about coaxing the birds into the trees and letting nature take its course. The proof is in the ... olive oil.
In the webinar, when answering questions about composting, inoculating, using mycorrhizae fungi, supporting indigenous plants, building a dam to collect rainfall and interplanting drought resistant crops, Nicolas always refers to the ten year objectives. Looking at the landscape into the distance dotted with neat rows of tiny olive tree saplings, you can see into the future through his eyes and, on the winds blowing up from the sea, hear the words of anthropologist Margaret Mead:
Never believe that a few caring people can't change the world. For, indeed, that's all who ever have.
To contact Nicolas Netien and learn more about agro-ecology or to purchase one or all of his thousand bottles of this extraordinary oleocanthal-rich EVOO visit the Atsas Facebook Page.
If you are interested in the recording of the webinar High Value Dry Climate Farming connect with Sustainable Design Mastery which hosted it.
Popular in the Community