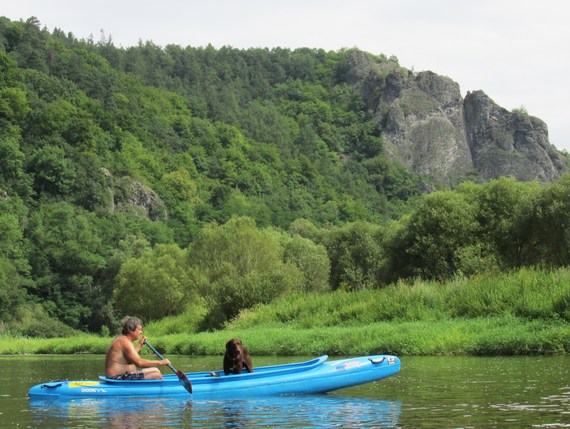 Floating down the Vltava river I encountered many interesting personalities. An elderly man canoeing in solidarity with his big brown dog occasionally leaning over to lick the water. Smiling strangers roping their canoes together to chat while the current moved them along. Families with laughing children splashing each other and hugging their inflatable water toys.
Canoeing is the epitome of Czech culture - the Czech republic is known as the most atheist country in the world but Czechs treat weekends, holidays, sports and spending time outdoors in an almost religious manner. Czech families have cottages in the country side which they abandon city life for at every chance they get. As soon as it gets too warm for skiing they begin preparing their canoes and tents.
Living here for most of my life compelled me to finally join in on this traditional Czech pastime. So earlier this August I bit the bullet and traveled north of boisterous Prague to a camping ground in a small town. Roztoky isn't easily accessible without a car so I had to hitchhike from the train station. I wasn't used to the friendliness of town people and was taken aback when an off-duty train conductor offered me a ride.
I was greeted warmly at Kemp Višňová and I set my tent by the river alongside many others. People were swimming in the river fighting joyfully against the strong current. Later in the evening campfires popped up all over the campsite and everyone gathered to drink beer and roast sausages. The pubs around weren't allowed to sell raw meat but the friendly campers were more than happy to share. You could recognize the experienced campers in the positioning of their tent and balanced a string across paddles to dry laundry.
Next morning I had arranged to be driven down the river to canoe for 10 kilometers. The weather was perfect and the current was strong enough to float me down the river without paddling. At the beginning all I saw were houses along the bank but I slowly left civilization behind me. I passed fishermen on little boats; children swimming in calmer areas; and other people canoeing and kayaking.
I passed mountains and bent over trees whose leaves grazed the water. I had to carry my canoe to avoid a serene man-made waterfall where people sunbathed and dragonflies were in abundance. Right before reaching camp I stopped by a sign beckoning hungry water travelers with promise of refreshments. The cheap food stand sold cheap meals and cold beer. Feeling refreshed I paddled back to camp around six hours after beginning the trip.
Experiencing what the Czechs do every summer brought me closer to understanding them and their wonderful culture. I only went for two days but some Czechs spend weeks traveling from camp to camp along the river. The best part of the trip was seeing strangers express friendliness and trust and hearing strangers exchanging 'ahojs'. 'Ahoj' is the word that Czechs use to greet friends and family. Tourists frequently joke about this small landlocked country using a word meant to signal ships and boats. But observing their love of water makes this phenomenon a little less of a mystery.