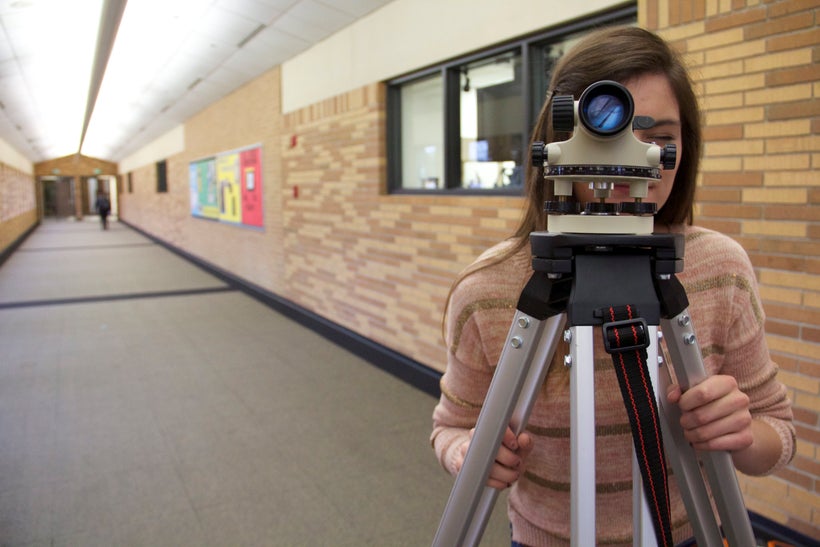 When her teacher suggested that high-schooler Kara Stratton team up with a few of her Introduction to Engineering Design classmates for a national design competition, Kara "was immediately interested, especially because of the topic of infrastructure in our community."
Cynics might roll their eyes at Kara's enthusiasm for local infrastructure, but she is hardly alone. Kara is one of more than 100 students from around the United States who is participating in the 2017 PLTW Engineering Design Competition sponsored by Chevron. Between March 1 and April 26, this nationwide competition presents teams of high school students with the challenge to address a real-world infrastructure problem in their local communities.
From roads and dams to bridges and ports, upgrading America's infrastructure will be one of the greatest engineering challenges of the 21st century. The American Society of Civil Engineers (ASCE) gave the United States a "D+" on its 2017 Infrastructure Report Card. This grade reaffirms what many drivers and public-transit riders from coast to coast have known for years: that our nation's infrastructure is in perilous need of upgrades.
Today's students will be the ones to solve these complex problems, and it's our job to prepare them to do so. That starts with inspiring them to develop an interest in subjects such as engineering and science, then equipping them with the tools and knowledge they will need to make a difference.
This philosophy is at the core of the PLTW Engineering Design Competition, and it is at the core of all of our work to develop students' passion for and skills in subjects like computer science, engineering, biomedical science and other science, technology, engineering and math (STEM) fields.
A partnership from Chevron has made this possible. The Engineering Design Competition has actually happened on a statewide level for many years – this is the first nationwide competition. Chevron has also made it possible for students to compete without paying registration or entry fees. This low barrier to entry on a national platform is fostering high engagement from a wide network of students spanning across the country, from California and Colorado, to Texas, Mississippi and New Jersey.
The three teams that create the most innovative and viable infrastructure solutions will receive recognition and prizes. The first-place team will present its portfolio at the 2017 PLTW Summit in Orlando, Florida, in October.
The purpose of this competition is to get young people like Kara thinking about real-world problem-solving using their STEM knowledge and skills. America's infrastructure challenges are complex, and it will take a diverse coalition of engineers, architects and other STEM-trained professionals to address them over the coming decades.
The ASCE's Infrastructure Report Card and the National Academy of Engineering's report on urban infrastructure improvements – which helped to inspire the competition – send a clear message from America's engineers that the country's infrastructure problems result largely from systemic underinvestment.
President Donald Trump has expressed concerns over the poor state of America's infrastructure, and has proposed a $1 trillion infrastructure bill that would have long-term implications for employment opportunities in all STEM fields, especially engineering. In order for any infrastructure or STEM jobs program to succeed, however, our education system needs to be graduating students who are prepared to fill the jobs.
America has a proud entrepreneurial history of innovators who have used science or engineering to create low-cost solutions to expensive problems. Chevron and PLTW believe that by challenging high schoolers to address infrastructure problems in their communities, we can help today's students become tomorrow's innovative problem-solvers.
America has earned a D+ or worse on the Infrastructure Report Card since at least 2005. Something needs to change, and we believe the answer lies in real-world STEM education and passionate students like Kara.
Bertram is president and CEO of Project Lead The Way and the New York Times bestselling author of "One Nation Under Taught: Solving America's Science, Technology, Engineering and Math Crisis."
REAL LIFE. REAL NEWS. REAL VOICES.
Help us tell more of the stories that matter from voices that too often remain unheard.
This post was published on the now-closed HuffPost Contributor platform. Contributors control their own work and posted freely to our site. If you need to flag this entry as abusive,
send us an email
.