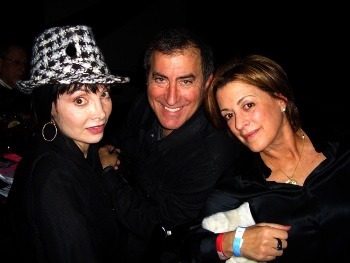 Pictured at left, Julie McDonald, super-agent to the top crop of commercial dancers and choreographers in New York and Hollywood, poses with long-time clients, Toni Basil and Kenny Ortega.
Julie McDonald was honored last weekend with a Lifetime Achievement Award at the 14th Annual "Dance Under The Stars" Choreography festival presented the McCallum Theatre Institute, the Education Division of the McCallum Theatre for the Performing Arts.
This adds the name of the popular, effusive and industrious McDonald to the ranks of prior awardees, all dance luminaries like Grover Dale, Joe Tremaine, George Chakiris, Carmen de Lavallade, Donald McKayle, Glen Tetley, and Nigel Lythgoe among others. In an unusual turn, the Festival chose to honor an agent. In return, McDonald paid tribute to the art form's great ones in her acceptance speech.
"I'm thinking all the time about Michael Kidd, Jack Cole, Agnes de Mille Jerry Robbins, Twyla Tharp and Bob Fosse," she said. "They perch like angels on my shoulder," she added, sounding an emotional note while holding the heavy statuette. A theater full of dance lovers listened keenly to McDonald's life story in the state-of-the-art McCallum Theatre, a cozy refuge from a cold and blustery desert evening outside.
"Around them," she continued, "circle Toni Basil, Kenny Ortega, Vince Paterson, Keith Young, Daniel Ezralow, Marguerite Derricks, and all of our new generation of young talent."
McDonald explained how how, after retiring from her dance career, she and two partners established the hippest dance studio in L.A. in the early 1980s. Called "Room to Move" and located in Venice, it formed the prototype for Jane Fonda's fitness studios. (Fonda took classes there.)
She then launched as an agent, quickly learning how undervalued and even exploited dancers were in Hollywood. In fact, dancers were regularly categorized as "extras." As McDonald put it diplomatically Saturday night, "Nothing against extras, but ... dancers have craft."
McDonald was at the right place at the right time when she opened her body shop in 1985. Music videos were exploding onto the scene and she immediately got busy. Teaming with partner Tony Selznick in 2000 (he was on hand Saturday night to give McDonald her award), the two opened MSA's stylish headquarters office in an old Hollywood neighborhood. The firm took its place at the head of the pack.
"Wherever they needed dancers, we were booking -- music videos, feature films, television, commercials, theme parks, cruises."
A tireless advocate for better terms and working conditions, McDonald helped to secure Screen Actors Guilds' acceptance of dancers under their jurisdiction. She was a co-founder of The American Choreography Awards, which in the course of its decade=long run from 1994 to 2004, McDonald remembered on Saturday night, "some of America's premier actors, Robert De Niro and Robert Duvall, conferred awards on dancers.
"Actors giving dancers recognition -- I liked seeing that," she said with a smile.
Now fourteen years old, the "Dance Under the Stars" choreography festival has presented the work of 526 choreographers, awarding $264,000 dollars to winner, with over 26,000 participants in the shows, according to Festival producer Kajsa Thursesson-Frary, Director of Education at the McCallum Theatre Institute. The main event of the evening was a highly polished presentation of works by ten dance makers competing for prizes.Choreographers from as far as Minneapolis and as nearby as Orange County, California, journeyed to the high desert to take a run at it.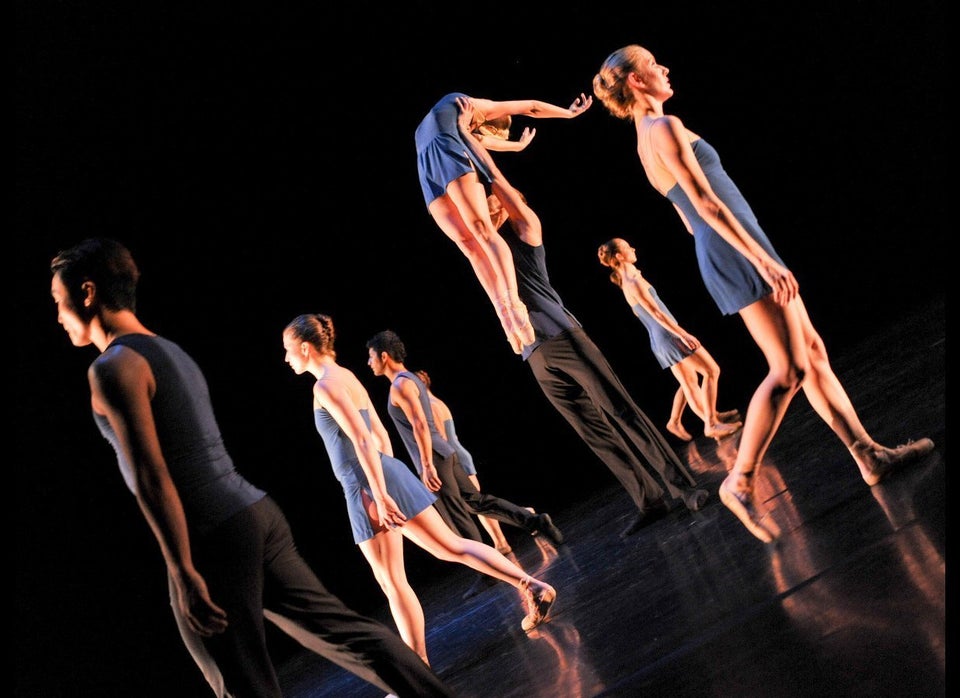 14th Annual Dance Under the Stars
Grand Prize awardee: Olivier Wevers, "Monster"
"Paid Engagement" awardee: Petr Zahradnicek, "1 Run 2"
Second prize awardee: Sophie Monat, "Vista"
A second set of awards, for Division II, took place the following evening.
Debra Levine is a Los Angeles based arts journalist blogging about dance, film, music and urban culture on arts•meme.
This post has been modified since its original publication.
Related
Popular in the Community