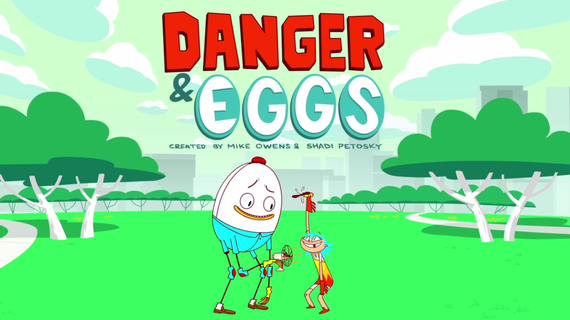 Danger & Eggs; Image via Amazon.com/Puny Entertainment
It's been a long and winding road this year for the co-creator of Danger & Eggs, Shadi Petosky. After a surviving waves of press all over the world over a dehumanizing ordeal involving overly invasive TSA procedures earlier this year, Petosky is on a fresh path. While this may all seem new and exciting to see a trans woman doing something smart and unique, this is not her first go around. Petosky has been formulating and working on the characters of Danger & Eggs for 6 years with the show's co-creator Mike Owen. "I think I counted 14 failed network developments I produced before this one. Comedy Central, IFC, CN, Nickelodeon, Disney," says Petosky, referring to her prior works. After partnering with comedy guru Chris Hardwick on their co-venture, Puny Entertainment, the duo plan to release more content. Apparently, this is only the start.
What is the show about you ask? In the original animated comedy Danger & Eggs, teal-haired D.D. Danger and her giant egg best friend Phillip plan out on another amazing day. They get distracted with a challenge to conquer the world's weirdest water slide. Featuring the voice of Saturday Night Live's Aidy Bryant, the artwork and cast was already off to a brilliant start. I'm a big fan of Aidy. When I turned on the pilot, I was unsure of what to expect, because cartoons are often unpredictable, especially when it comes to quality in all definitions of the word. The only word that could come to mind within the first three moments of this show was, "refreshing." It was like Adventure Time on crack, but the pacing was more clever and ironic, physical comedy laden throughout the show's many layers. Six minutes in, and I literally can't stop laughing. Like, snorting out loud, laughing. Not even halfway through, cut to D.D, rocketing down this insane waterside with Philip, having a panic attack but at the same time; the funnest ride of his life. While the slapstick comedy and quirky color schemes drew me in, another theme I drew personal parallels to won me over entirely: Anxiety.
As I watched this unlikely duo slide down this maze of tubes, I recognized a little bit of my own anxiety and feelings of fragility from the character of Phillip. Not only does he have anxiety because of being abandoned, but he's an egg who could literally crack at any moment. That's exactly how anxiety feels to me. Beyond the literal comparisons, this show tackles mature themes in a simple, tasteful manner that leaves the viewer craving another episode. The introspective moments offered nice breathers between the action and comedy, making Danger and Eggs quite stylistically diverse in the crowd of genre cartoons. Petosky says that the character of Phillip was actually drawn from some of the personal experiences of the show's co-creator, Mike Owen. "A lot of Phillip is Mike. He was an awkward kid and the child of a nurse who maybe over-shared on what can go wrong in the world," Petosky describes. "D.D. and Phillip both have absentee parents. They both have abandonment. I think about my friendship with some trans kids. They have this whole childhood I didn't get so I root for them, try to keep them safe. I'm not their parent, but I want them to be ok," says Shadi, describing her emotional dedication to the work, as Phillip was also inspired by one of her own real life children. The show's debut pilot is now streaming on Amazon here for free, alongside the other 12 pilots. Click here to take the survey on what you thought of it, and don't forget to rate and review! Every thought counts.
Calling all HuffPost superfans!
Sign up for membership to become a founding member and help shape HuffPost's next chapter