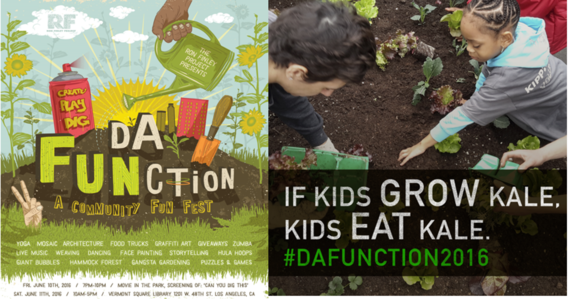 What do you get when you take a neglected space, unused resources, and an inner city-community that has long been forgotten -- and offer a movie in the park, live art, music, youth nutrition education and a message that people have the capacity to redesign their own lives?
You get a paradigm-shifting community festival called Da FUNction.
Da FUNction is the brainchild of renowned urban gardener Ron Finley, one of LA's most widely known artivists and a forerunner in the healthy food movement. "Change your food! Change your life!" is one of Ron's most well-known phrases, but Da FUNction is about more than changing your food, it's about changing culture. This event is about redesigning lives and taking back a local community. A mission that is at the core of his organization, the Ron Finley Project (RFP).
Battling LA's Food Deserts One Seed at a Time
This weekend in Los Angeles (June 10th - 11th) neglected space will be brought to life. Through hands-on interactive stations, artists will work one on one with members of the community to create opportunities for creating and sustaining positive and lasting changes to rebuild their lives. In addition to local artisans displaying their crafts, various performing artists, games and activities, food trucks, and a space for community partners to provide information on their organizations is also available.
"This is about creating opportunities for growth and sustainability within our own neighborhoods," says Finley. "Too many families lack access and exposure to safe and healthy food. It is by design that the cheapest and most available food options to them are the junk food in their corner stores and fast-food joints promoting obesity and diabetes."
"Da FUNction is our annual event to change that. It's about getting people to take back control over their health by providing them with the seeds and tools to do it. But c'mon, Da FUNction events shouldn't only happen in LA...they should be taking place all over."
Finley's 2013 TEDTalk now has nearly 2.7 million views and counting - and he's traveled the globe to inspire urban community gardens in Ireland, Qatar, Italy, Sweden and Greece. How it all began is superbly captured within the full-length documentary, Can You Dig This from Executive Director John Legend and Director Delila Vallot, also the Jury Award Winner at the 2015 Los Angeles Film Festival.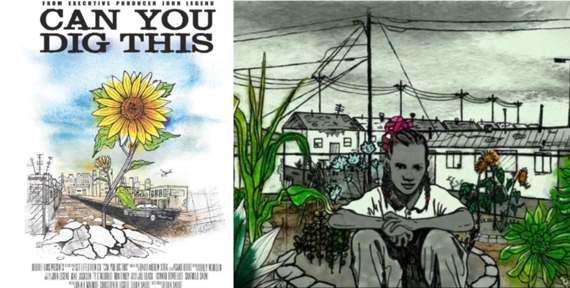 The film will be screened in the park behind the Vermont Square Library on Friday, June 10th from 7PM-10PM to kick off this year's Da FUNction event. The trailer and full-length documentary are also now available on iTunes. The event continues through Saturday, June 11th from 10AM-5PM.
A safe, healthy, thriving LA is the what. Da FUNction is the how.
"Kids should learn that healthy food is the real deal," says nine-year old Asia Carter-Thomas, who is looking to start her own community gardening club for kids called the "Care and Share Your Plants" to expand awareness in local schools. She attended last year's event and looking forward to returning again this year to reconnect with other young people to encourage additional gardening projects throughout the city.
Kimberly A. Cooper, MA is a writer, activist and former chief of operations for the "Reducing Childhood Obesity" initiative - a partnership between First 5 LA and the Los Angeles County Department of Public Health. She's spent nearly 20 years working in project development for entertainment media, nonprofit and community based youth organizations throughout Los Angeles.
Calling all HuffPost superfans!
Sign up for membership to become a founding member and help shape HuffPost's next chapter