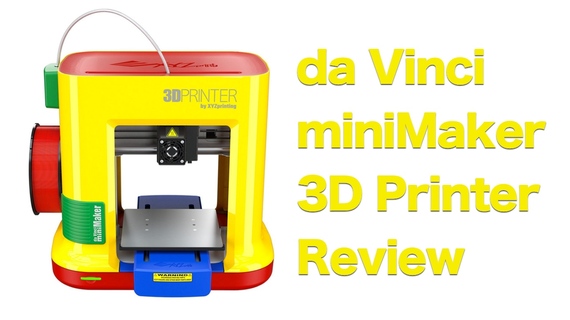 For the past 6 years we have been told, THIS would be the year of the 3D Printer. As much as manufacturers would love for every man, woman and child to suddenly decide they need a 3D printer, it just has not happened.
While there are many explanations for why 3D printers have not gone mainstream, one factor has been price. While you can buy a standard printer for well under $80 today, 3D Printers for consumers have stayed in the $350 and up range.
The XYZPrinting da Vinci minMaker 3D Printer is currently selling for $228 on Amazon. How good could a sub $230 3D Printer really be? To find out we had XYZPrinting send us a sample unit and we did this full video review of the da Vinci miniMaker -
No Bells and Whistles, But Plenty of Function
The da Vinci mini Maker is not going to scare high-end 3D printers. It does not have high-end resolution, lacks any on printer controls or displays and can be frustratingly slow. All of which really does not matter since this 3D printer is marketed to kids and people fist starting out with 3D printing.
You actually get a very impressive set of functions for a sub $230 3D Printer. The low price tag means more people will take the plunge and get started with 3D printing and 3D design, and that is a very good thing.
Here are the key features of the da Vinci miniMaker -



Innovative Auto-Calibration: This 3D printer utilizes a new 9-point calibration detection that adjusts the print bed level along the Z-axis. Just run the calibration test and watch the printer adjust itself!


Compact & Safe: Offers a 5.9 x 5.9 x 5.9 inches build volume. The da Vinci miniMaker 3D printer uses non-toxic PLA filament and has a non-heated print bed for child safety


Includes Free XYZ 3D Resources: XYZmaker 3D Design Software, XYZ 3D Gallery, XYZprinting STEAM 3D Printing Education Curriculum, XYZware 3D Printing Software


1 year limited warranty & 1 year unlimited phone/ mail support


If You Have Patience, The da Vinci Mini Maker Is a Great Low Cost 3D Printer
After spending a few weeks with the da Vinci miniMaker we have learned that you need one key characteristic to enjoy it....patience.
3D printing takes hours, so you need patience as it prints. Setting up the miniMaker so you get good quality prints takes patience (we needed an email to support and the addition of glue to our print bed). Designing a model in the 3D software, that prints as you imagined it...yep, takes patience.
If you or your child has the patience to get going with the da Vinci miniMaker, we really think it is a very impressive first 3D printer. Your children will learn about designing in 3 dimensions and other STEM skills, which is great. As a bonus, my guess is you will get some creative and unique holiday gifts printed up for you this year!
Calling all HuffPost superfans!
Sign up for membership to become a founding member and help shape HuffPost's next chapter