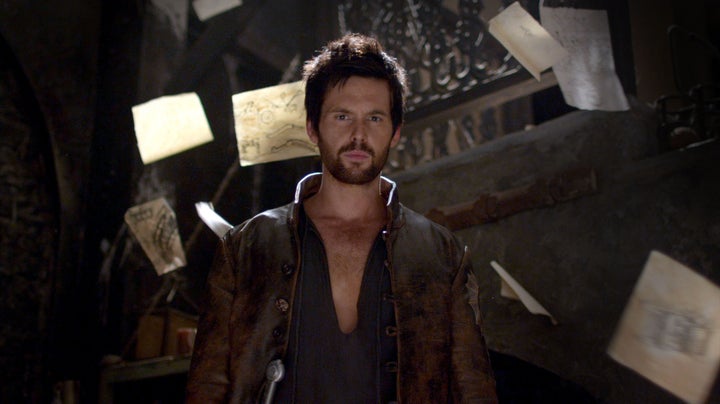 When "Da Vinci's Demons" premieres on Starz (Friday, April 12 at 10 p.m. EST), viewers will be treated to a very different portrayal of the renowned artist and inventor. While Tom Riley's Leonardo da Vinci is undoubtedly a thinker, David S. Goyer's vision also paints him as a lover and a fighter in equal measure.
In the behind-the-scenes video below, Goyer admits that the series reimagines Da Vinci "as a superhero adventurer; he's a little bit Indiana Jones, a little bit Bruce Wayne." Since Goyer is the man responsible for writing the blockbuster "Dark Knight" trilogy and the upcoming Superman reboot "Man of Steel," we're guessing he knows what he's talking about when it comes to superheroes.
Check out the new preview for the Starz series, featuring Goyer, Riley, executive producer Jane Tranter, and co-stars Eros Vlahos, Lara Pulver, Tom Bateman, Michael Elwyn and James Faulkner.
Read a description of "Da Vinci's Demons" below:
Tom Riley brings Leonardo da Vinci to life in "Da Vinci's Demons," a historical fantasy following the 'untold' story of the world's greatest genius during his turbulent youth in Renaissance Florence. Brilliant and passionate, the twenty-five year old Leonardo da Vinci is an artist, inventor, swordsman, lover, dreamer and idealist. As a free thinker, with intellect and talents that are almost superhuman, he struggles to live within the confines of his own reality and time. He begins to not only see the future, but invent it.

The series also stars Laura Haddock, who plays the celebrated beauty with obscure motives, Lucrezia Donati, Elliot Cowan, who plays the shrewd de factor ruler of Florence, Lorenzo Medici, Lara Pulver, who plays his wife Clarice Orsini and Blake Ritson as Pope Sixtus' (James Faulkner) ruthless bastard son, Count Riario.
Will you watch "Da Vinci's Demons"?
PHOTO GALLERY
"Da Vinci's Demons" on Starz
REAL LIFE. REAL NEWS. REAL VOICES.
Help us tell more of the stories that matter from voices that too often remain unheard.
BEFORE YOU GO