 Since October, some 57,000 unaccompanied minors -- the vast majority from Central America -- have crossed illegally into the United States. Many Republicans are blaming the crisis on President Barack Obama's Deferred Action for Childhood Arrivals program, or DACA, which allows people brought here illegally as children work authorization and relief from deportation. Conservatives say the policy, which newly arrived undocumented immigrants don't qualify for, has acted as a magnet, pulling young migrants from the violence-plagued and poverty-stricken countries of El Salvador, Honduras and Guatemala.
But there's virtually no evidence to support this increasingly popular conservative talking point.
Immigration hardliners within the Republican Party have always despised DACA, viewing it as an overstepping of presidential authority and an affront to their enforcement-first attitude. Since the crisis, however, they've lashed out with renewed force. DACA is basically an adaptation of Sen. Marco Rubio's (R-Fla.) idea for a conservative alternative to the DREAM Act. Now, even he says DACA should be rescinded, calling for a policy that basically amounts to deporting more Dreamers.
To make their case, conservatives generally use two arguments. First, they point out that the child migrants often think they'll be allowed to stay. Second, they say DACA must be responsible for the crisis because the sharp rise in the number of unaccompanied minors crossing illegally roughly coincides with the implementation of DACA in June 2012.
Neither argument holds water.
Conservatives have made much of the fact that those crossing the border are under the impression that once they arrive in the U.S., they'll receive a "permiso," or permit. That must mean they're aware of DACA, Republicans like U.S. Sen. Ted Cruz (R-Texas) argue.
It's easy to understand how Central Americans may misconstrue the meaning of a notice to appear. Because unaccompanied minors may await their court date outside detention, they are normally permitted to reunite with family members in the U.S. Due to the tremendous backlog in our immigration courts, it could be years before their cases are resolved.
The "permiso" phenomenon isn't new. Operation Streamline, the program that jails immigrants for crossing the border illegally before deporting them, arose out of a similar bottleneck in the immigration system. Around 2004, the Del Rio sector of the Texas border with Mexico ran out of detention bed space for Central Americans, who by law could not immediately be repatriated like Mexicans. According to the California Law Review, Central Americans "began walking up to Border Patrol agents in Eagle Pass and asking for a Notice to Appear, which they sometimes referred to as a 'permiso' (or permit)."
That was eight years before DACA, so it's fairly certain that the policy isn't behind the "permiso" phenomenon. But what of the fact that that the numbers have risen so sharply since the Obama administration implemented DACA?
But correlation isn't the same as causation. A closer look reveals that the upward trend predates DACA.
The fact of the matter is that all the elements were in place for a large-scale movement of Central American kids across the border, with or without DACA. Rising street violence in Central America, along with political instability in Honduras gave people a reason to leave. Previous migratory patterns established since the late-1970s -- first for political reasons, then for economic ones -- meant many Central American youths have family here in the United States. And a hole in our immigration enforcement system was exploited both by families desperate to bring their children here and by human traffickers eager to profit from their predicament.
In addition to being based on a fallacy, the GOP's call to fight this crisis with more border security would do nothing to solve the problem. These children aren't a security threat. They're turning themselves in to U.S. authorities at the border.
Some 550,000 people benefit from DACA today. Because of the policy, they can work in the only country they know as home and can live with a modicum of security, knowing that -- at least for now -- they don't have to face the perpetual fear of deportation. Conservatives want to take that away, even though there's no compelling reason to believe it would stem the border crisis or have any other positive effect.
Before You Go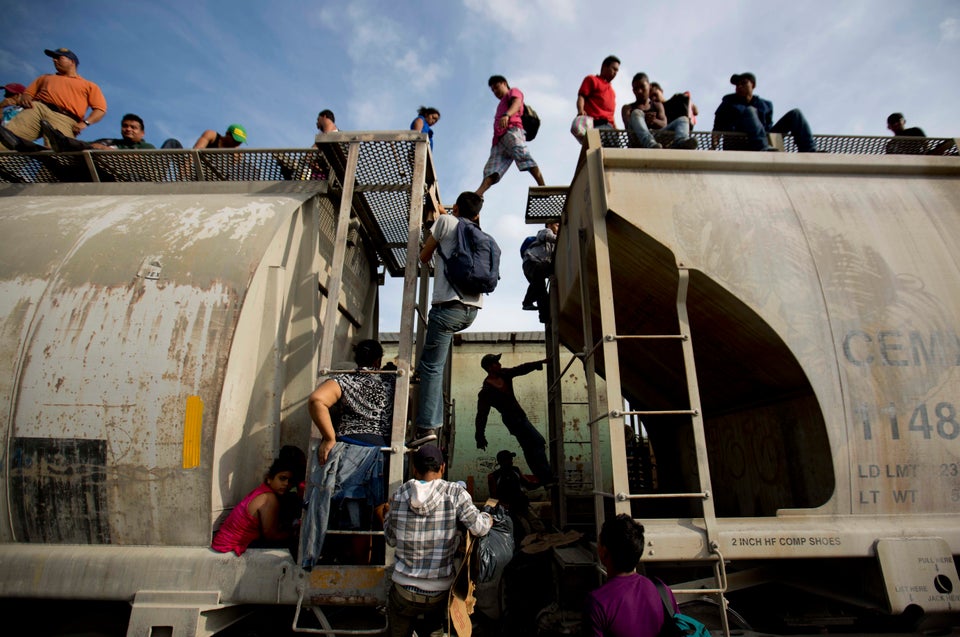 Why Latin Americans Really Come To The U.S.
Popular in the Community