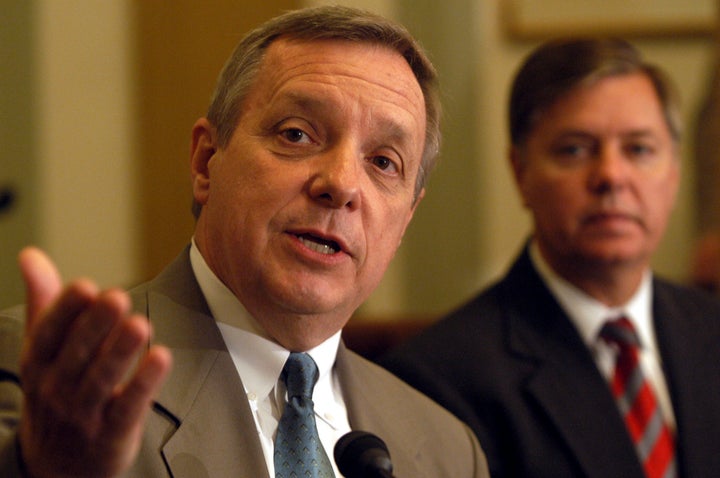 WASHINGTON ― With eight days to go before President-elect Donald Trump gets his chance to revoke protections from hundreds of thousands of undocumented young people, a bipartisan group of lawmakers is relaunching their effort to keep those so-called Dreamers safe.
On Thursday, seven Republicans and eight Democrats signed on to a bill in the Senate and House to effectively maintain the work permits and deportation reprieve created by President Barack Obama's Deferred Action for Childhood Arrivals program, or DACA, which Trump has promised to destroy.
The bill, called the Bridge Act, was initially introduced in the Senate in December by Sens. Dick Durbin (D-Ill.) and Lindsey Graham (R-S.C.), with three co-sponsors. It was reintroduced in the Senate for the new Congress, and in the House for the first time, with more co-sponsors now but still far from enough to ensure success or even a vote on Republican-controlled Capitol Hill.
But it could be the best chance Dreamers have to keep their work permits and driver's licenses if Trump follows through on his promise to end DACA, which he and many other Republicans ― including supporters of the Bridge Act ― say went beyond Obama's presidential authority in the first place.
"In my view, the DACA executive order issued by President Obama was unconstitutional and President-elect Trump would be right to repeal it," Graham said in a statement on Thursday. "However, I do not believe we should pull the rug out and push these young men and women ― who came out of the shadows and registered with the federal government ― back into the darkness."
The Bridge Act wouldn't grant legal status to DACA recipients, but would allow them and others who would qualify for the program to maintain work authorization in a new "provisional protected presence" status that would last for three years from the time the bill was enacted. It would also bar the government from using information collected for DACA for other purposes ― such as deportation ― with some exceptions for national security or non-immigration criminal investigations.
More than 750,000 undocumented young people who came to the U.S. as children have applied for and received DACA since its inception in 2012.
The bill has bipartisan support in both chambers. In the Senate, Graham is joined by Republicans Lisa Murkowski of Alaska and Jeff Flake of Arizona, while Durbin is joined by Democrats Chuck Schumer of New York and Dianne Feinstein and Kamala Harris of California.
Reps. Luis Gutiérrez (D-Ill.) and Mike Coffman (R-Colo.) led the bill in the House, joined by Republicans Jeff Denham of California and Florida's Carlos Curbelo and Ileana Ros-Lehtinen, along with three Democrats from California: Lucille Roybal-Allard, Zoe Lofgren and Judy Chu.
Sponsors of the bill in both parties said it should be followed up with broader immigration reform. For one thing, the act would sunset after three years. For another, DACA-eligible Dreamers make up only a portion of the undocumented population.
"These young people are a lifeline for their families and leaders in our communities," Gutiérrez said in a statement. "We are starting with them, but I remain concerned about the millions of other immigrants who have no clear path to legal status and the millions who are locked out of legal immigration because our system is so out-of-date and backlogged."
Trump has expressed some sympathy for Dreamers, although he and his aides were still saying as recently as December that he plans to dismantle DACA. If he chooses to push for separate legislation, it would be breaking another campaign promise ― he said he would not do anything for undocumented immigrants already living in the U.S. until the border was secure and high levels of people had been deported.
"We're going to work something out that's going to make people happy and proud," Trump told Time magazine of Dreamers last month. "But that's a very tough situation."
Popular in the Community